We Designed the World's Safest Helmet
Biking causes more concussions than football, so we took it upon ourselves to design the ideal cycling lid that would, at the very least, greatly reduce and possibly eliminate head injuries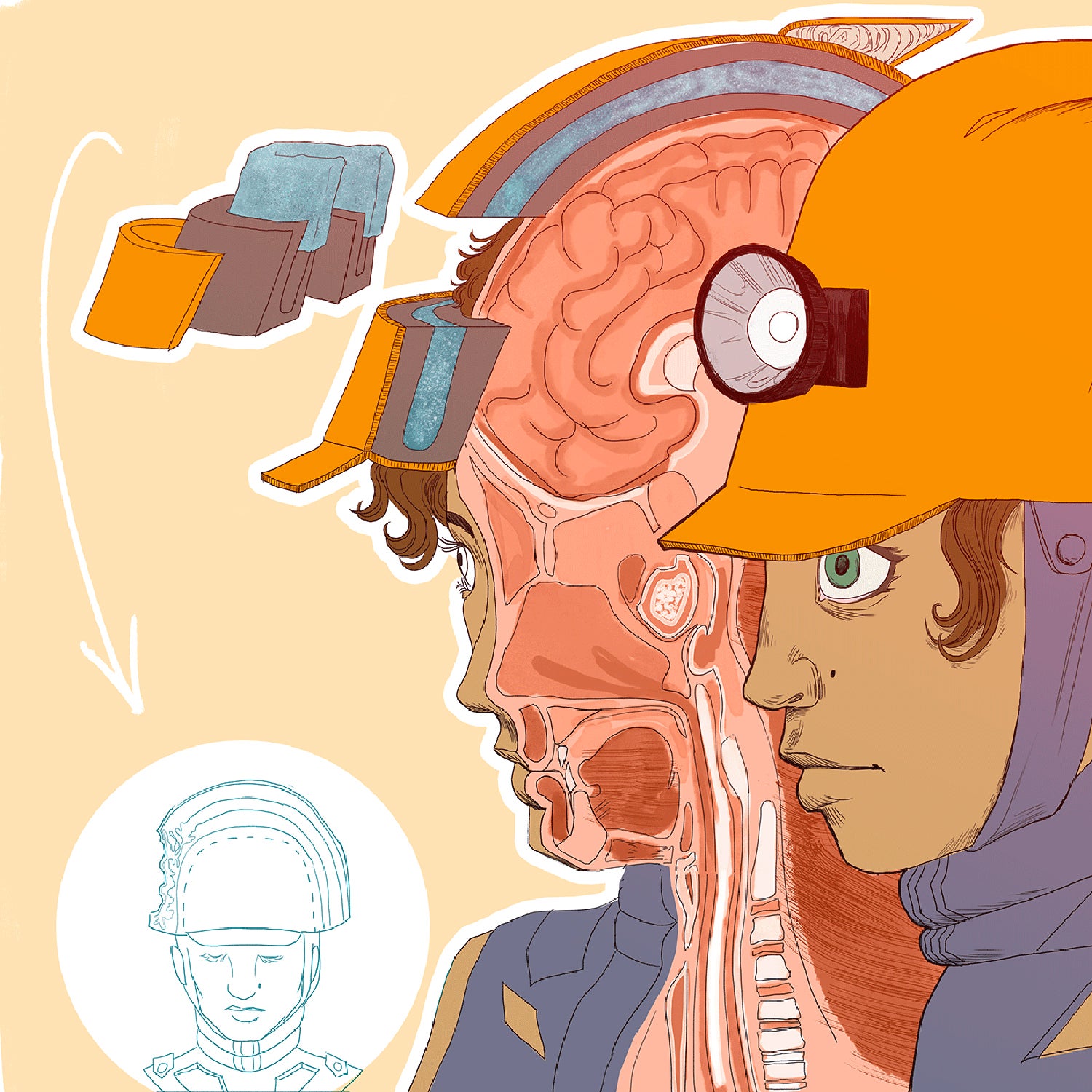 Erin Wilson(Photo)
Heading out the door? Read this article on the new Outside+ app available now on iOS devices for members! Download the app.
If you've been following the news, you'd be forgiven for thinking that football is the number one cause of sports-related traumatic brain injuries (TBIs) in the country. But you'd be wrong: it's cycling. The Centers for Disease Control and Prevention published a study in early 2015 that showed bicycling played a role in more than 68,000 TBIs in 2012, compared to football's 64,000.
The CCS study bluntly states, "TBIs resulting from sports and recreational activities have become a major health problem in the U.S.… Research indicates that 15 percent to 20 percent of all persons with mild TBI may have long-term physical, cognitive, and emotional consequences." Between 2001 and 2010, the number of sports-related injuries treated in emergency departments increased 5 percent, to 4.1 million, with the majority of included TBI cases involving youth hurt in bike accidents.
"Once the awareness [of how many bicyclists are suffering concussions] catches on, there's going to be changes to the way parents protect their children riding bikes," says Dr. Frederick Boop, president of the American Association of Neurological Surgeons.
Of course, apart from keeping people from riding at all, the best way to protect against a concussion is by wearing a helmet. Recently, a team of biomedical and engineering researchers at Virginia Tech have been testing and rating the effectiveness of more than 100 brands of bicycle helmets for a study that will be published in 2017. Stefan Duma, the professor overseeing the effort, maintains that while no bicycle helmet is concussion-proof, he thinks there's plenty of room to improve helmet design and technology to better reduce concussion risks.
Because this issue is very important to us, we decided to sidestep the logistical and financial constraints that designers and researchers face, and instead imagine our own perfect brain armor meant to prevent or at least reduce the severity of concussions.
Interior Foam and Gel
Researchers have found that most bike helmets on the market today, which usually have a layer of hard expanded polystyrene foam surrounded by a rigid shell, are very capable at preventing skull fractures and hemorrhages, but they're not so good at protecting a rider from a TBI. To improve upon this current design, Anna K. Abramson, an internal medicine physician at the University of California and co-chair of the Medicine of Cycling Conference, recommends we manipulate the helmet interior by introducing a thick layer of gelatin—like a room-temperature gel ice pack—surronded by polystyrene foam. "If you hit your head, a nonfabric padding like gel or water could absorb more of an impact than what current helmets offer," says Abramson.
Exterior Shell
The outer shell of our perfect helmet should work like a car bumper, which crumples upon impact in specific ways to protect the integrity of the car's body. Another benefit: the space between the bumper and the car that these crumple zones provide allow the car to more gradually come to a stop, reducing whiplash and other injuries.
For our purposes, we want to delay and absorb the impact, gradually slowing the movement of our brains inside our skulls after a collision. "The whole idea is that you're taking a certain amount of force, and you're trying to lengthen the time it impacts your head," says Dr. Steve Broglio, who chairs the Medicine of Cycling Research Task Force and researches concussions. He points to a 2016 Stanford University study that tested air bag bicycle helmets as a good example of these physics at work: researchers found the air bag helmets reduced head acceleration up to six times compared to traditional helmets. Our crumpling exterior shell would have the same effect while adding a bit of rigidity to protect against skull fractures.
Neck Brace
Football players wear collars to reduce the chances of neck and shoulder injuries resulting from big collisions. Biomechanical studies have shown that these polystyrene foam collars reduce the chances of overextending the neck, so that's why we're attaching something similar to our helmet.
But because bicyclists need to be able to turn their heads to see cars and pedestrians, we'd make our neck brace lightweight and flexible. Attached to the base of the helmet, the brace would wrap around the neck and shoulders and provide just enough protection to support a cyclist's neck in the event of a collision but not enough to severely inhibit range of motion.
Light
For a cyclist riding at night, a powerful, effective light is just as important as a good helmet, says Dr. Mark Greve, a clinical associate professor at Brown University and team physician for the Team Novo Nordisk road racing program. We'd attach a light directly to our lid so you'd never forget it at home—although it would be detachable—and equip it with the same bright, long-lasting LED bulb found in Trek's Bontrager Ion 700 R.
Parachute
If a cyclist crashed while going faster than, say, 30 miles per hour, there's not a whole lot that a helmet—even our helmet—could do to protect her. To prevent catastrophic injuries, the rider needs to slow down quickly. That's why we're attaching a fail-safe in the form of a parachute. This device, held in a small pouch on the back of the helmet, would use electrical-mechanical sensors (similar to the air bag helmet's method of deployment) to release when the sudden acceleration of a rider's head exceeds 20 miles per hour. The neck brace would, in theory, protect against whiplash, while the parachute would slow the rider significantly.
Lead Photo: Erin Wilson