What bike trailer can carry a golden retriever?
Is there a bicycle trailer out there that can handle a 75-pound golden retriever? I want to ride 12 miles to our nearby off-leash dog park, run and swim her down there for a while, and then ride home. Greg Littleton, Colorado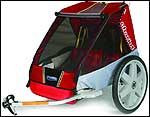 Heading out the door? Read this article on the new Outside+ app available now on iOS devices for members! Download the app.
Sure, Greg, several trailers will work. The wild card is persuading your golden to sit still while you make the trek. But those are pretty laid-back dogs, so maybe that's not a big deal.

Chariot Carriers Caddie


From the standpoint of the dog's comfort, you probably want a two-wheel trailer as that will be more stable than a single-wheeler. Plus, because most dualies are at least partially enclosed, it'll be easier to keep the dog from taking a flying leap as you pass all those parked cars. One affordable model: the Chariot Carriers Caddie Trailer ($249, www.chariotcarriers.com). It has a 100-pound capacity, enough for your good-sized dog, and hooks easily to most any bike out there. And it has a storage area on board so you can pack your lunch plus some supplies for the hound! You can get what's called the Cargo Conversion Kit ($59), which includes a hard floor insert and leash attachment points.
For just a little more, the Burley Solo ($299, www.burley.com) offers a lighter, more compact package that would be easier to tow while still offering enough room for the dog. Granted, its weight capacity is 75 pounds—exactly the same as your dog's weight—but it has a pretty impressive quiver of built-in safety features so you aren't risking catastrophic failure. It might be too short, but I think a golden will fit nicely.
Most dogs pretty quickly grok the idea that they're being taken someplace fun and seem to enjoy the sensation of seeing the country without any work on their part. Still, I wouldn't just toss the dog in the trailer and start pedaling. Set the trailer up in the house and let her get familiar with it. Maybe toss in some dog treats so she can sniff them out and start to associate the trailer with happy events. Ideally, you persuade the dog to take a nap inside the trailer. Then, get her used to the idea of sitting in it while it moves around.
In no time, she'll be happily watching you pedal away!