What Happens Next to the Woman Accused of Motorized Doping
Her bike sponsor wants to sue her, her coach disavowed her, and a major investigation looms. This is going to hurt.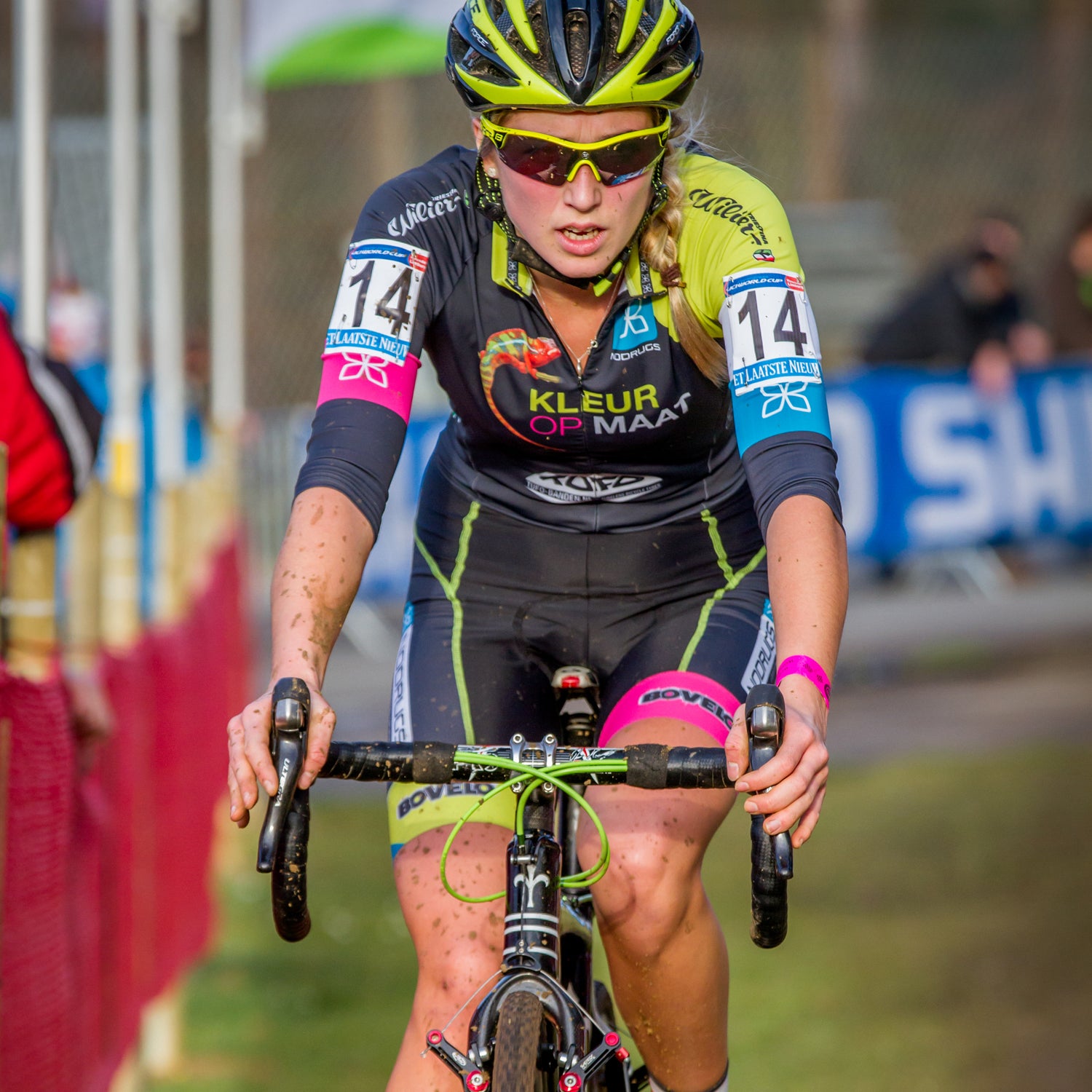 Heading out the door? Read this article on the new Outside+ app available now on iOS devices for members! Download the app.
"I feel really terrible. I'm aware I have a big problem…" Belgian racer Femke Van den Driessche told reporters shortly after officials found a motor hidden inside her spare race bike during the cyclocross world championships in Zolder, Belgium.
That might go down as the biggest understatement of the year. On Wednesday, Van den Driessche's bike sponsor, Wilier Triestina, announced that it plans to sue the 19-year-old rider, who went from being the U23 Belgian and European cyclocross champion to a cycling-world pariah over the weekend. "Our Company will take legal action against the athlete and against any responsible for this very serious matter, in order to safeguard the good name and image of the company…" reads the Italian bike manufacturer's press release.
And that's just the start of her problems.
---
Van den Driessche's case is still in its early stages. The UCI has launched an investigation, but has yet to reveal key details, such as the make of the motor or the list of people who might be charged beyond Van den Driessche. It's conceivable that her team and the Belgian federation may come under scrutiny as well.
We know this much: if found guilty, Van den Driessche faces a minimum six-month suspension and a potential fine of as much as $195,000 (or 200,000 Swiss francs). If Van den Driessche's team is implicated in the scandal, it could ultimately pay up to $978,000 (1 million francs) in penalties.
The UCI isn't messing about on this one. "We will be testing more bikes, more often, more frequently," said UCI President Brian Cookson during a press conference this weekend. "Our message to those choosing to cheat is that we will catch up with you sooner or later."
---
Not surprisingly, many have been quick to distance themselves from the embattled rider. There have even been calls for permanently banning Van den Driessche from competition.
Belgian national team coach Rudy De Bie put it bluntly in an interview with Belgian television network, Sporza. "We thought that we had in Femke a great talent in the making," said De Bie "but it seems that she fooled everyone…. This is a disgrace. I never imagined something like this would happen to our team. Why would a rider do this? Especially at such a young age. And who is responsible for her?"
Good question. Who is responsible here?
---
Van den Driessche has maintained her innocence from the moment the UCI discovered that her spare race bike contained a motor and wires hidden in its seat tube. She says she sold her team bike from the previous season to a friend. This friend, she claims, showed up before the race and put in a few laps with her brother before leaning that bike against a team truck. The bike, according to Van den Driessche, was then mistakenly taken by a team mechanic, cleaned, and put aside as a spare for her. While it's possible that it all happened as Van den Driessche claims, it takes a very generous soul to believe it's true.
Joe Parkin finds it difficult to be that generous. The longtime professional road, mountain bike, and cyclocross racer sums up what a lot of people are thinking. "I really have a hard time believing that mechanics would mistake her bike from last year with one of her current race bikes," says Parkin. "The main job of a race mechanic is to be meticulous in the preparation of race bikes. They look at every square inch of every single tire, for example, to make sure there are no little cuts or imperfections. Certainly the weight of a motor and battery pack would've been enough for even a half-ass mechanic to question whether something was wrong with an 'innocent' bike. Something on this extra bike would've raised a red flag."
In recent days, Nico Van Muylder, the friend that Van den Driessche claims brought the illegal bike to the race, has corroborated her account. "It's my bike," Van Muylder told Belgian newspaper Het Nieuwsblad. "All I can say is it's my bike."
Is Van Muylder telling the truth? It may not matter. The UCI's rules on "technical fraud" put the onus of responsibility on the rider and team. If a bike is in the pits during the race, it must meet UCI regulations. There's no wiggle room here. One way or another, Van den Driessche is going to pay for this one.
---
This past weekend's bust at the cyclocross world championships made headlines around the world. Hidden motors, however, do not have the potential to become the next major "doping" scandal. The clandestine drug cocktails that have long undergirded professional cycling are often either difficult to detect (EPO, for instance) or easy to mask during testing. That is what has made keeping the peloton clean such a Herculean task.
The UCI, however, won't need biological passports, extensive tests, or cunning inspectors to weed out the cheats in cases such as this one. Want to find the motors in bikes? There's literally an app for that—the UCI developed it this year and any race official with an iPad can use it to root out motors hidden inside bike frames.
After this weekend's furor, it'd take a very, very desperate racer to attempt a motorized trip to the winner's podium.
Lead Photo: Flowizm