Gear Guy
What's the best commuting bike for 30-mile rides?
I am looking for a good hybrid bike to ride on weekends with my kids and to also ride to work a (a 30-mile trip one way). I visited a local bike shop recently and they recommended the Trek 7.1 FX. What would you recommend? Seth Wayland, MA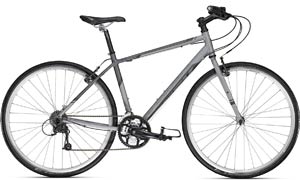 Heading out the door? Read this article on the new Outside+ app available now on iOS devices for members! Download the app.
Hmmm. That's a tough one. Yeah, the Trek 7.1 FX ($450) probably would be fine for weekend rides with the kids. It's a classic urban bike, with an upright riding position, straight handlebars, low-end Shimano drivetrain, and semi-fat tires. Comfortable, plenty of gears, sturdy aluminum frame.
The Monona

The Monona
My own view, however, is that halfway through a 30-mile commute you will come to loath it. The straight bars afford you limited places to move your hands, so they will hurt and you'll feel uncomfortable. The upright posture puts you in the wind, causing more drag. And you'll find that the fat tires add a lot of drag. Besides, 30 miles is a pretty ambitious one-way commute—you're easily looking at two-plus hours on the bike.
What to do? Maybe look for a bike with similar design but a little faster setup. Trek makes a bike called the Monona, at $660, which is a bit lighter and has somewhat better components than the 7.1. I'd have a bike shop swap out the stock 700X32 tires for 700X28s. Skinnier tires, less friction on the road. The Scott Sub 20 ($850) is another versatile city-type bike. But again, I think the stock tires are too fat for a longish road ride. A bike shop can fix that for you.
You might find that in time a hybrid bike suits your commute just fine. But if you get serious you'll probably want a bike with more natural speed, a road-type bike, with dropped handlebars and the like. Trek actually makes a very good one, the Portland ($1,730), which is specifically designed for commuting. It even has racks and fenders built-in! Plus a lightweight carbon fork that smoothes out the ride, and disc brakes for wet days. Nice bike.