Where can I find an entry-level road bike for $1,000 or less?
You have written quite a bit about road bikes that range from $2,000 to $4,000. What about entry-level bikes? REI's Novara brand has bikes for $799. Chris Seattle, Washington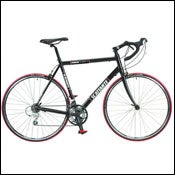 Heading out the door? Read this article on the new Outside+ app available now on iOS devices for members! Download the app.
That's an inadvertent oversight, as the world is awash with good-quality bikes for $1,000 or less. That's especially true when the subject is a "house brand" bike, such as the Novara line, sold exclusively at REI stores.
Performance Scattante R-330 Road Bike

Scattante R-330 Road Bike
Take the Divano ($799), a road bike that's designed to be comfortable and flexible, so you could use it as a commuter or a training bike, or even for your first fast century ride. It has a light aluminum frame; drivetrain and brake components from Shimano, FSA, Ritchey, and other good brands; and a triple chainring so you can tackle any hill without fear. Overall, it's a great bargain.
Performance also has some good buys within its Scattante house brand. Currently, for instance, you can score a $1,000 R-330—a road bike with specs that are a touch higher than on the Divano—for $600. Dirt cheap! The R-330 has a triple chainring, aluminum frame, Shimano go-bits, and even a carbon fork for a smoother ride.
In the name-brand world, Giant has carved out a large niche for itself as a purveyor of high-quality, well-priced bikes. That company's OCR A1, for instance, has a frame that's made from aluminum and carbon fiber, with mid-range Shimano 105 components and a relaxed geometry that's great for long rides. At $1,500, it's a good buy in a bike that's right on the edge of the higher-performance models.
Or, for an even $1,000, there's Cannondale Synapse 6. It has the usual suspects in this price range: aluminum frame, Shimano Tiagra components, and a few carbon parts (seat post and fork) to shave some ounces and take some of the jitteriness out of the aluminum frame. But it's a nice bike, totally name-brand, and completely reliable.
The 2008 Summer Outside Buyer's Guide is now on newsstands. Look for it online soon.