Which clipless pedal system is best for a recreational road biker?
Can you recommend a clipless pedal system for a recreational road biker (and faithful Gear Guy fan) who has an irrational fear of falling? And any suggestions for accompanying shoes? Paul Baltimore, Maryland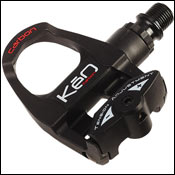 Heading out the door? Read this article on the new Outside+ app available now on iOS devices for members! Download the app.
Ah. A faithful fan. And now your loyalty is to be rewarded.
Look Keo Chromo Pedal

Keo Chromo Pedal
Actually, I can tell you some stories about clipless pedals and crashing. My favorite is the time I got caught up in a traffic jam when on my bike. I slowed, slowed, slowed some more, and came to a stop. I also was distracted by something and forgot to get a foot out of the pedal. So, over I went, with a rather large audience of amused motorists watching. Physical injuries: minor. Wounded pride: weeks of recovery.
So, yes, they take a touch of practice, but it comes to you pretty quickly. Expect one minor gaffe at some point. Maybe two. But the advantages are enormous—much more secure pedal connection, better pedaling efficiency, and really, better safety because there's almost no risk that you'll become unclipped at a time when loss of balance could be a problem.
Right now I have all sorts of pedals. On my mountain bikes I use and like Crank Brothers Eggbeaters (crankbrothers.com). They're light and easy to hit with a foot when scuffling over rough terrain and un-clipping occasionally. On my "rain" road bike I use older Shimano pedals that are the rough equivalent of the current XTR M970 dual-sided mountain pedals. Using dual-sided pedals on a road bike got to be a habit when I used to ride at night with a Seattle club; it was just easier to stick the pedal when I didn't have to look down to see if the right side was up. On the "dry" road bikes I use Look pedals (lookcycle.com). One set has the Keo Carbon, which sells for $229, but I found it on eBay for much less. I like them a lot&$151;positive clip connection, light, and no squeaks (Look pedals are sometimes notorious for squeaking, particularly the somewhat infamous PP396).
Generally, I prefer a pedal with a large platform, such as Looks or Times, verus models such as the Speedplay X5 ($120; speedplay.com). But that's somewhat a personal preference; lots of people ride Speedplays on a road bike and like them fine. Still, the Look Keo Classic ($100) is a good pedal at a good price.
As for shoes, well, it's whatever your budget can take. Sidi shoes (sidiusa.com) are wonderful, and the Zeta offers fairly high-end design and construction for $150. Diadora (diadora.com) offers good style at a reasonable price. Check out the Astro for $100. And Shimano (shimano.com) makes reliable shoes that don't quite hit high style notes, such as the SH-R099 for $129. But I have some Shimanos and they have good, stiff soles, and that's perhaps the most important thing.
Conclusion: The Look Keo Classics and Diadora Astros give you a pretty high-end combination for $200.
You've seen our picks for 2007 Gear of the Year, and now the entire
Outside Summer Buyer's Guide is online. Check out this year's more than 400 must-have gear items, including bikes.