Which cycling shoes are made for pedal cages?
I still use cages on the pedals of my Bianchi. I find it easier to get in and out of the pedals than clips. However, I cannot find shoes that are designed for cages. Do such shoes exist? Andy St. Paul, MN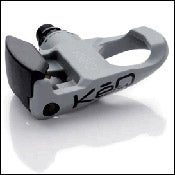 Heading out the door? Read this article on the new Outside+ app available now on iOS devices for members! Download the app.
Well, yes and no. Any ol' shoe will fit in a cage. I see people riding that way all the time, a sneaker stuck into a bike pedal cage. But a true cage setup has a shoe with a sort of cage trap under your forefoot. The slot in the trap fits into a corresponding fin on the cage, you cinch the cage straps, and you have a positive connection between shoe and pedal so you can pull "up" and not pull your shoe out of the pedal.

The Keo Easy Pedals
But, that was SO 1980s. I haven't seen serious old-style shoes that work with that setup for years. I readily admit that modern clipless pedals (which actually have more of a "clip" than the old-style shoes) take a bit of learning. But the advantages are huge. More secure. Safer. More efficient. Plus you actually can FIND them, unlike clip pedals/shoes. I've tried them all—Look, Time, Shimano, Eggbeaters, others. I think Look pedals are, overall, the easiest to deal with. Even easier than double-sided Shimano SPD, which makes no sense, but there it is. I have to do less "hunting" for the clip with Look than with Shimano, even though intuitively the Shimanos should be easier.
So, get yourself a pair of Look Keo Easy pedals ($80), take a few minutes with a hand against a wall to get the hang of it, and off you go. In ten minutes, you will be glad you did.
Trending on Outside Online