Which hybrid bike will fit my petit fre and even smaller budget?
I bike some 30 miles a week, mostly on the road, and I'm tired of the thick tires and heaviness of my mountain bike. But I'm not ready for a full-on road bike with downward handlebars. Can you point me to something in between that's affordable and will fit my five-foot-tall fre? Cindy Santa Rosa, California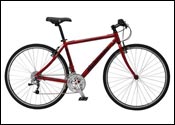 Heading out the door? Read this article on the new Outside+ app available now on iOS devices for members! Download the app.
No, you don't want a mountain bike for around-town riding. The thing probably weighs as much as you do. Fortunately there are lots of nice, fast hybrids out there.
Bianchi Boardwalk Bike

Boardwalk Bike
Marin's Novato (marinbikes.com), for instance, has a light aluminum frame, fast tires mounted on 26-inch wheels, and smooth-shifting Shimano running gear. And it's only $529. It's available in a 13-inch frame size, which should be about right for you.
Scott's Sub 30 Classic (scottusa.com) offers a very similar frame/running gear combination, for just a few bucks over $500. Its 700C wheels might offer a little less rolling resistance, although they might also be a little too tall for you. The Sub 30 comes in a "small" frame size, plus larger ones.
Lastly, there's Bianchi's spiffy Boardwalk ($500; bianchiusa.com). It opts for SRAM shifters, an increasingly popular and very functional choice. And while its frame is aluminum, the front fork is steel. That results in a smoother ride than the aluminum forks on the Marin and Scott bikes, although it also adds a touch of weight. Plus, I love to say "Bianchi." Try it! Bee-awn-kee. Then say, "Un bicicletta e molto favoloso!" Isn't that fun?
Anyway, try to find a shop that has at least two of these bikes (or something similar—in this price range all hybrid bikes are very similar) and give them a spin. If you really intend to mostly ride around town, then ask the shop to swap out the tires for something a little skinnier. The Scott and Marin bikes both come with relatively chubby 700X32 tires. 700X28 would be better.
Ciao!
Check out Outside's picks for the top new road bikes. They all share one basic feature: fun!