Which road bike can handle my long commute and Seattle weather?
I'm looking for a road bike with good speed to handle my 10- to 40-mile daily commute. I'll need it to hold up well in Seattle winter and rain. I've heard the Schwinn Super Sport DBX or the Kona Sutra would be good choices. Any advice? Chris Seattle, Washington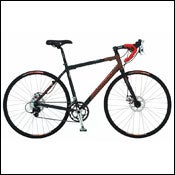 Heading out the door? Read this article on the new Outside+ app available now on iOS devices for members! Download the app.
Well, let's see…winter riding in Seattle. Been there, done that. Fenders are a must. Good brakes too; discs would be nice. And plenty of gearing for those infamous Seattle hills. And an aluminum frame to resist corrosion.
Schwinn Super Sport DBX

Super Sport DBX
I must say both the Schwinn and Kona would fill the bill nicely. The Schwinn Super Sport DBX ($1200; schwinnbikes.com) is very much an all-purpose/commuter bike, with a 27-speed Shimano drive train, disc brakes, aluminum frame, and friendly riding position—drop handlebars, but a relaxed geometry for a comfortable day in the saddle.
Kona's slightly pricier Sutra ($1300; konaworld.com) is very similar, but more of a true touring bike. It has a steel frame, for example, which makes for a smooth ride and has the flex to handle big loads better than aluminum frames. It's an excellent bike. Whether it's quite right for a commuter is an open question due to the corrosion issue (although that can be dealt with by treating the inside of the tubes with a corrosion inhibitor and keeping the bike clean and dry when not on the road).
Personally, I like cyclocross bikes for the kind of mission you have in mind. One intriguing possibility is the Bianchi Axis ($1,300; bianchiusa.com). It has plenty of room for fenders, an aluminum frame, and an 18-speed SRAM/Shimano drivetrain. Its crank has a double chainring, not a triple as found on the Schwinn and Kona bikes, but it's a compact crank so you have plenty of leverage for getting up hills. Giant's TCX ($1,200; giant-bicycle.com) offers a very similar frame setup and drivetrain at a really competitive price. Both bikes use V-brakes rather than discs, but they offer good stopping power as well as less weight.
Me, I'd probably buy the Bianchi. I like that Celeste Green paint job…
You've seen our picks for 2007 Gear of the Year, and now the entire
Outside Summer Buyer's Guide is online. Check out this year's more than 400 must-have gear items, including road bikes.