Why Don't We Do It in the Road?
Gear up withe year's fasted bikes for the buck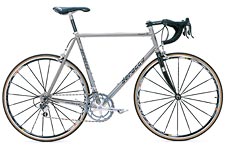 Heading out the door? Read this article on the new Outside+ app available now on iOS devices for members! Download the app.
Make no mistake, the road bike is back in the limelight. Why? One word: Lance. But there's more to this skinny-tire renaissance. Like it or not, pavement is everywhere and mountain-bike trails aren't. Even if your passion is mud, when you have a scant hour or two after work, nothing beats the convenience of a road bike. Road rides, after all, leave right from your front door no matter where you live. There's also nothing quite like barreling down pavement at 35 miles per hour in a 20-rider peloton.


Like the rest of Western civilization, however, the road bike has benefited from its fat-tire brothers. Most road rigs now offer (or have as an option) a wide range of gears that let even adherents of the Dunkin' Donuts fitness plan conquer steep hills. Other smart off-road borrowings include zero-maintenance sealed bearings and standard combination brake-shift levers that let you change gears with your hands firmly planted on the handlebars—which is nice when you're drafting an 18-wheeler in traffic.


We rounded up and tested six of this year's best bikes, along with a tasty smorgasbord of accessories that make an ancient rig ride like new. From entry-level to sky's-the-limit, here are road bikes for all.
Road Bikes: The Fab Six, Part I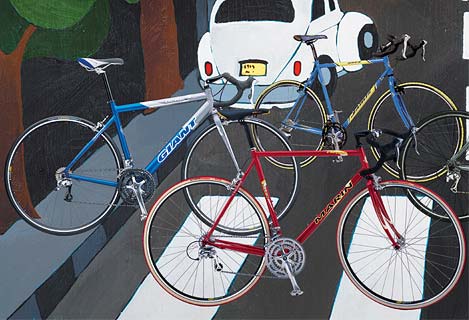 GIANT OCR 2 ($750; 23 lb.; 800-874-4268, www.giantbicycle.com)
I'll fess up: I'm a bike snob. I hadn't ridden a sub-$1,000 road bike in years, but the OCR 2 surprised me with its quick, nimble ride. A stiff, compact aluminum frame is largely responsible: The oversize pipes don't yield under the thrashing, out-of-the-saddle sprints that my riding partner goads me into. Yet like modern Republicans, the bike has a gentle side—the triple chainring up front lets me spin easily up steep climbs. The Shimano Tiagra components all performed without a hitch, and my off-road shoes clicked right into the Shimano SPD pedals. To customize fit, the handlebar stem has an adjustable pivot—the bar can be lowered or raised with the turn of a wrench. Caveat: Tall, short, or oddly proportioned riders should make sure the bike fits before buying, since the frame comes in only three sizes.

JAMIS NOVA ($940; 23 lb.; 800-222-0570, www.jamisbikes.com)
Can't decide between pavement and gravel? Try the Nova. It's built for the rigors of cyclocross, an oddball sport that includes tarmac and trail alike. 'Cross bikes need to have the lightweight, lithe traits of road-racing machines yet still be rugged and stable enough for the dirt. The steel-framed Nova delivers on both counts. The drop-style handlebars let me tuck down low and slice through a headwind on the road. Venturing onto my local network of hilly dirt roads, resplendent with washboard and spring runoff, I climbed and descended with aplomb. Credit part of the surefootedness to wider, 700×30 tires, which have shallow knobs that bite into dirt but don't buzz noticeably on asphalt. A slightly longer wheelbase (about an inch) than a pure road bike's also contributes to its assured handling, and it makes the Nova less twitchy on pavement.

MARIN VERONA ($1,200; 22.5 lb.; 800-222-7557, www.marinbikes.com)
A modern version of the classic road bike, the Verona has a frame made from venerated Italian Columbus Thron steel tubing, which offers just the right blend of compliance and stoutness for years of performance riding—as long as you're not trying to pad your savings account with prize money. To keep the bike affordable, that fancy steel is welded together in Taiwan, not Milan. Aluminum or carbon fiber might have a bit less heft, but a steel frame like the Verona's remains the benchmark of ride quality. Which is not to say it's a retro rig; the Shimano 105 components work crisply and offer a wide-ranging 27 speeds. Ritchey clipless pedals, with a single-sided design that saves weight and reduces the chances of striking pedal to pavement on sharp corners, are a nice touch in this price range. Indeed, the Verona was so smooth and felt so natural, I forgot about it and just rode—it was a familiarity that usually takes a few hundred miles on equal or lesser frames.


Road Bikes: The Fab Six, Part II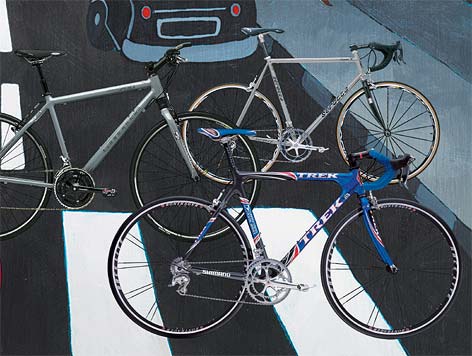 CANNONDALE SILK WARRIOR 700 ($1,653; 26 lb.; 800-245-3872, www.cannondale.com)
For those who prefer the upright posture of a mountain bike, this aluminum Cannondale, with its flat handlebars and ergonomically shaped bar-ends, is the sauce—the perfect rig for cruising paved bike trails or whipping down potholed streets on your commute to work. A suspension seatpost goes easy on your backside, and Cannondale's HeadShok, a suspension fork with 25 millimeters of travel and the moving parts tucked inside the headtube, takes the bite out of ratty pavement and cobblestones. But give the black rubber lockout knob a twist and the fork turns rigid—perfect for no-bob climbing. Narrow, high-pressure 700×28 tires fly on pavement without the squirm and squish of knobbies, and road-bike gear ratios mean you won't spin like an eggbeater, going nowhere fast.

TREK 5200 ($2,700; 18 lb.; 800-313-8735, www.trekbikes.com)
We'll cut to the chase: The 5200 uses the same frame Lance Armstrong rode to his first Tour de France victory (his current bikes are a tad lighter). The frame is built from carbon fiber, which gives the bike a supple ride unlike that of any metallic frame. Hit a bump on the 5200, and the composite transmits a quiet thud—instead of a painful twangy buzz that passes the shock directly to your spine. Unlike the champ's bike, this one is dressed with Shimano Ultegra, which offers the same 18 gears (27 optional) as the company's more upscale Dura Ace parts but carries a half-pound more heft. I certainly didn't notice the weight, and mechanically everything was spot-on: The shifters let me fire through the gears, and the brakes let me feather speed on curvy descents and bring the bike to an abrupt halt even with my hands resting on top of the brake levers.

SEROTTA LEGEND TI ($5,575 built as shown; 17.5 lb.; 518-747-8620, www.serotta.com)
It's a fact: The lighter the bike, the heavier the cost. The Legend Ti (the "Ti" is for titanium), for example, weighs a half-pound less than the Trek 5200, but will cost you $2,875 more—ouch. To help justify that price difference beyond its weight, consider that the Serotta is custom-built to your measurements; the ride is as smooth as glass, quick and nimble; and the frame offers lifetime durability. The bike that was built for me was one of the best rides I've been on in 20 years of cycling and hundreds of bike tests. The titanium is quiet and forgiving for all-day comfort on a 100-mile ride, yet lightning-quick for jamming over hills and diving through switchbacks. The parts, of course, complement the $2,900 frameset—Campagnolo Chorus with 20 speeds, plus extravagances like a Serotta carbon-fiber seatpost and the company's exclusive full carbon-fiber fork.
Blacktop Optional, Part I

Photograph by Eric Swanson

Photograph by Eric Swanson

Photograph by Eric Swanson
Assos T Bib Shorts ($130; 847-465-8200, www.ochsnerusa.com)
The T Bib shorts from Assos use a luxurious, multidensity padded insert with tiny perforations that both babies your bottom and lets hot air out. The over-the-shoulder bib design keeps yer britches up without a tight waistband cramping your stomach.

Pearl Izumi Tempo Jersey ($75; 800-328-8488, www.pearlizumi.com)
Leave the baggy jerseys to the mountain bikers—roadies need snug tops that don't flap around in the wind. Pearl Izumi's formfitting Tempo jersey is made from Microsensor, a wispy fabric that lets air pass freely for maximum cooling. A traditional three-bay pocket out back lets you stash a windbreaker.
Giro Pneumo helmet ($160; 831-420-4010, www.giro.com)
All helmets meet the same safety standards, so you just need to think about fit and ventilation. Giro's Pneumo is tops for both. The vents, big enough to stick your hand through, bathe your sweaty scalp in cool air. The strap system cinches to the back of your head and adjusts with the squeeze of a ratcheting buckle.

Ritchey Deep Section WCS wheels ($530; 650-368-4018, www.ritcheylogic.com)
A fresh pair of wheels gets you the feel of a new bike without the cost of a whole new rig. These Ritchey hoops are light, strong, and fast. The weight savings comes from a low spoke count—16 in front, 20 for the rear. Strength comes via an offset rear rim that balances left and right spoke tensions equally for zero "dish," the Achilles' heel of other rear wheels. Fast indeed, the aerodynamic rim and bladed spokes slice through wind.
Blacktop Optional, Part II

Photograph by Eric Swanson

Photograph by Eric Swanson

Photograph by Eric Swanson
Speedplay Zero pedals ($195; 800-468-6694, www.speedplay.com)
Speedplay's Zeros feature a dual-sided design that lets you click in without hunting around and unclip with a gentle twist. But it's their unique retention mechanism that makes them special: No matter how hard you pull up on the pedals, you can't pop out. This year's model also lets you adjust float—turn two screws, and your heel can go from fixed to 15 degrees of wiggle.

Easton EC90 handlebars ($160; 831-394-7114, www.eastonbike.com)
Easton's carbon-fiber bars are astonishingly light—at 185 grams, they weigh about 35 grams less than most aluminum bars. But gram shaving isn't the entire point: These bars eat chatter. Thanks to carbon's natural vibration-damping properties, hands and shoulders feel noticeably fresher after two hours of coarse state-highway riding.
Reynolds Ouzo Pro FORK ($335; 760-798-8008, www.reynoldscomposites.com)
Road forks need to be stiff for precise handling, yet pliant so the road doesn't shake the fillings out of your teeth. Reynolds Ouzo Pro fork strikes that elusive balance. Unlike metal, which can be a full pound heavier, carbon-fiber lets designers change the orientation of the material to make a fork that's laterally rigid (for cornering) but forgiving fore and aft (for absorbing bumps)

Oakley Magnesium M-frame ($225; 800-336-3994, www.oakley.com)
An incredible step forward in eyewear craftsmanship, the M-Frames unfold like the blades of a Swiss Army knife—they pop open with a precise, dutiful feel. The magnesium frame is lighter than titanium or aluminum, and stronger than plastic. On your face, the fit is firm but comfortable, the optics amazingly crisp.