Wilier's Stylish, Affordable GTS
The GTS delivers flair and functionality at a reasonable price.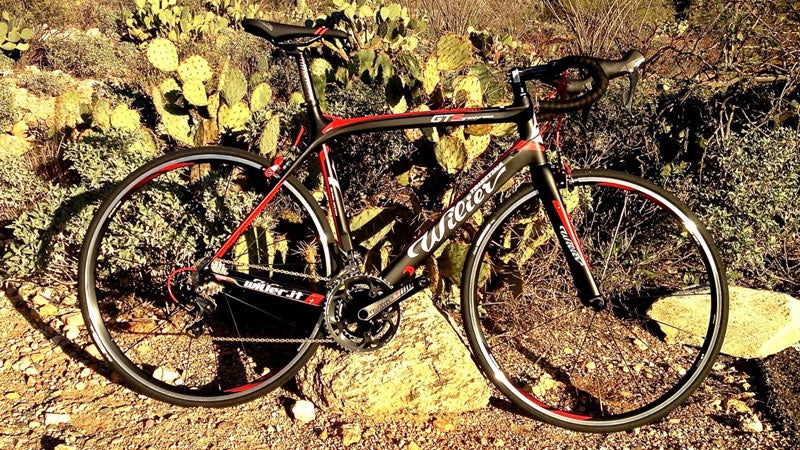 Heading out the door? Read this article on the new Outside+ app available now on iOS devices for members! Download the app.
The prices of high-end bikes continue to skyrocket, but the spectrum's other end still has great values. And since features and technology from the premium products continue to filter down, what's considered mid-range or even low-end these days is actually highly refined. Last year, a retired pro who raced for team 7-11 said to me, "Most of the bikes out there now, even the inexpensive ones, are far better than what we raced on in the Tour de France."
Descended from the Gran Turismo, one of our favorite bikes a few years ago, the Wilier GTS perfectly illustrates this trickle-down. The bike borrows carbon layup technology from the Italian manufacturer's flagship Zero and Cento1 series, whose frame sets alone sell for more than a complete GTS. The highly sculpted carbon frame weighs just 1,050 grams, which isn't exceptionally light in this day of 640-gram superbikes like the Cervélo RCA. On the other hand, remember that just a few years ago it was a big deal when Scott managed to break the 1,000-gram mark with its Addict, so this is no pig either.
The GTS is a much different bike than the Addict or the RCA or any flat-out racer. It's billed as an endurance ride, with a taller head tube, more upright position, and slightly longer wheelbase to make us non-racers more comfy in the saddle. The geometry works, too, as several testers remarked they'd be happy to ride the GTS all day long, noting, in particular, the frames chatter-dulling compliance.
Unlike many "comfort rides," which handle sluggishly and feel terrible because they hang you out in the wind with too erect of positioning, the GTS manages to retain the quick steering and sharp manners of sportier rides. It is more stable and less nervous than most race bikes, though, so it's easygoing enough in a big group.
The GTS sells for $2,600, which isn't inexpensive, but you get a lot of value for that money. The bike is built with a Shimano Ultegra drivetrain, which works as flawlessly as the excellent Dura Ace 9000. And though Wilier has spec'd FSA cranks and brakes to save some money over a full Ultegra kit, they do it with characteristic Italian flare, including classy branding and color-matched touches so the bike is just as flashy as more expensive models.
It's not light at 18.4 pounds (size 56), but it doesn't feel excessive or lethargic. And though the wheels, Shimano RS11s, are definitely not race hoops, they're befitting of the bike and durable, hard-working models that should last as long as you care to ride them.
The GTS is a mid-range roadie that looks and rides like much more expensive bikes. And for our money, it's one of the best values going in a road bike this year.