Will a hybrid bike put less strain on my neck and shoulders?
I'm looking for a bike that doesn't strain my neck and shoulders, and I think a hybrid might be the answer. At my local bike shop, I checked out a Trek 7500. Is this a good option, or are there better choices out there? Talia Lafayette Hill, Pennsylvania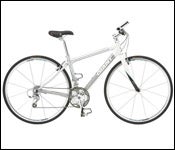 Heading out the door? Read this article on the new Outside+ app available now on iOS devices for members! Download the app.
Well, that might be one option, Talia. Trek's 7500 ($660; trekbikes.com) is a bike that's definitely built for comfort. It has a very upright stem to keep that common bent-over biking posture to a minimum, a suspension fork and seat post to soak up bumps, and a cushy saddle. All in all, it's a nice bike. Similar bikes include the Marin Redwood ($479; marinbikes.com) and the Novara Forza ($550; rei.com).
Giant FCR2 W Bike

FCR2 W Bike
You don't say why you'd rather not have a bike that puts much strain on neck and shoulders. Bikes certainly have ergonomic issues, but in a lot of cases these problems go away as your body adjusts to the different stresses and strains. While the bikes above try to eliminate some of those issues, it's also true that they create new ones. Sitting very upright concentrates forces into the area of your butt, and that can be uncomfortable. And these are exceedingly pokey bikes; it's really difficult to get much speed going when all but standing straight up. That may or may not be an issue, but I mention it just the same.
Don't completely overlook bikes that are comfortable but take a more balanced approach to their design. Giant's FCR2 W ($700; giant-bicycle.com), for instance, has upright geometry and handlebars so you aren't in that road-bike crouch, but it's still a speedy bike, with fast wheels and a design that doesn't push your coefficient of drag off the charts.
But, if you have some real physical issue that you're attempting to work around, then you might want to abandon upright bikes altogether and get a recumbent. A recumbent bike puts you in a fully seated or supine position, with no weight at all on shoulders, neck, and arms. They're also quite fast on flat courses because they offer less drag than an upright bike. In the past I have mocked recumbents (all in fun, really!) because of their perceived geek-quotient. But they do solve some real problems with traditional bikes, and those who ride recumbents are uniformly enthusiastic about them.
One problem is cost. Recumbents are not mass-produced, so economies of scale are lacking. But they're not too outrageous. A quality recumbent such as the Linear Mach III (linearrecumbent.com)can be had for around $1,500.
Check out Outside's picks for Gear of the Year and 400-plus gear reviews in the 2007 Summer Buyer's Guide, on newsstands now.