The Young Americans: Lawson Craddock
The reputation of American cycling has been dragged through the dirt in the last few years. Time has shown that Lance Armstrong, Tyler Hamilton, Floyd Landis, Levi Leipheimer, and many others built their reputations on cheating. But there's a new generation of US riders emerging to take their places—hopefully in an honest manner. This is another in a series of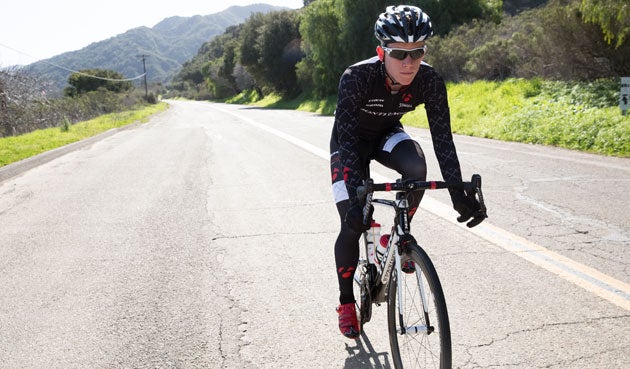 Heading out the door? Read this article on the new Outside+ app available now on iOS devices for members! Download the app.
At just 21 years old, Lawson Craddock is still in the infancy of his cycling career. Yet the young racer from Houston, Texas, is already riding like a seasoned pro. His results as a junior, including both a silver and bronze medal in the individual time trial at the UCI Junior World Championships, were enough to catch the attention of Axel Merckx, who recruited Craddock in 2010 to ride for Bontrager Pro Cycling Team, which is arguably the best development team in the world.
Since joining Bontrager, Craddock has continued to develop and rack up a slew of solid finishes. But this year's Amgen Tour of California was arguably his breakout race. Craddock put in consistently strong rides to finish 8th on GC and win the jersey for Best Young Rider. More importantly, he showed impressive growth, especially in his climbing, by staying with the race leaders on the Stage 7 summit finish up Mt. Diablo. He even attacked and dropped the likes of Tejay Van Garderen and Michael Rogers in the finale, though he was eventually overhauled at the line.
We caught up with Craddock in Chattanooga, Tennessee, as he prepared for the USA Pro Road and Time Trial Championships where he finished 4th in the time trial, less than a second off the podium.
How did you get into cycling?
I've been around bikes my entire life. My dad was a professional downhill racer in the late 1980s and early 1990s in Crested Butte. He helped pioneer downhill racing in the United States, which is a pretty interesting story in itself. He retired from racing when I was born, in 1992, but he always took us around on the bikes after that, too.
When I was 10 and my brother, Parker, was 12, we were living in Houston and my dad took us out to the velodrome where there was a big development race. It was an omnium [Editor: a track event comprised of multiple races in which in which the racer who finishes highest in all events wins the overall], and I ended up winning. I won a Fuji steel track bike. And it's just gone from there.
Some people were surprised last year when Bontrager was invited to the Amgen Tour of California. Was it intimidating for you to race against the best in the world?
We grew up watching guys like Levi Leipheimer and George Hincapie dominate, so it was really fun to ride side by side with them and for them recognize us as the next generation of American cycling. But you can't go into any race feeling intimidated. If you do that, you've already lost. You have to go in thinking that you have a chance to race and know that you can compete. That's what we did, and we shut down all the people who said that we shouldn't be there.
Before ATOC, Axel Merckx pegged you to contend for the time trial but not for the climbing stages or overall. Were you surprised to be up there in the end?
I definitely surprised myself, and I think I surprised a lot of other people, too. The time trial has always been my thing in cycling, not climbing. But I made a lot of changes since last year's Tour of California. I changed coaches to Jim Miller from USA Cycling and I shed five or six pounds since last year. It helps with your speed, but it also helps you feel better after each stage and recover better throughout the week.
On the other hand, the Stage 6 TT wasn't your best day of the Tour?
I had a good strategy going into it, and I think I did an okay job pacing, but I wasn't happy with the results. [Editor: Craddock finished 19th on the day, 2:42 slower than stage winner Tejay Van Garderen.] I would have liked to do better. I think I was 12th in the TT last year and I was a lot stronger this year, so I was hoping for top 10. But that's all I had in my legs that day.
You made up for it the next day on the queen stage on the climb to Diablo. Walk us through it.
BMC made sure that the pace on the whole climb was solid and fast, which is good for me. The pack was whittled down, and I just kept passing guys and hanging in there. Next thing I knew, we were at one kilometer to go, and it was a really small elite group. There was Tejay, Michael Rogers, Matthias Frank, Mathew Busche, and me, and then there were two guys up the road.
I saw an opportunity with 500 meters to go, and I attacked. I was thinking, "This is really cool! I'm in 3rd place!" Then I turned the corner and the road kicked back up and I started suffering hard, and I was like, "Oh, not so cool." Tejay and those guys caught me, and I lost a little bit of time, but I would do it all the same again. I started the day 10th overall and moved up to 8th, and that was about as high as I could have gone anyway.
Did you hear Tejay after the race? He said, "Lawson Craddock? I'm a big fan of his. He's going to be taking my spot one day."
To hear a guy of his caliber say my name and say what he did is an incredibly humbling thing for me. To be able to race next to a guy like Tejay at all is amazing. He came through the same ranks as me, so in a way I kind of feel like he is paving the way for me.
Given Bontrager's affiliations with Lance Armstrong, you have no doubt had to confront the specter of doping. What is the current state of drugs in the peloton?
It's pretty clear that cycling has gotten a lot cleaner in the past years. It was dragged through the mud a couple of months ago, but it's on its way back up. I can say that for sure, 100 percent, it is cleaner today.
What makes you so sure?
When you watch big races like the Tour de France, you don't see guys sprinting up the mountain for 45 minutes straight anymore. You see wins from guys like Wiggins, who take a much more scientific approach. There are a lot more guys these days that can make the top group. It's not just these unbelievable performances from one or two riders. Everyone is a lot closer.
As a young American rider who is presumably trying to make it clean, do you feel cheated by the previous generation?
Yes and no. I wouldn't say I feel cheated. What the previous generation went through and what happened to them has paved the way for a cleaner cycling. I think everyone on my team would tell you the same thing. The doping in the past has made it easier for us. We're never going to have to face that choice and make those decisions.