Bug-Repellent Clothing
Smart clothing options mixing style and bug-repellent material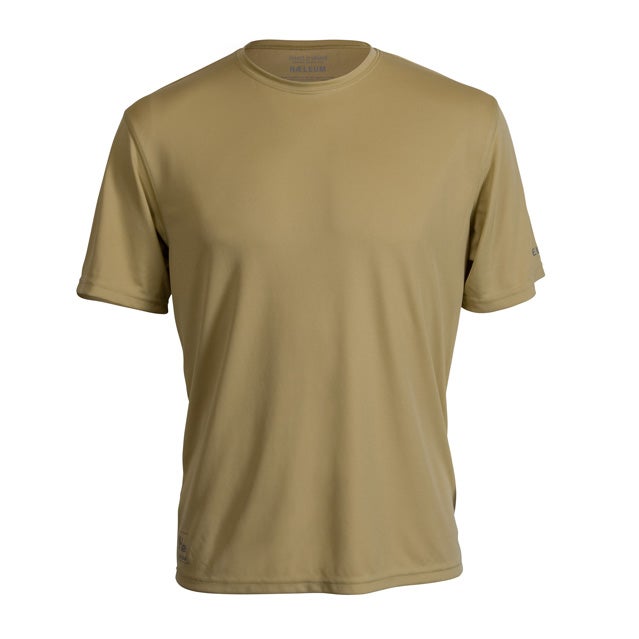 Heading out the door? Read this article on the new Outside+ app available now on iOS devices for members! Download the app.
Bug Off: The 10 Best Pieces of Insect-Repelling Clothing
So that you don't have to worry about the dangers of applying potentially harmful bug spray on your skin, more and more companies are designing insect-repellent-infused clothing that effectively places bug spray near your skin. There is no odor, you never have to reapply, and the repellency will last up to 70 washings, the expected lifetime of a garment.
Insect Shield, which is the first-ever bug-repellent clothing registered by the U.S. Environmental Protection Agency (EPA), is the most widely used technology behind many bug-repellent clothing and companies. Insect Shield promises to protect wearers from mosquitoes, ticks, ants, flies, chiggers, and midges. The bug-repellent gear, which has 0.52 percent permethrin, can be laundered like any other gear and is approved for both adults and children.
Although Insect Shield is used for most insect-repellent clothing, other companies, such as Columbia, Koppen, and Craghoppers' NosiLife, have also created their own long-lasting fabric that repels insects. The main ingredient behind each of the technologies, however, is permethrin, the only pesticide approved by the EPA for pre-treated fabrics. Infusing permethrin to fabric, as opposed to spraying it on the skin, makes the bug-repellency more effective and longer-lasting.
Here are 10 of the best clothing options that mix style and function with bug-repellency—tested and proven to keep the bugs far, far away.
The Best Bug-Repelling Clothing: For Your Head
UV Buff With Insect Shield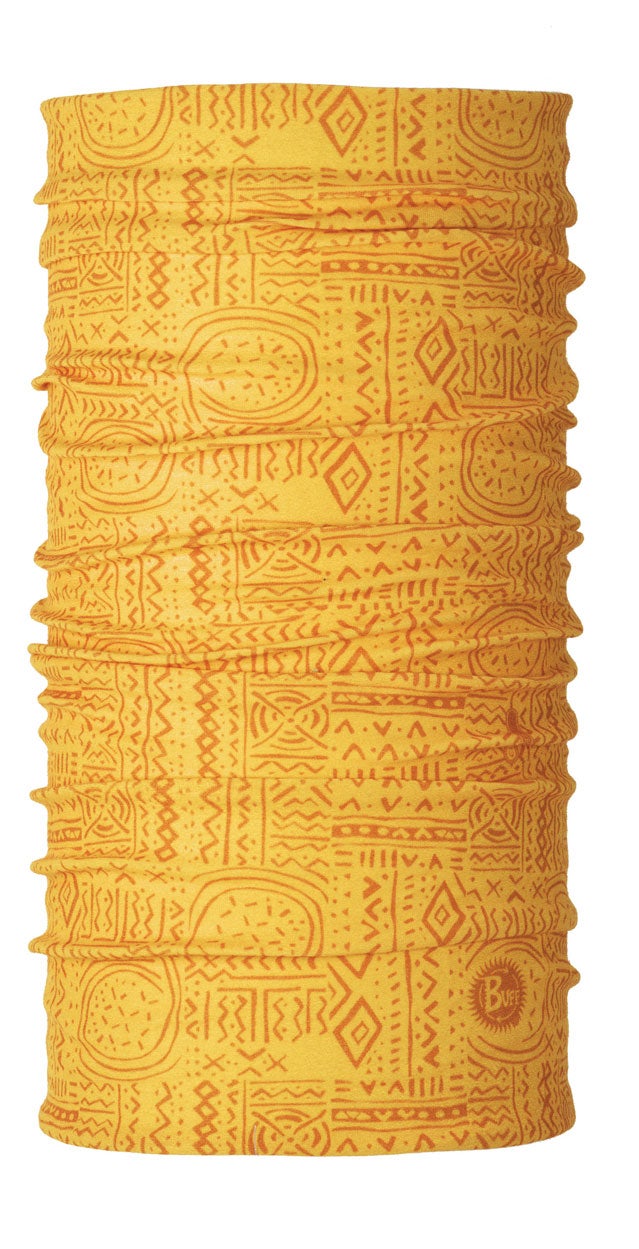 Instead of having to shampoo bug spray out of your hair, get wrapped up in seamless Buff headwear, specifically the unisex UV Buff with Insect Shield. The multifunctional headwear can be worn in at least 12 different ways—from a hat to a headband to a hood—and comes in eight different bright designs, as well as two camo options to stay bug-free while hunting.
The bug-repellent Buff is an easy way to ensure ticks don't get onto you or your family's scalps during a hike or camping trip. We really loved the option of wearing a headband instead of a hat while participating in outdoor activities, especially gardening, where bugs can be the worst. Along with keeping the pests away, Buff headwear blocks 95 percent of UV rays, uses active odor control technology to stay fresh, and wicks away the sweat you work up during a hike. ($27, buffusa.com)
The Best Bug-Repelling Clothing: For Your Feet
ExOfficio BugsAway Purdom Vented Hiker Sock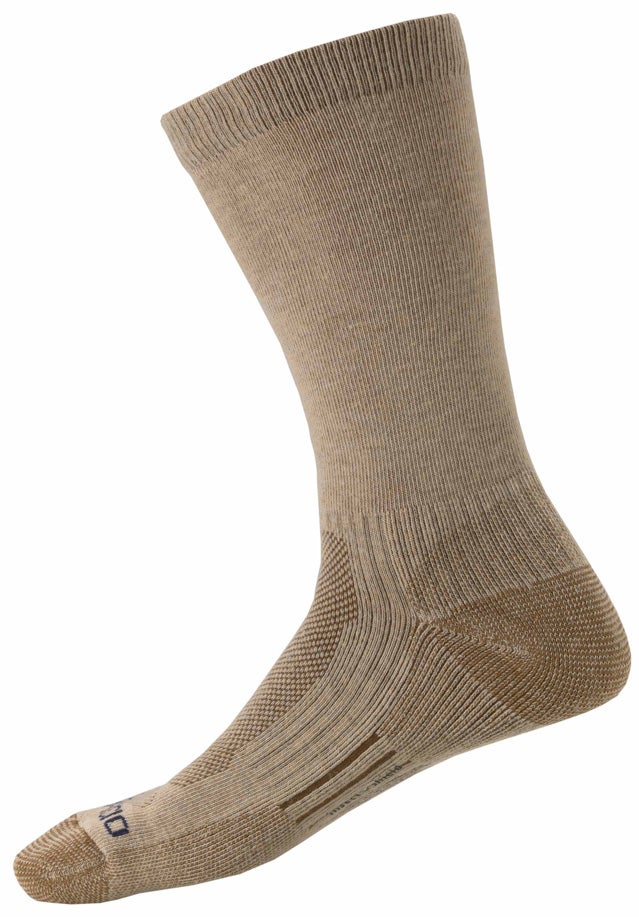 Even if you lather your body with bug spray, it seems that the little critters still manage to find a way to bite up the ankles. The ExOfficio BugsAway Purdom Vented Hiker socks will keep your feet and ankles bug free around the fire, on a hike, or while backpacking.
Although the socks aren't made with the softest material, the moisture-wicking fabric incorporates Insect Shield technology to ward off bugs and biting insects. The unisex socks are made from a recycled polyester and wool blend, and have mesh venting on top of the foot, a reinforced toe and heel, and built-in arch support. ($22, exofficio.com)
The Best Bug-Repelling Clothing: Men's All-Around Tee
Haeleum Men's Faran T-Shirt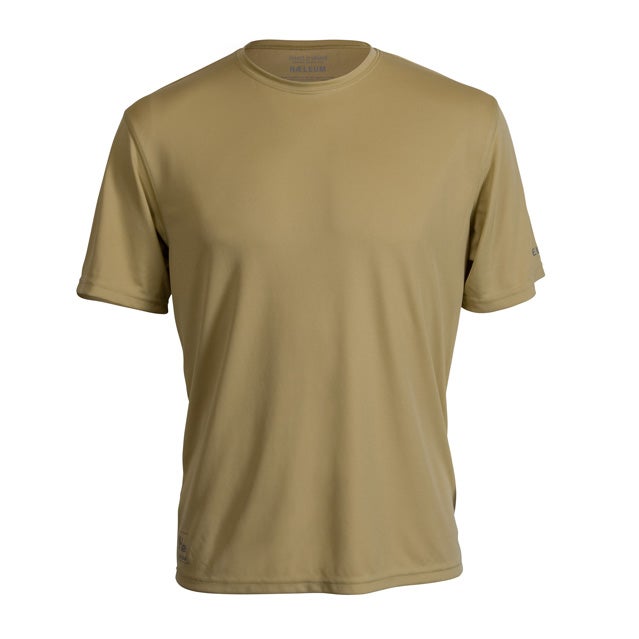 The Haeleum Men's Faran T-Shirt is the t-shirt of choice for the team members of the 12-month-long Amazon 5000 cancer-awareness trek through the rainforests of South America.
Haeleum uses Insect Shield technology in the t-shirt fabric and incorporates extreme moisture-wicking, fast-drying materials to keep you dry and cool while hiking or working outside. The breathable, wrinkle-free shirt is great for traveling, provides UPF 50 sun protection, and has a slight insulating quality for chillier days. And at only 4.2 ounces, we barely felt like we were wearing anything, let alone a bug shield. ($35, haeleum.com)
The Best Bug-Repelling Clothing: Men's Button-Up
Koppen Zuma Rocks Shirt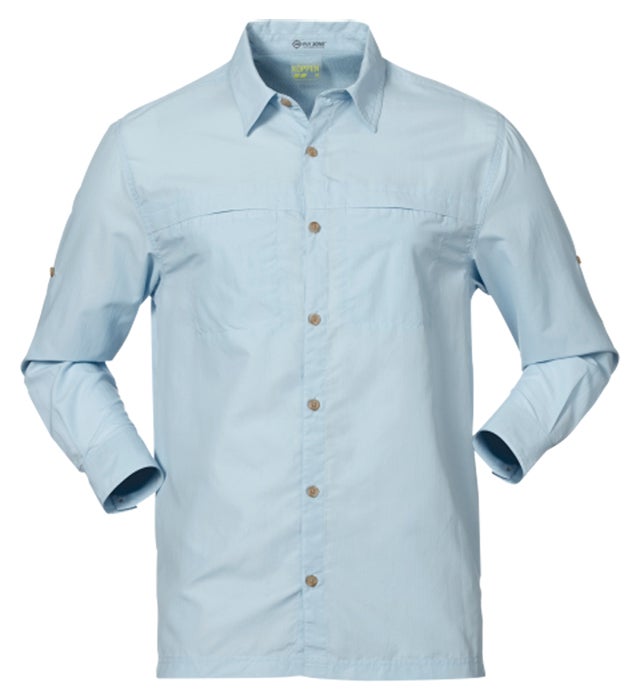 If you have an outing to attend where you want to look your best while still keeping the bugs at bay, stay in style with Koppen's Zuma Rocks Shirts. The button-up shirt uses the successful No Fly Zone technology, which is a permethrin-based bug repellent that protects wearers from mosquitoes, flies, ticks, chiggers, ants, and midges. The fabric is infused with the repellent, which stays effective for up to 70 washes. The shirt has a UPF protection of 30+ and also uses Koppen's moisture control technology to wick sweat away from the skin. ($70, koppenoutdoor.com)
The Best Bug-Repelling Clothing: Men's Fly-Fishing Shirt
Hook & Tackle Insect and Sun Shield Shirt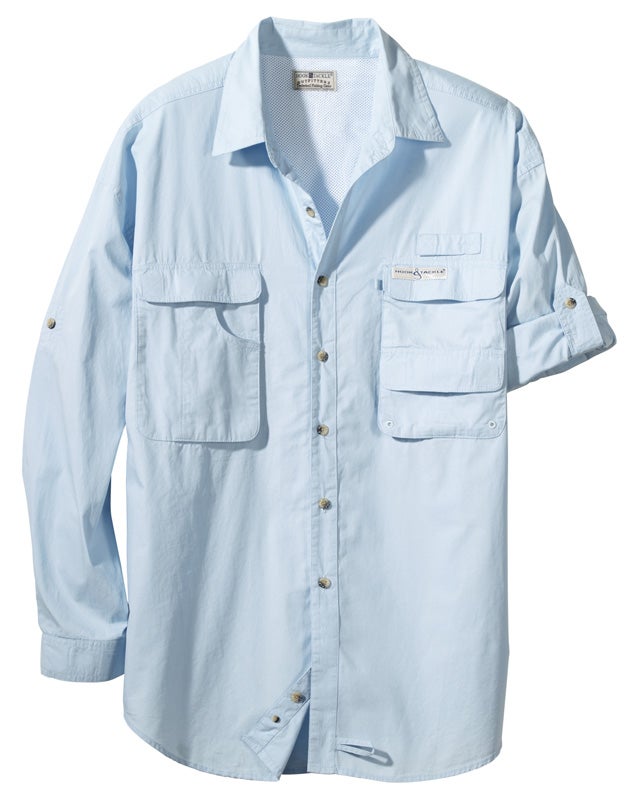 To keep your concentration on the river and not on the bugs buzzing around your head, we recommend Hook & Tackle's Insect and Sun Shield Shirt, which has UPF 30 sun protection. The lightweight fishing shirt is quick drying and breathable, and has plenty of loops and pockets to store your supplies and lures. The sleeves can be rolled up and secured, and a large, vented back will help to keep you cool when the sun is out. ($59, insectshield.com)
The Best Bug-Repelling Clothing: Men's Hiking Pants
White Sierra Swamp Pants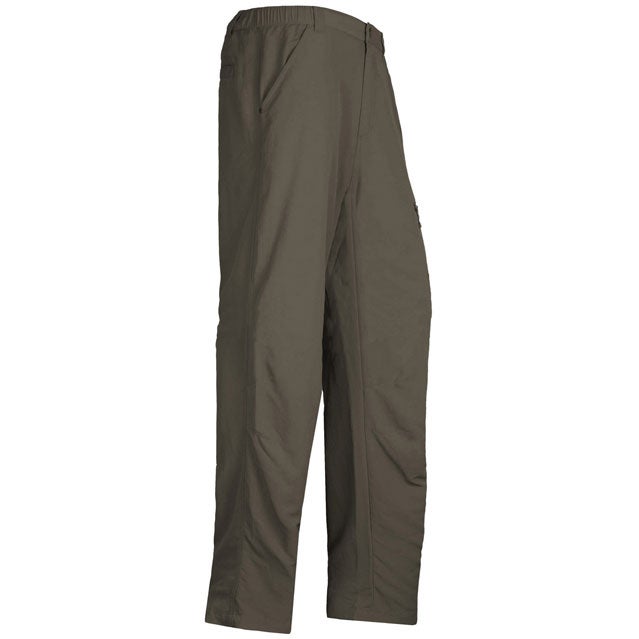 For a cooler alternative to jeans around the campfire, we recommend White Sierra's Swamp Pants, complete with Insect Shield technology. The bottoms provide a slimming, stylish fit and have two zip-closure pockets to secure IDs and keys. Durable enough for day hikes or a few days of camping, the Swamp Pants will ensure that you stay tick and itch free. The moisture-wicking pants also have UPF 30 sun protection. ($60, whitesierra.com)
The Best Bug-Repelling Clothing: Men's Polo
Zorrel Sonoma Dri-Balance Polo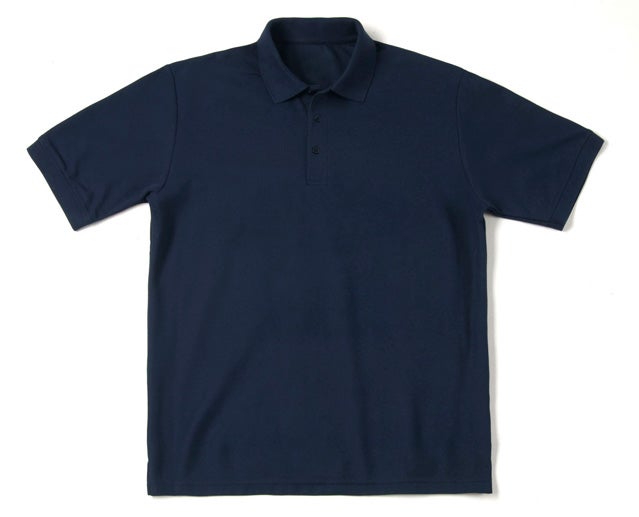 For a day on the green or at a family barbeque, the Zorrel Sonoma Dri-Balance Polo will help you clean up your look (no, a dirty hiking shirt isn't family-get-together appropriate) and ward off pesky bugs. The odor-free fabric, infused with Insect Shield technology, has moisture-wicking capabilities to help you stay sweat-free when hunched over the grill or while running around with the kids. The fabric is soft and comfortable—not what you might typically associate with bug-repelling clothing—but keeps the mosquitoes from biting. ($50, zorrel.com)
The Best Bug-Repelling Clothing: Women's Button-Up
Outdoor Research Sentinel Shirt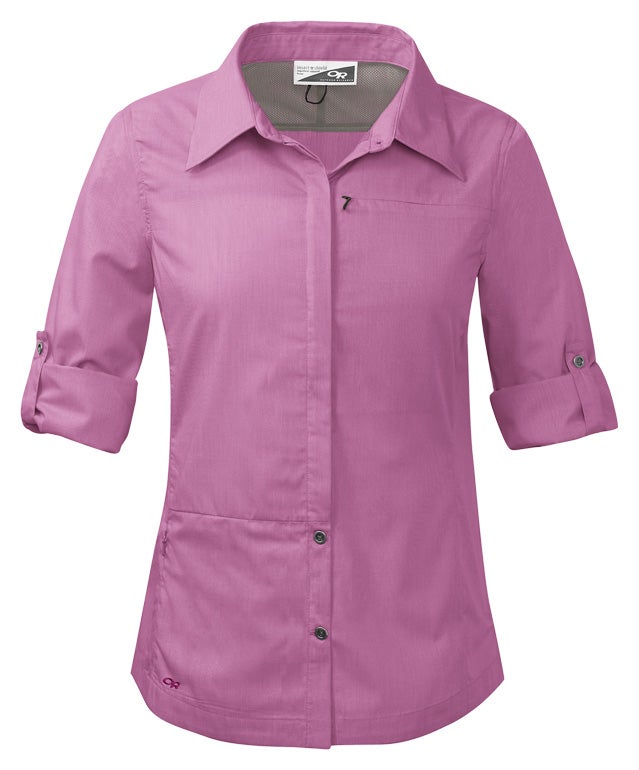 Outdoor Research's Sentinel Shirt, which incorporates Insect Shield technology, is a lightweight hiking top—only 8.3 ounces—with the added bonus of keeping bugs away without the spray. The slim-cut, stylish shirt is made from breathable material, and even has mesh vents sewn under the arms. In our tests, the shirt kept the pests away and didn't get too sticky or heavy with sweat because of its dri-release cotton, which helps with moisture management. The sleeves can be rolled up and secured, and the zippered pocket has a media port for your iPod. The bug-repellent infused fabric also has UPF 15 sun protection. ($85,outdoorresearch.com)  
The Best Bug-Repelling Clothing: Women's Half Zip
Columbia Bug Shield Sporty 1/2 Zip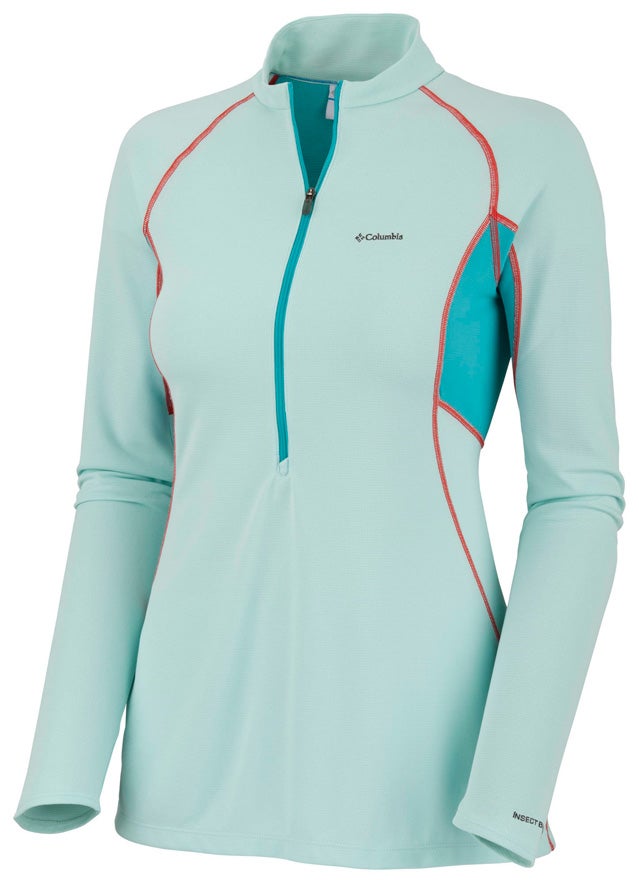 Although Columbia's Bug Shield Sporty 1/2 Zip is cute enough to wear whenever you want to sport an athletic look, we recommend limiting its use to trail running, hiking and camping—when the bugs are guaranteed to be a pain—so you don't use up all of the bug-repellent properties in the fabric.
Columbia's Insect Blocker technology is similar to Insect Shield and works just as well—the comfortable cover-up is odorless, protects against mosquitoes, ticks and other biting bugs, and lasts for up to 70 washes. The top kept the bugs away in the evening, while also providing just a bit of warmth once the sun went down. It has UPF 50 sun protection, a specially shaped collar to protect the back of your neck from harmful rays, and longer sleeves to cover wrists as well. Although the shirt provides full coverage and protection, the material is lightweight and breathable, and the lengthy zipper yields plenty of ventilation on warmer days. ($70, columbia.com)
The Best Bug-Repelling Clothing: Women's Hiking Pants
Craghopper NosiLife Convertible Trousers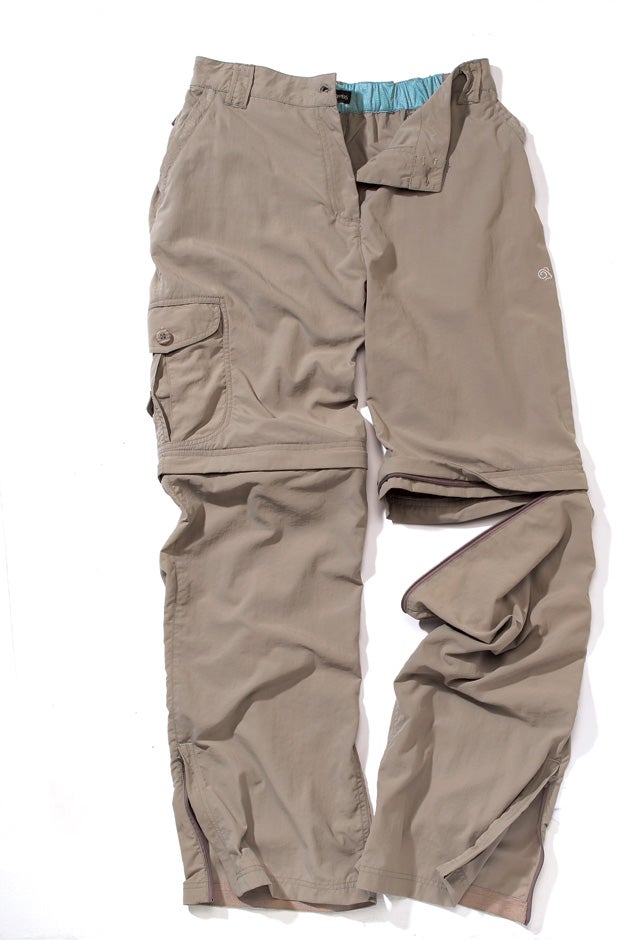 Craghoppers' NosiLife insect-repelling line of adventure gear includes an array of outdoor wear to protect you from bugs, including tops, bottoms, and even a dress. NosiLife's permethrin-based technology is permanent, non-toxic, non-irritant, and antimicrobial. We recommend the NosiLife Convertible Trousers—lightweight bottoms with UPF 40+ sun protection that are both stylish and functional with zip-off legs for when you get too hot during a hike. The pants have plenty of pockets, including two with zips for securing your keys or wallet. We loved the added bonus of a detachable dry-bag that snaps into the cargo pocket to keep your tech goods secure and dry. ($80, us.craghoppers.com)
Lead Photo: Courtesy Haeleum