Seven Things You Need to Camp with Your Dog
These essentials—some tangible, some not—should run you less than $100 and will make the two of you way happier in the backcountry
Heading out the door? Read this article on the new Outside+ app available now on iOS devices for members! Download the app.
If you read enough "How to Adventure with Your Dog" articles, it's easy to become so intimidated by your pup's less-than-perfect obedience that you leave him at home—thus negating one of the greatest joys of owning a dog in the first place.
Camping with a dog actually isn't all that complicated. In my case, it simply means making sure I have everything my two dogs will need for however long I'm going to be out. With a little forethought and a few key pieces of gear, you'll make your companion happier on the trail and you'll be happier as a result. 
---
Patience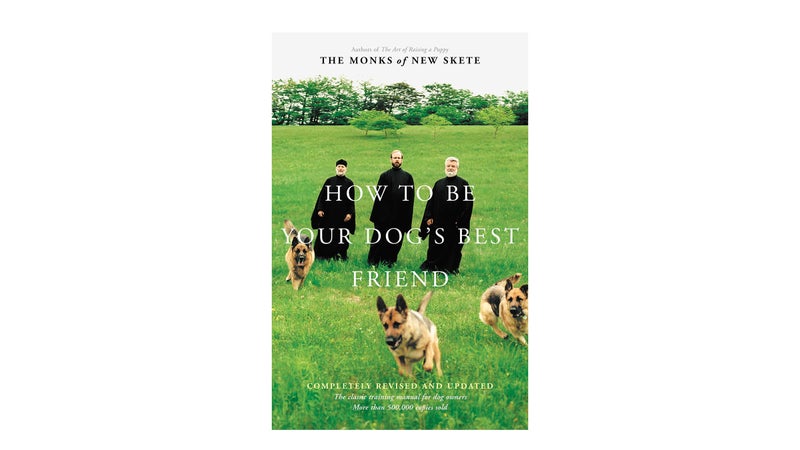 I'm not going to sit here and tell you that your dog needs to have the self control of a monk before you take him camping (my dogs aren't even close), but you will both benefit from some basic training. In order to successfully pull off said training, you will need patience. Teach your dog the basics—like sit, stay and come, be patient—before heading out: this basic dog-training manual will help. Ultimately, the more you take him hiking and camping, and the more positive reinforcement of good behavior that you give him, the better he'll get. 
---
Leash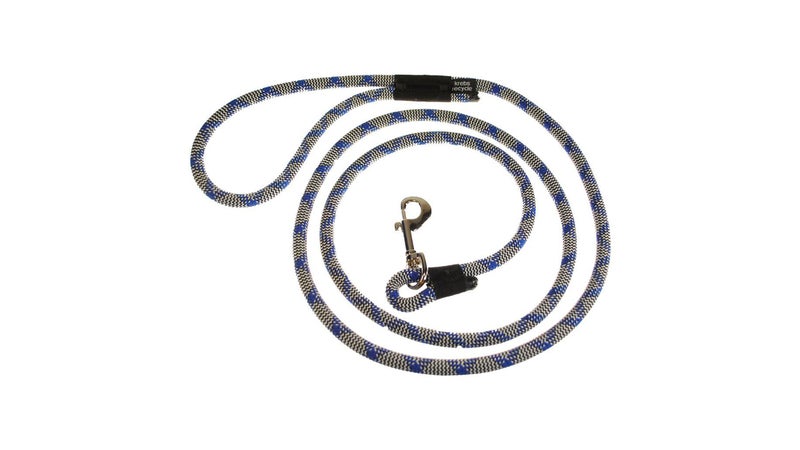 If your dog doesn't listen well when you when you call him, keep him on a leash. I like a six-foot version so the dog has some room to roam without getting so much slack he gets tangled or pulls like a maniac. Krebs makes cool-looking leashes out of recycled climbing rope that are durable and pack up small, making them great for hiking. If you're car camping, bring along some additional rope and a carabiner so you can tie the dog up around camp. 
---
Lots of Water and a Collapsible Bowl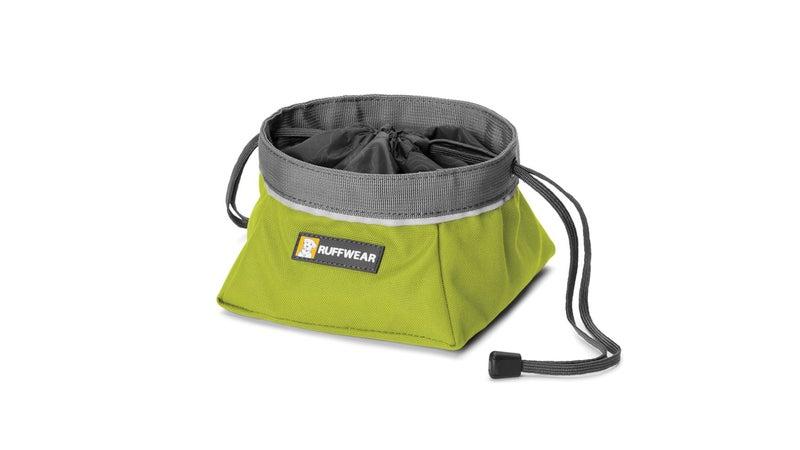 On the trail, dogs need a lot of water (likely more than you), so plan accordingly. If I'm going on a short hike that won't follow a water source, I make sure to bring at least an extra Nalgene for my two dogs. PupWerks makes a really handy bowl that fits on the bottom of most water bottles, and is thus extremely difficult to forget. If we're going camping, I'll also bring along a bigger, collapsible bowl that I'll use for their food, too. 
---
Pack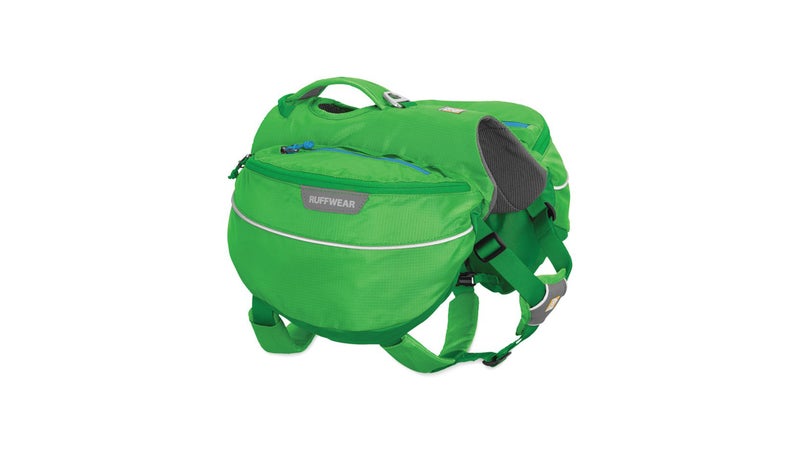 If you're going on a long day hike or a backpacking trip, get your dog his own pack. I'm a big fan of Ruffwear's Approach because of its adjustability, reflective trim, and bomber fabric. The latter can't be overstated: a dog's pack will absolutely get beat to hell. Dogs can carry up to 25 percent of their own body weight, which means you can load them down with plenty of food and water.
---
Bed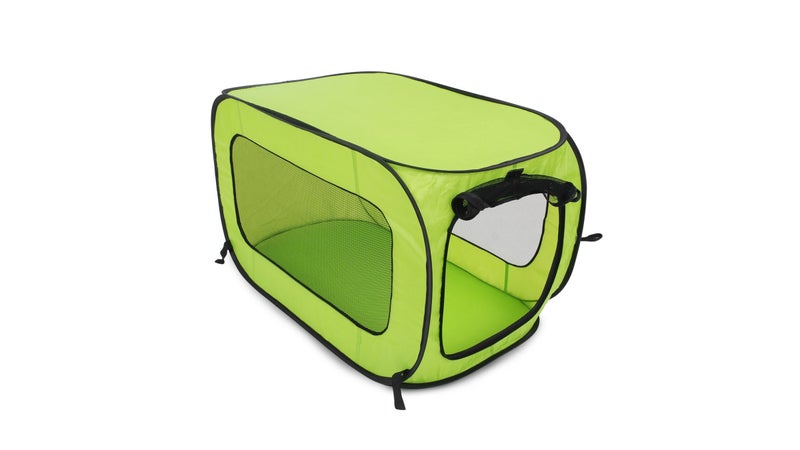 Depending on the size of your dog, that ultralight, not-really-two-person-sized backpacking tent probably won't have enough room for you, your dog, and your partner (at least not if you want to remain friends with said partner). Opt for a tent with a little more room, and don't be afraid of one that's a little heavier, because it's likely made with more durable materials—key when you're adventuring with dogs. I use an REI Half Dome 2 Plus that I found works really well for two people and two medium-sized dogs. You could also opt for a collapsible dog crate, which I've used in the past while car camping. 
---
Light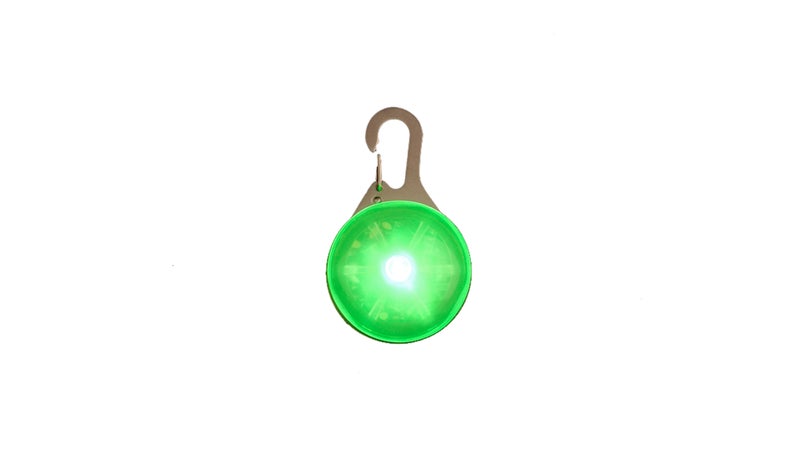 If your pup is going to be running around in the woods at night, a light on his collar is essential for your peace of mind. This little guy from Nite Ize comes on every single one of my hikes and camping trips. 
---
Camp Towel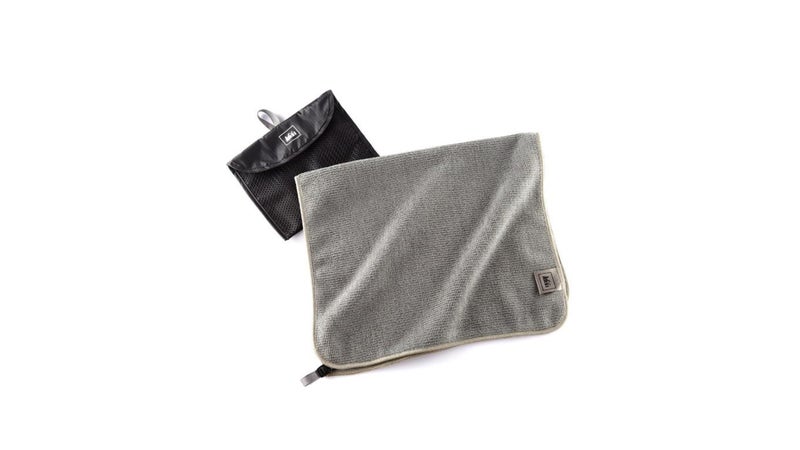 Dogs are dirty. Even a small, packable towel will go a long way toward keeping your car and tent a wee bit cleaner. I like this one because the fabric sheds dog hair better than any other one I've tried. 
Lead Photo: Bryan Rogala
Trending on Outside Online