Are roof-top touring tents a revolution in car camping?
I'm curious about the ARB Simpson II Rooftop Touring Tent, which attaches to a vehicle's roof rack. It makes sense in a place like Australia, where sleeping on the ground could be riskier. But for the North American camper, is this a revolution in car camping or just a waste of money? Jay Dana Point, California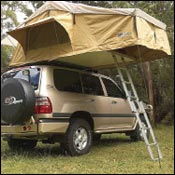 Heading out the door? Read this article on the new Outside+ app available now on iOS devices for members! Download the app.
Well, it certainly makes sense to camp off the ground in Australia, where there may be more poisonous reptiles per square yard than anyplace on the planet. About 100 Australian snakes are poisonous, including the feared Taipan, which has the most potent snake venom known.
ARB Simpson II Rooftop Touring Tent

Simpson II Rooftop Touring Tent
In the U.S.? Well, I'm not so sure. The ARB Simpson II Rooftop Touring Tent (approximately $1,500; arbusa.com) certainly is a clever piece of engineering. It mounts to the rooftop of your SUV, then unfurls and is supported off the ground by poles, with one end still attached to the roof rack. A ladder gives you access. It's waterproof, comes with foam mattresses, and can be buttoned up in bad weather or opened to the breeze when it's warm.
But for starters, the Rooftop Touring Tent costs about three times what high-end camping tents cost. It isn't all that big—55″ X 94″ X 52″—so compared with a typical car-camping tent, it may be a little cramped. And there's some question about how sturdy it is when not attached to expedition-style roof racks, which are bolted to the SUV's frame, not just the roof sheeting. Besides, when you're car-camping, it really isn't that hard to find a flat place, is it? Not in my experience.
So, I wouldn't call it a waste of money. In the right situation I can see the utility; and it does free you a bit from the need to find a tent site. But for most situations it might be overkill.
Check out the new 2007-2008 Winter Outside Buyer's Guide, packed with reviews of more than 300 new gear must-haves. It's available on newsstands this month.
Trending on Outside Online