2023 Summer Gear Guide
The Best Headlamps of 2023
We hiked, ran, skied, and climbed through the night to find the best illumination of the year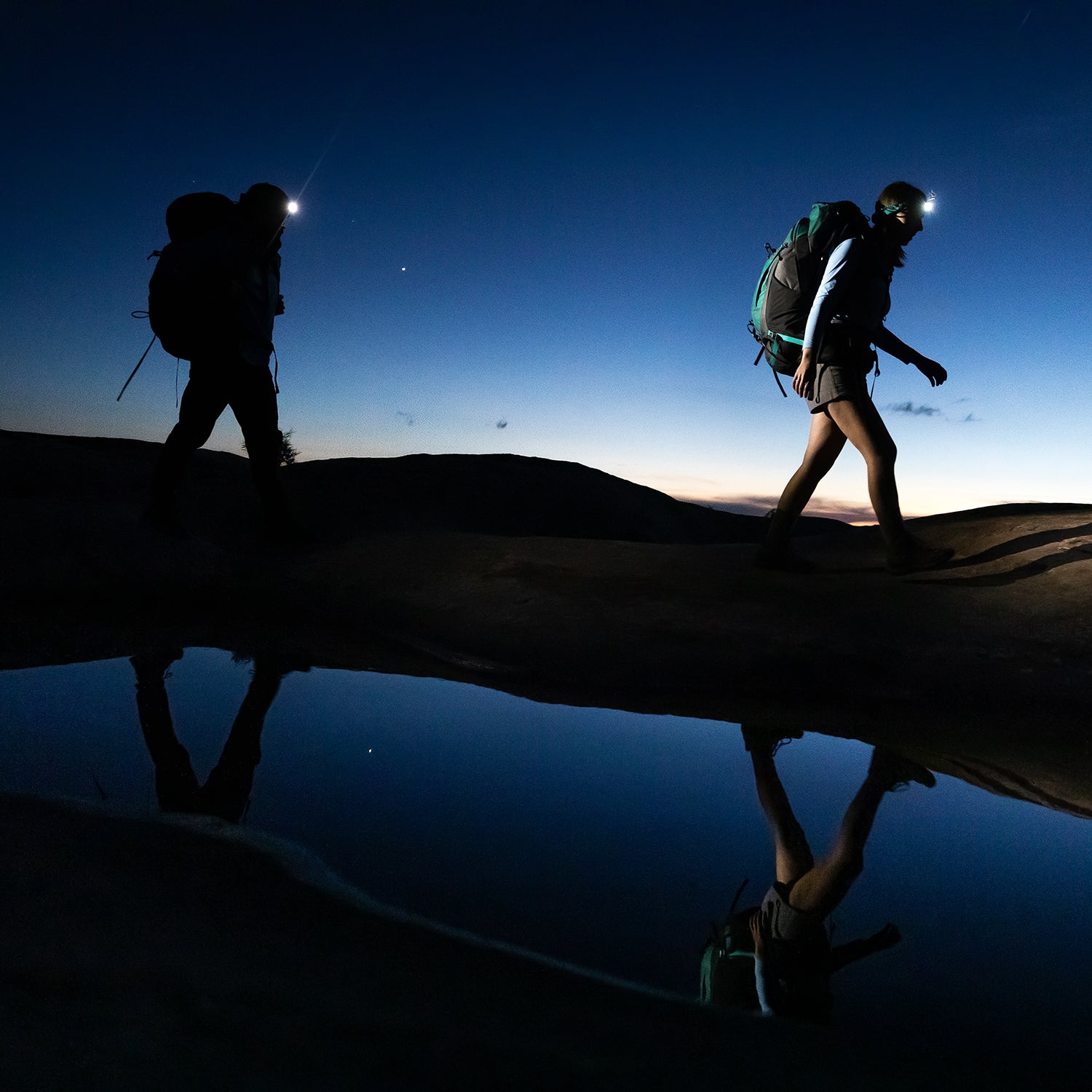 Daniel Holz/Tandem
Heading out the door? Read this article on the new Outside+ app available now on iOS devices for members! Download the app.
Epic ascents. Long treks. Dawn patrols and sunset hikes. All of the most memorable trail moments have one thing in common: You need a good headlamp to make them happen. Thanks to modern tech, the current crop of lights are lighter, brighter, and better than ever before.
The Winners at a Glance
Knog Quokka 150
BioLite HeadLamp 325
Black Diamond Distance 1500
How We Test
Number of Testers: 5
Number of Lights Tested: 8
Number of Nights: 31
Activities Tested: hiking, rock climbing, adventure racing, ski touring, winemaking
Meet Our Lead Tester(s)
Backpacker Executive Editor Adam Roy is a habitual night skier, so he appreciates a good, high-powered headlamp. He lives in Colorado's Front Range, where he also backpacks, rock climbs, trail runs, and paddles the local reservoirs, often with his wife, small child, and smaller dog.
The Reviews: The Best Headlamps of 2023
Knog Quokka 150 ($30)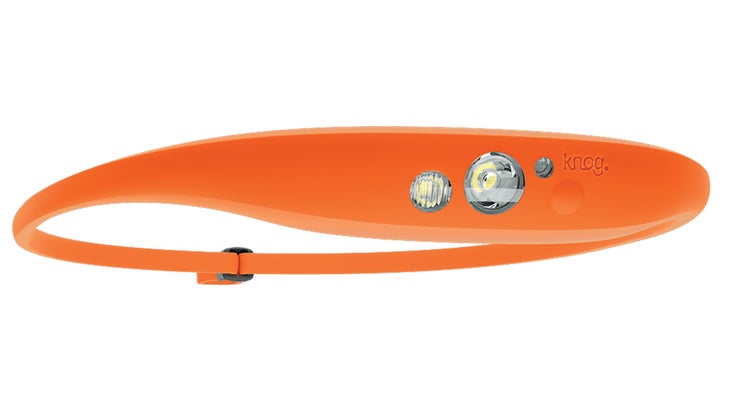 Weight: 1.7 oz
Lumens: 150
Pros: Simple, durable, built-in charging means no more searching for a cable
Cons: Not especially bright, somewhat bulky design
This streamlined number from Australian light manufacturer Knog is the antidote to fiddly, complicated headlamps. Knog nearly doubled the brightness of the Quokka from previous seasons, boosting lumens from 85 to 150, but kept the ultralight 1.7-ounce weight. The Quokka uses the same streamlined construction as the rest of Knog's lights, forgoing a hinge and building the entire thing into a one-piece silicone strap that adjusts via a single plastic toggle at the back. Charging is similarly simple: Instead of using a cable, the entire light assembly pops out and plugs directly into a standard USB port. In use, though, the lamp is as fully equipped as any competitor, featuring a wide beam, red mode, spot, and combo with a range of about 70 feet—bright enough to cut through the night during the long workdays our tester spent moving and pressing grapes on a Washington winery. An IP65 rating means this headlamp is waterproof enough to weather a storm, and the silicone strap means it won't get soaked and cold, either.
Bottom Line: A simple, durable construction and bright beam makes the Quokka a reliable, do-anything chore headlamp to keep in the bottom of your pack.
BioLite HeadLamp 325 ($50)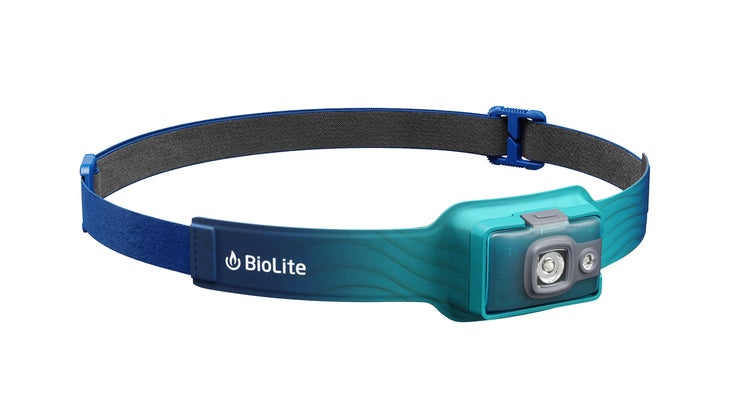 Weight: 1.76 oz.
Lumens: 325
Pros: Light, packable, bright for size
Cons: Fiddly buttons, battery life on low setting just OK
From impromptu after-work hikes to dusk tempo runs, we found the BioLite HeadLamp 325 bright enough to use on briskly-paced adventures, but still light and comfortable enough that we often forgot we were wearing it. The secure hinge on the matchbox-size lantern didn't shift or bounce when one tester took it on an 8-mile leg of an obstacle race at Flat Rock Ranch in Comfort, Texas. The compact package belies an impressive range (BioLite claims 230 feet on high; our tester found it more than bright enough for racing) and competitive battery life (40 hours on low, 3 hours on high from the integrated rechargeable battery). The wide, soft headband is comfortable and easy to adjust—even, as our testers found, while on the move. At 1.76 ounces, it's just a hair heavier than the much-less-powerful Quokka, and folds up small enough to use as an emergency headlamp.
Bottom Line: On dawn patrols and after-hours runs, this headlamp lights the way without weighing you down.
Black Diamond Distance 1500 ($200)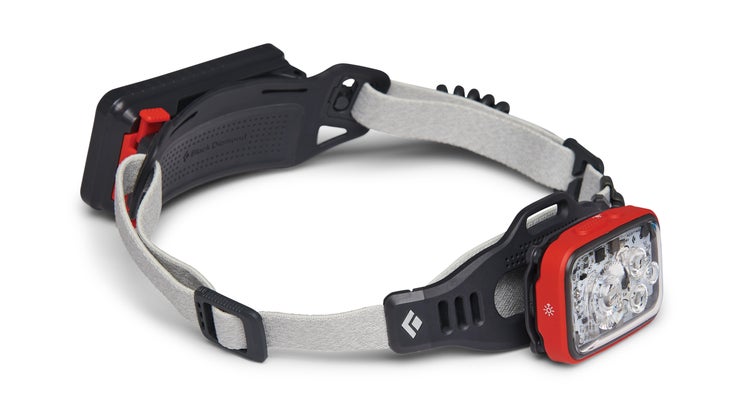 Weight: 7.5 oz.
Lumens: 1500
Pros: Extremely bright, easy to operate
Cons: Powertap controls hard to operate with gloves
Ever wished you could strap a car headlight to your helmet? The super-powered Distance 1500 isn't far off. With a tap on the side of its housing, users can unleash 1500-lumens for ten seconds, pushing out a 117-meter cone of light suitable for scouting ski runs or multipitch rock routes. (It's possible to customize the headlamp to run at that brightness for longer, but it drains the battery quickly.) Its normal high setting of 800 lumens was more than bright enough for an after-hours Nordic session at Colorado's Butler Gulch, where the Distance 1500 helped us dodge early-season rocks on the downhill with ease. For such a heavy-duty headlamp, it's remarkably easy to forget you're wearing it; the flexible plastic blend curved naturally around the back of our tester's head over a wool hat, and at 7.5 oz., it's a featherweight compared to other ultra-bright models. The rechargeable battery is easy to swap out and lasts 6 hours at 300 lumens, enough light for skinning or normal camp tasks. We did wish for an extension cord that would let us carry it in a coat pocket to keep it warm, although the battery performed well, even in sub-freezing temps.
Bottom Line: This head-mounted light cannon is built for skiers, climbers, and anyone else who needs to see far away in the dark.
How to Buy
Consider what you're going to be using your headlamp for: ultralight hikers and rock climbers will usually want to prioritize weight over brightness, while night skiers and runners need to see a little further down-trail. Everyone else, including most backpackers and campers, will benefit from something in between: look for a model with an output between 300-500 lumens and a red light mode to help preserve your night vision. While disposable battery-powered lights are still available, rechargeables have become the norm over the past few years; if you're spending a lot of time hiking at night or taking a lightweight headlamp on a long trip, consider bringing an external battery to top it off during the day.
When it's time to upgrade your gear, don't let the old stuff go to waste–donate it for a good cause and divert it from the landfill. our partner, Gear Fix, will repair and resell your stuff for free! Just box up your retired items, print a free shipping label, and send them off. We'll donate 100 percent of the proceeds to The Outdoorist Oath.
Lead Photo: Daniel Holz/Tandem