The Best Tents of 2016
A great trip starts with the right roof overhead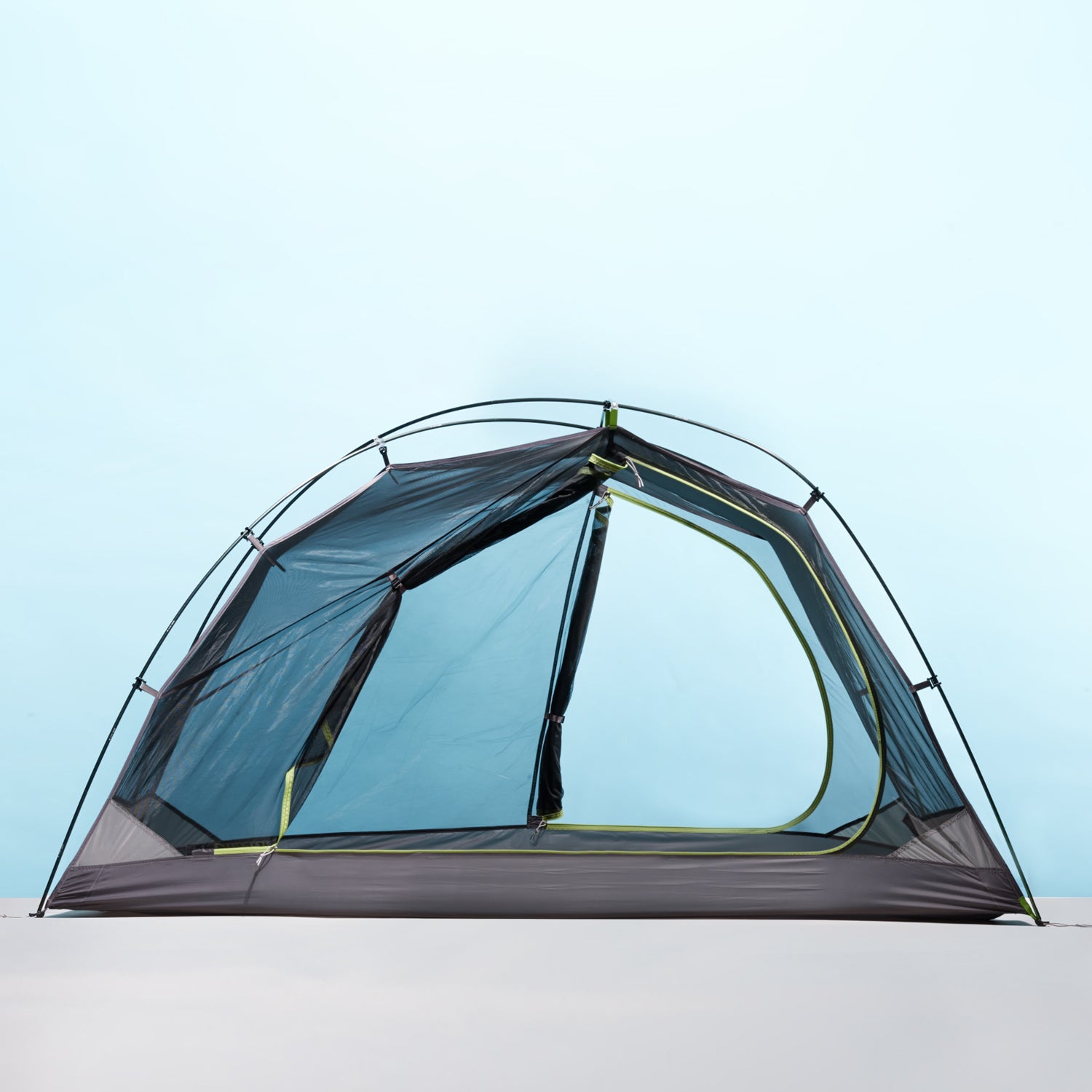 Inga Hendrickson
Heading out the door? Read this article on the new Outside+ app available now on iOS devices for members! Download the app.
When selecting a tent, look at the same factors you'd scrutinize when buying a house: location, size, and amenities. First up, where are you pitching camp? The deeper you lug gear into the woods, the more weight matters. If you're heading into high-alpine environments or anywhere you might encounter serious weather, you need something with thicker fabric and more poles. If you're car camping or sticking relatively close to the trailhead or put-in, a bigger tent with higher ceilings and ample storage compartments is a worthwhile luxury. No matter where you're going, the little things count. Think of features like suspended pockets and oversize vestibules the way you do built-in shelving and a killer garage. After all, those are the things that will transform your tent from a shelter into a home.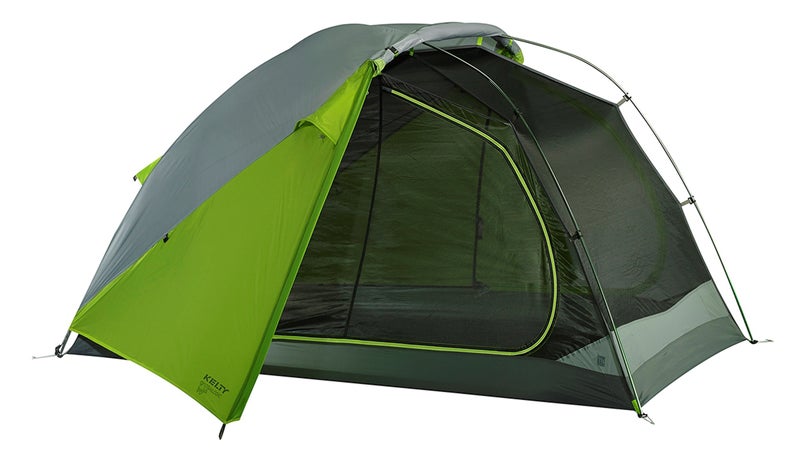 Kelty Tn2
Gear of the Year
There's nothing flashy about the Tn2—and that's part of why we fell in love with it. It's just rock solid, dependable, and willing to lend a novice camper a hand. Take the three aluminum poles that Kelty cut into 14-inch sections—about two inches shorter than the norm—to enable easier setup and takedown. Staking solo was also easy, thanks to color-coded poles and ball-in-joint corner attachments that lock them in place. With vertical sidewalls and two ten-square-foot vestibules, the Tn2 easily swallowed a pair of testers and all their gear on a beach-hiking trip along the west coast of Vancouver Island. That package comes in at a perfectly acceptable 4.8 pounds, with an astonishingly low price tag. Bottom line: the Tn2 gives you everything you need and nothing you don't, whether it's your first tent or your tenth.

Price $250  Weight 4.8 lbs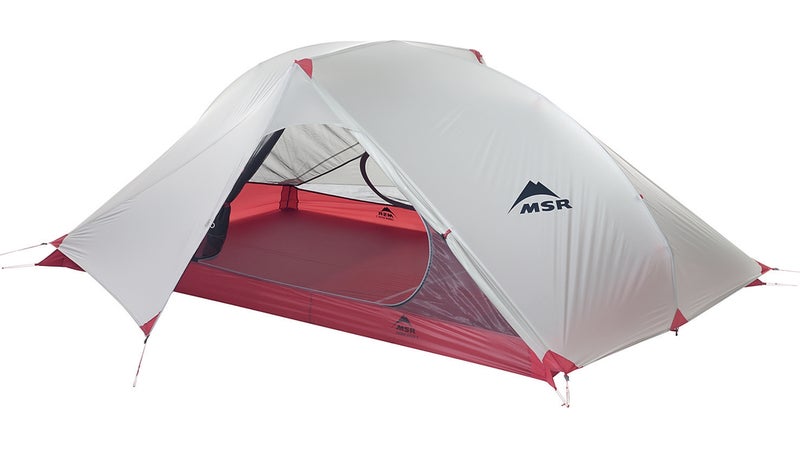 MSR Carbon Reflex 2
Best For: Adventure racing.
The Test: When a two-person tent weighs less than a pound per occupant and scrunches down small enough to get lost in a pack (true story), you know some sacrifices have been made. Getting inside feels like spelunking. I punched my tentmate while trying to put on a jacket, and we had to play cards lying down. But if your goal is to go fast and light, the Reflex 2 is unbeatable. MSR dropped 25 ounces from the previous iteration by replacing the rain fly's zips with Velcro (we hardly noticed) and using only two Easton carbon-fiber poles to prop up the non-freestanding design. The result weighs about a third of the next lightest option here. Just treat the fragile nylon-mesh body and fly with care.
The Verdict: Go light, sleep tight. 

Price $500 Weight 1.8 lbs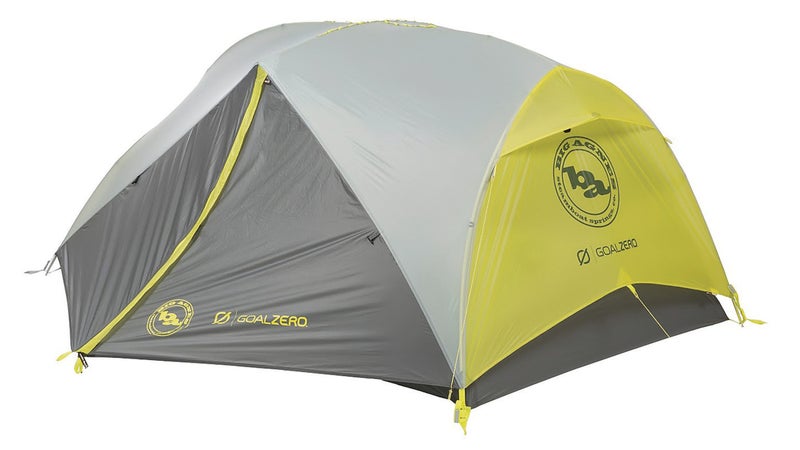 Big Agnes Krumholtz UL2 MtnGlo
Best For: Staying plugged in.
The Test: Last year, Big Agnes won Gear of the Year for integrating LED lights into a superb backpacking tent. This year, the company took another bold step forward, turning its two-person Krumholtz into a powered-up base camp. In partnership with Goal Zero, the company built a sleeve into the fly to store a seven-watt solar panel (included) and strung wires through the rest of the tent. The panel fuels a chain of built-in canopy lights, as well as a phone and just about anything else electronic, including the fan and lantern that also come with the Krumholtz. The weight penalty for all that extra tech? Negligible.
The Verdict: Totally wired and impressively comfortable. 

Price $650 Weight 4.9 lbs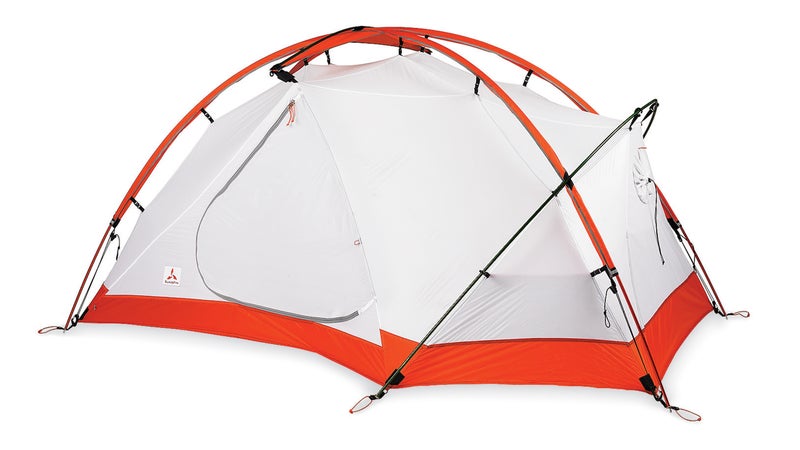 SlingFin WindSaber
Best For: A night out anywhere, anytime, whatever the conditions.
The Test: Before you run away screaming from the price tag, consider that this four-season monster could replace all the other tents in your garage. True to SlingFin's expedition heritage, it has heavy fabric walls, tension-adjustment points, and a stout frame that can handle fierce winds and biblical downpours. The 28-square-foot interior space might sound a bit small for a year-rounder, but the WindSaber feels bigger in the field, with plenty of elbow room, massive inside pockets at the head and feet, a tubelike entrance that doubles as easy-access gear storage, and two vestibules. Even with all those features, it weighs far less than most of its winterized competitors.
The Verdict: One tent to rule them all—and conquer all four seasons. 

Price $750 Weight 4.7 lbs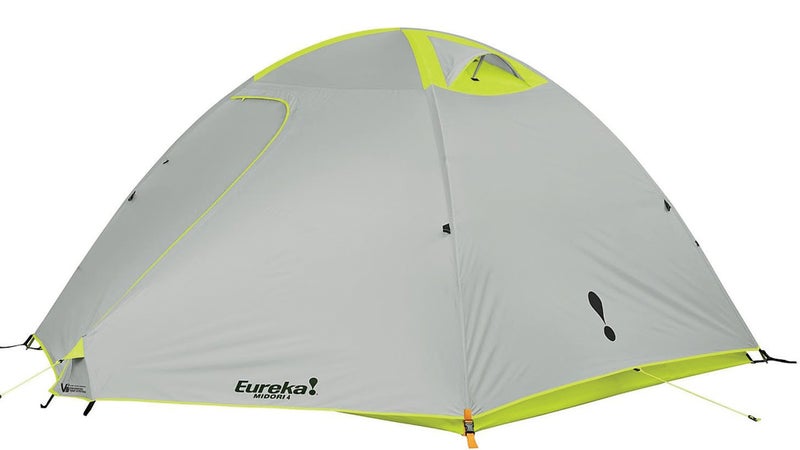 Eureka Midori 4
Best For: Backcountry trips with the entire clan.
The Test: The Midori is built to withstand the kind of abuse that only children can deliver. We didn't worry when the kids ran inside with their shoes on: the 75-denier nylon floor is about twice as tough as what you'll find in most tents. The two vestibules tether well out of the way to avoid door crashers, and the zippers are heavy-duty enough to tolerate impatient hands. The guy-out points are all double-stitched and bounced back every time someone tripped on them. When the little devils finally fell asleep, two overhead vents and plenty of mesh kept condensation to a minimum. For mom and dad: an easy-to-set-up two-pole design, five feet of head space, and oversize doorways.
The Verdict: A straightforward and reliable second home. 

Price $250 Weight 8.9 lbs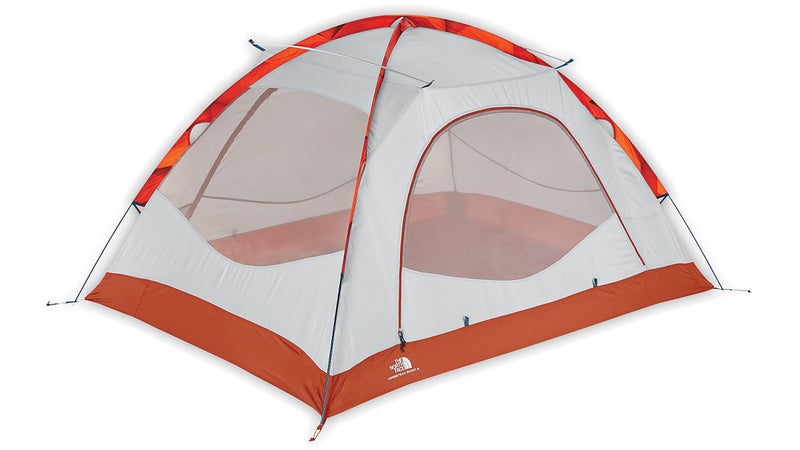 The North Face Homestead Roomy 2
Best For: Overpacking.
The Test: You can fit a queen-size air mattress inside this shelter, should you ever have occasion to. Two of our testers took it for a trial run to Mexico's Nuevo León sport-climbing area and came back insisting that it was bigger than their bedroom at home. "We had space on either side of the bed for all our gear," said one. "It was fantastic." Suspended lofts and pockets provide additional organizational options, while the vestibules act like mini garages: our testers fit ropes, climbing gear, two pairs of shoes, a duffel, and a backpack. Color-coded poles and a simple dome design make setup brainless.
The Verdict: Room for three, palatial for two, and not so heavy that you wouldn't consider taking it backpacking. 

Price $230 Weight 6.9 lbs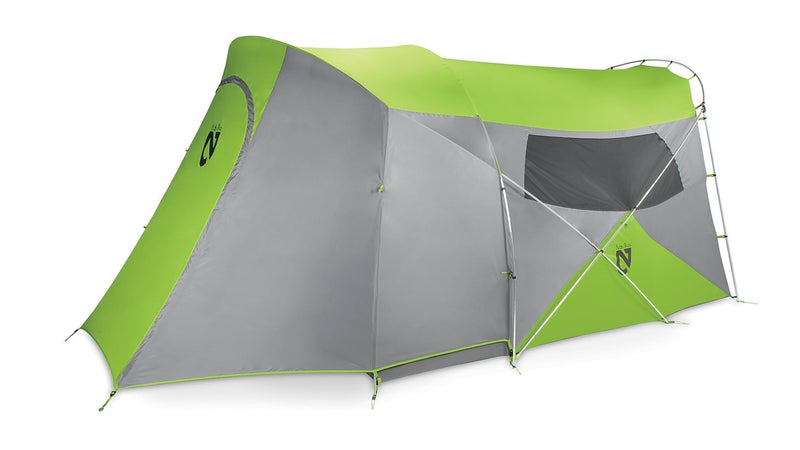 NEMO Wagontop 6P
Best For: Family car camping.
The Test: The numbers say a lot—6.7 feet tall, almost 100 square feet of floor space, and a vestibule the size of a Smart car. The Wagontop can house a family of six with room to spare. We barely had to stoop when walking through the huge door of this barn-shaped haven and were able to store a bike in the entryway. Like a lot of tents this large, the hubbed poles are unwieldy and require teamwork to wrestle into position. However, the single-wall design—the fly and body are one—made setup relatively fast without diminishing waterproofness. Just make sure to crack the two large side windows to prevent condensation.
The Verdict: When size matters. 

Price $600 Weight 23.3 lbs