Can I make my own tent?
I want to make a tent by myself. Any advice on where to buy ten feet of gray or blue polyester taffeta fabric that will suit my needs?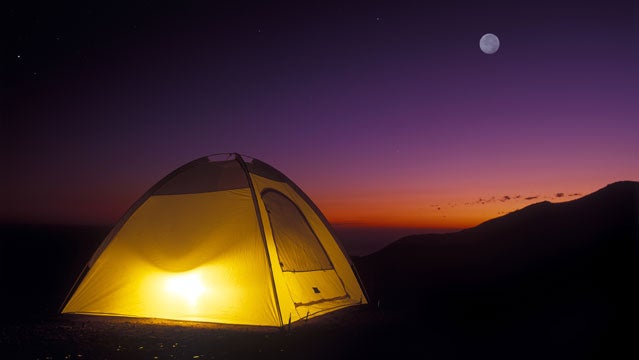 Heading out the door? Read this article on the new Outside+ app available now on iOS devices for members! Download the app.
I see no problem with this plan. You re going to buy a bunch of fabric and (I assume) some aluminum tent poles and some zippers and mesh and webbing, stitch it all together, and then take it camping. Okay. Of course, that s how the Sierra Designs and Marmots and L.L. Beans of the world all got their start. But they re GOOD at it now, and they have all sorts of ways to cut costs. So spend $160 for a Sierra Designs Clip Flashlight (www.sierradesigns.com), a tent that s been around so long now that its start-up costs have been amortized 10,000 times over, and be done with it.
Kelty Noah's Tarp

Kelty Noah's Tarp
Still, there s a certain kind of nervous energy about you that I find mesmerizing, like watching one of those movies in which the lead character is doing something that is going to utterly backfire, like in Fargo. So in order to get to the last reel, I will help you out.
The place you need to go, at least on the Internet, is Seattle Fabrics (www.seattlefabrics.com). They have everything you need coated taffeta, ritpstop, webbing, zippers, even thread and sewing machines. Everything. For instance, they sell a 1.9-ounce, 70-denier silicon-coated ripstop that is ideal for tent flies. You can get ten square yards for about $80. They also sell patterns for light tarp shelters (like the one pictured here), if that sounds more practical.
As a bonus, the folks at Seattle Fabrics are very nice. They ll be far less inclined than I am to taunt you. They ll even encourage you, because, after all, they know a gravy train when they see it.
Lead Photo: Big Pants Production via Shutter