Cocoon Coolmax Travel Blanket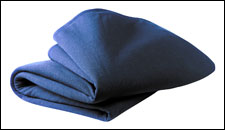 Heading out the door? Read this article on the new Outside+ app available now on iOS devices for members! Download the app.
Gear, generally speaking, is predictable. That's the beauty of it—reliability. Crampons keep you in place. Headlamps light your way. And blankets make you feel, well, cozy.
Cocoon Coolmax Travel Blanket

Cocoon Coolmax Travel Blanket
The Cocoon Coolmax Travel Blanket (www.cocoonusa.com 509-667-1600) doesn't inspire the same back-woods braggadocio as a Czech Army ice ax. I mean, much as you may want to, you'll never confess to your father-in-law: "Gosh, Gerald, this blanket sure is snug!" No, it's a piece of gear that, like wine coolers and romantic comedies, you try to enjoy discretely.
Sleeping is one of the least ballyhooed backcountry pursuits. But ask any avid outdoorsman and they'll tell you: it's one of the most important and satisfying, particularly when taken seriously. If you approach outdoor sleeping, as I do, like a hibernating animal—with instinct and preparation—Rip Van Winkle shut-eye can be yours, making every waking moment more rewarding.
Enter the Cocoon. For sleepers like me who require womb-like enclosure, this blankie does the trick. By increasing coverage and comfort, it turns that average sleep sack into a portal to Deep Space Nine. The fabric is a smart mixture of nylon, cotton and treated polyester making it light, soft, and breathable—like that old, ragged, Moosehead Lager tee with faded lettering that I wore on top of two layers of long-sleeve cotton during those grade school winters so I'd look cool in the cold. Now, I wouldn't cut this blanket up. But if I did, and I could sew, it would make a great shirt.
Speaking of grade school, the blanket stuffs into a tote sack the size of a three-pack of juice boxes. And it's as versatile as that pocket-knife you clandestinely procured, at age twelve, without your parents' permission: it works as well in the desert as it does in the cabin of an airplane (although I'm pretty sure a few cocktails still won't hurt).
Witness a recent weekend trip to White Sands National Monument where it saved my ass. Desert, sand, sun—these things suggest warmth, right? The desert in February, as it turns out, is insanely cold. And I was using a borrowed bag (long story) a few inches too short for my prostrate, fetal-positioned body. Fortunately, I'd tossed the Cocoon into my pack, on a whim. That little blanket kept me warm, and alive, as it swaddled my cursing, exposed flesh—from the neck up—without suffocating me.
I've stayed cool, dry and comfortable on indoor outings as well. I found the blanket perfectly suited for watching Grizzly Man on the couch one head-throbbing weekend morning in January. While Timothy Treadwell went crazy, I stayed cozy. It was great.
Like most utility infielders and infomercial exercise products, the travel blanket is multi-functional without being great at any particular thing. But, in gear, I take multi-functionality over specialization any day. It's a good sleeping bag liner—especially for that winter bag that doesn't have quite enough fill, or that summer sack that's a little too rank to bunk in without a buffer. Indeed, it's a sleeping supplement (plane, train, tent) and psychological aid (for those long, lonely nights), not necessarily a snooze arrangement in and of itself.
Bottom line, if you want a warm night's sleep outdoors when it's cold, throw this blanket in your sack and that booze, bonfire, and sleeping partner won't be necessary. On the other hand, maybe the blanket's all you want. I mean, who isn't looking for a little excuse to cuddle?
Gosh, this blanket is cozy.