Cuben Si2: Easton Takes a Bold Step Into the Tent Category
Introducing an ultra-high-end, ultra-light mountaineering tent that's also great for flush thru-hikers, backpackers with fat wallets, and adventure racers with generous corporate sponsors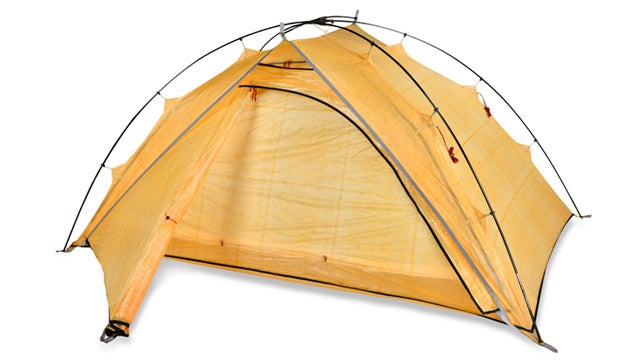 Heading out the door? Read this article on the new Outside+ app available now on iOS devices for members! Download the app.
In 1922, Easton, a leader in precision-built outdoor equipment, started making technical gear for serious enthusiasts. For years the company made high-strength, lightweight aluminum and carbon-fiber tubing for tent poles and other applications for other companies. A few years ago, it decided to make the tents to go along with its poles. And it did a good job. In fact, we featured Easton's Kilo 3P in Outside's Spring Buyers Guide in 2012.
This fall, Easton is taking another bold step into the tent category with an ultra-high-end mountaineering tent, the Si2 in Cuben fiber.
Cuben is a blend of strong-as-steel Dyneema fibers bonded to a waterproof breathable polyurethane membrane with an unmatched strength-to-weight ratio. Easton sews it into a freestanding single wall tent, supported by Easton's own carbon-fiber poles that can flex further than aluminum poles before failure, and reliably return to straight—ideal for a tent that may be used in high winds.
The lightest single-wall, two-person mountaineering tent ever made, the Cuben Si2 also has the most liveable space of any mountaineering tent—about 40 inches of head room, enough for most adults to sit up comfortably. The tent has two doors, each with a removable vestibule, but still manages to weigh in at a mere 2.1 pounds.
The dual doors and twin vestibules make this tent comfortable enough to use year-round, not just when you're pinned to the side of an 8,000-meter peak. The tent has survived 85mph winds in testing, but zip in the mesh doors, and in summer, it's pleasantly breezy.
So who is this tent for? Elite mountaineers, flush thru-hikers, backpackers with fat wallets loathe to carry anything but the very lightest gear, adventure racers with generous corporate sponsors, and gear junkies who want to have the latest and greatest—this "concept car" design showcases Easton's capabilities of molding design and materials. The Si2 does double duty for lightweight backpacking and extreme mountaineering, but the price is as extreme as the design.
"The genesis of the design came from my climbing days and all the time I've spent at altitude in storms," said John Bercaw, Easton Mountain Products product manager. "You need shelter but you don't want the weight. You're already hauling gear that weighs a ton and you're trying to lead hard ice or rock with your home on your back. Cut the weight, and you increase your enjoyment. If you're stormbound for days and can't dry your gear because your tent doesn't breath, a low condensation tent could save your life." Available fall 2013, $2,000; eastonmountainproducts.com.