Gear Guy
11 Things We Bring Backpacking that Cost Less Than $10
Our Gear Guy's inexpensive hacks for backcountry travel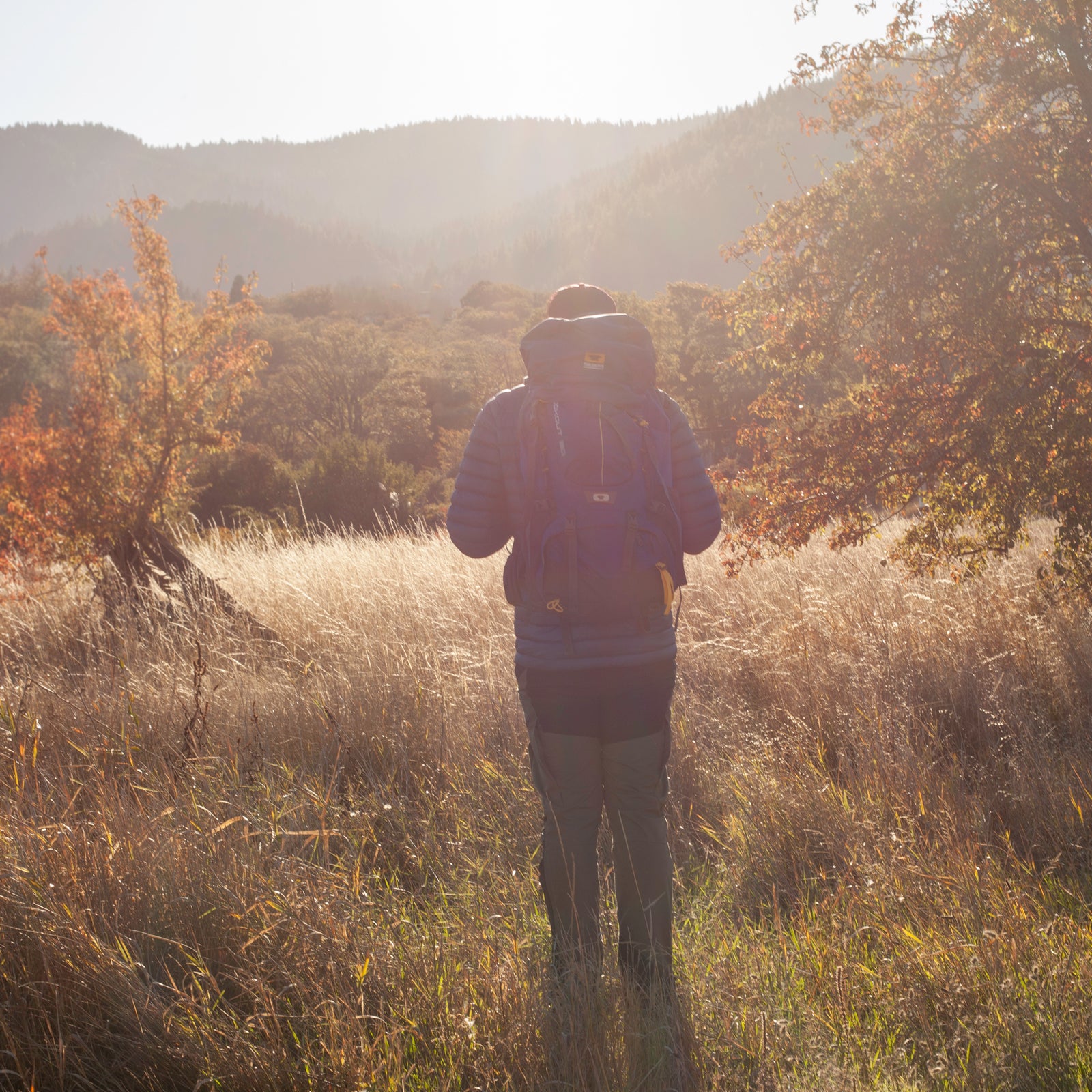 Sarah Jackson(Photo)
Heading out the door? Read this article on the new Outside+ app available now on iOS devices for members! Download the app.
I know that I test and write about a lot of expensive gear that not everyone can afford. For the vast majority of my time as an outdoor enthusiast, I was one of those people. When I think of 25-year-old truck-living, raft-guide Joe interacting with 36-year-old rooftop-tent-camping, family-guy-with-a-mortgage Joe, I don't know how well they'd get along.
But I haven't lost touch with my roots. Both of those Joes agree that the following items of backpacking gear are extremely useful and won't cost you more than $10 apiece.
Bic Lighter ($2) Wrapped in Gorilla Tape ($5)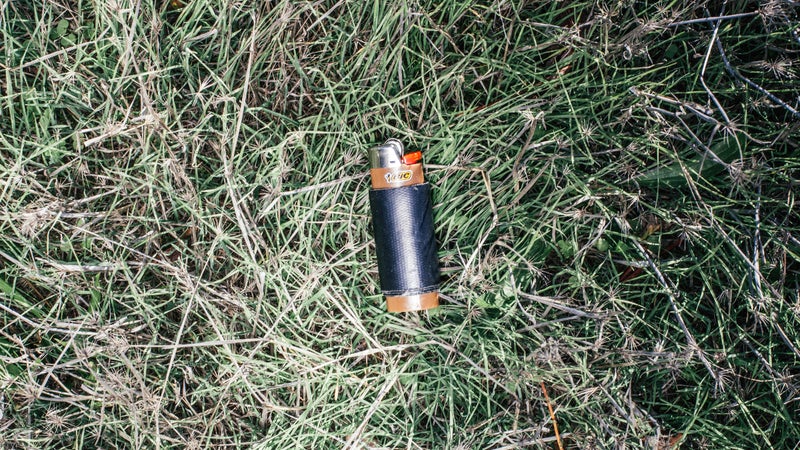 This very simple combo delivers a reliable system for warmth, food preparation, and gear repair in a compact package. Even if you're extremely proficient with a ferro rod or flint, having a good old Bic—which weighs less than an ounce—is amazing for peace of mind. I also love stoves with piezo push-button ignitions, but you can't always depend on them to work when your calories are on the line. And if you wrap your lighter in Gorilla Tape (we have no naked lighters in my house, even for ones that only light incense and aromatherapy candles), you'll always be holding enough to repair fix most of your minor gear malfunctions in a pinch.
Buy Now Buy Now (Gorilla Tape)
---
Taco Bell Fire Sauce (Kinda Free)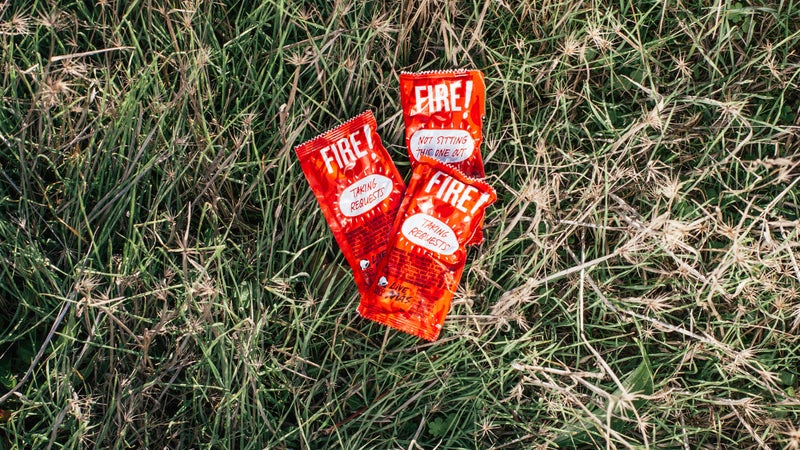 I argue that there are few foods on the savory spectrum that don't benefit from a little bit of Taco Bell's fire sauce. You can buy packets online, but for years, I've made a pre-adventure ritual of getting a couple of very reasonably priced bean and cheese burritos ($1.29 each) and grabbing a little extra fire sauce to spice up my Top Ramen or hard-boiled eggs in the outdoors. When I lived in my truck, I had a one-gallon freezer bag filled to the brim with the entire Taco Bell hot-sauce menu to smother everything I ate. On top of being extremely versatile and packable, they have a shelf life that's potentially longer than your active lifestyle.
---
Sea to Summit Alpha Light Spork ($11)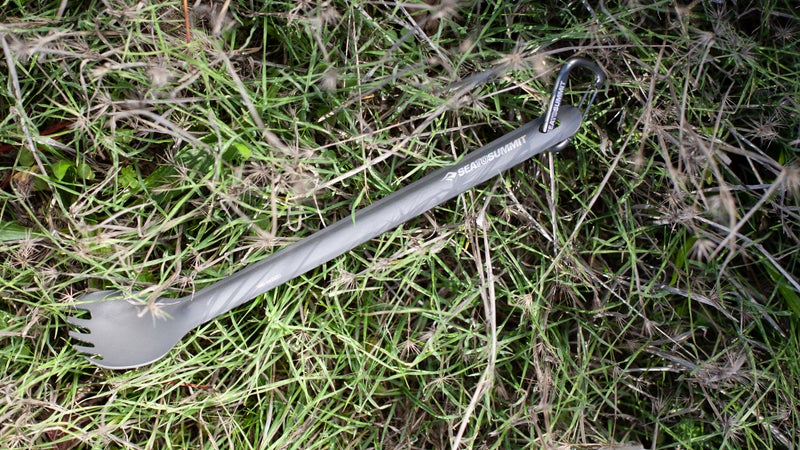 For years I used the same Taco Bell fire-sauce trip to grab some extra utensils for backpacking and mountaineering trips. While I think this is still a worthwhile hack for saving dough, I had many flimsy plastic handles break, leaving me to slurp ramen with just the tongs of a fork. The 12-gram Alpha Light Spork is a perfect shoveling machine, with a long handle to scoop from deep within my Jetboil or at the bottom of a bag of freeze-dried food, and it will never break. Its aircraft-grade aluminum-alloy build also makes it an excellent cooking tool for soups and other hot items that need stirring and would likely melt the cheap plastic utensils of my youth.
---
Paracord ($9 for 50 feet)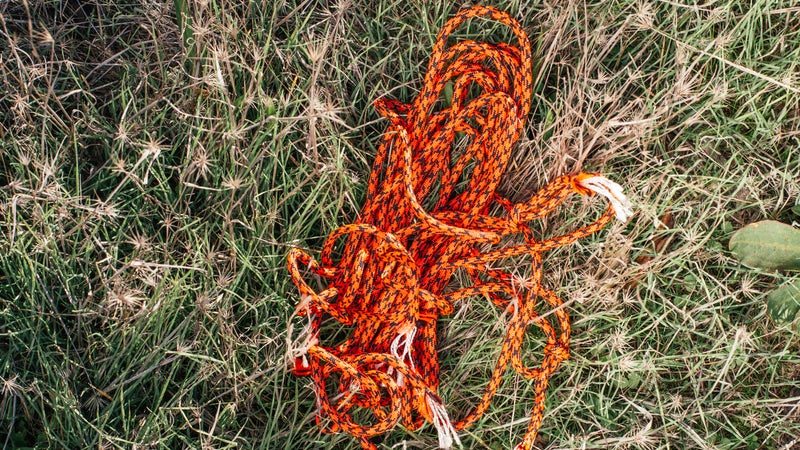 Paracord is nonnegotiable for me on backpacking trips. Aside from being my means for hanging food in bear country (a practice that this site has disputed but that I still practice for my own reasons), the sturdy, inexpensive cord is worth bringing for how handily it field-repairs a pack, reinforces a splint, or hangs a tarp.
---
Tenacious Tape ($5)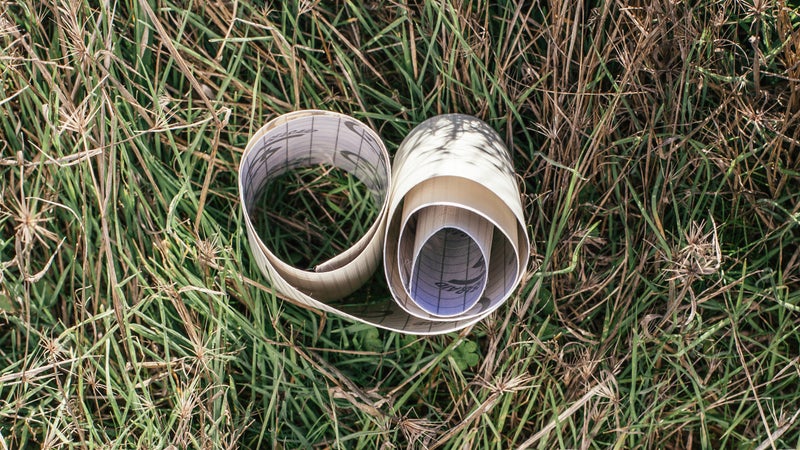 While the Gorilla Tape that should live wrapped around your lighter is amazing for minor fixes, I always bring Tenacious Tape for bigger repairs, like a rip in a tent, where I can't afford to have any water leaks. It's washable and durable (I still have a pair of mountaineering pants I patched up with Tenacious Tape five years ago), and it adheres to nylon better than Gorilla or duct tape—making it absolutely watertight.
---
Trash-Compactor Bags ($15 for 12)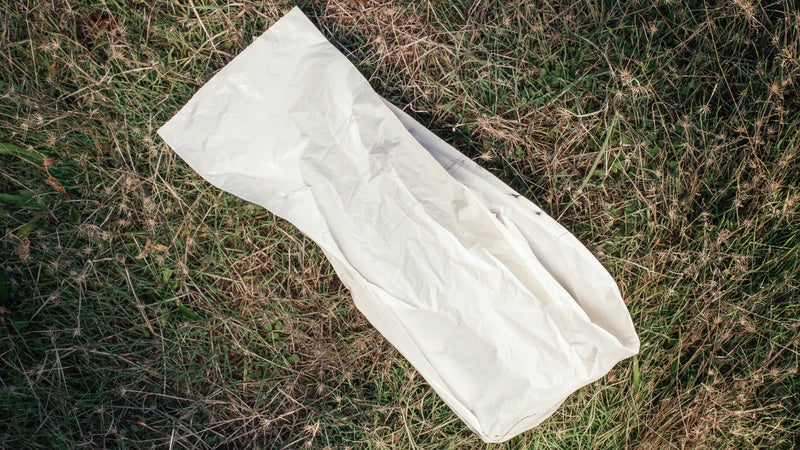 Want to turn your old backpacking pack into a sweet waterproof sack that will keep your sleeping bag bone-dry in a torrential downpour? Line the main compartment with a trash-compactor bag. You can get by with hearty yard sacks in a pinch (don't waste your money on flimsy kitchen ones), but the trash-compactor version offers an extra layer of puncture resistance that's worth the extra dollar or two.
---
Dr. Bronner's Organic Liquid Soap ($5)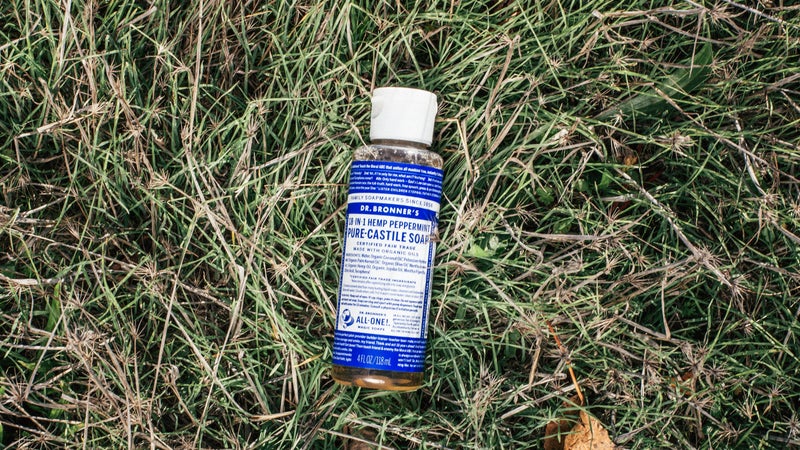 This is a cliché, but I would be remiss to leave it out for a variety of reasons. One, the menthol cool of the original peppermint variety can calm the most brutal of itches, even if only on application. Two, you can use it to wash your dishes, teeth, and nether regions. Three, you can find it just about anywhere.
---
Cotton Balls Soaked in Vaseline (Around $7)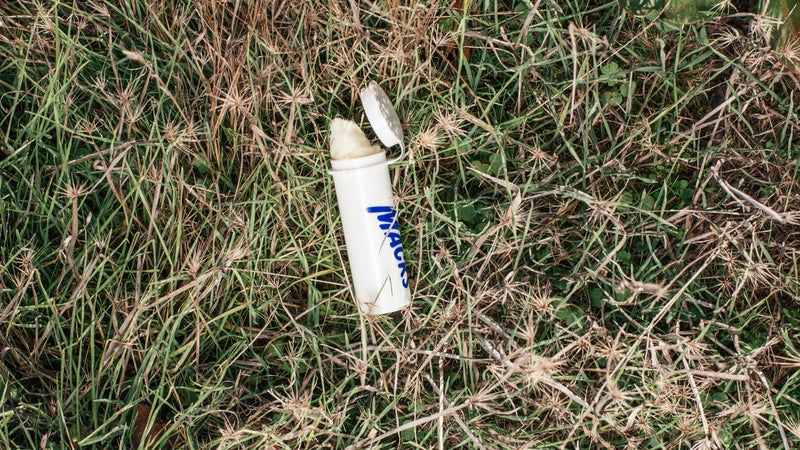 When I was a teenager, a friend who taught survival courses showed me how flammable cotton balls soaked in Vaseline were. I was blown away. She challenged me to find a time where the combo wouldn't light. After multiple successful ignitions in the rain and wind, I became a lifelong believer in this supercheap item. I pack 15 to 20 presoaked balls in an earplug holder and bring them as a fire-starting safety net.
---
Potable Aqua Tabs ($7)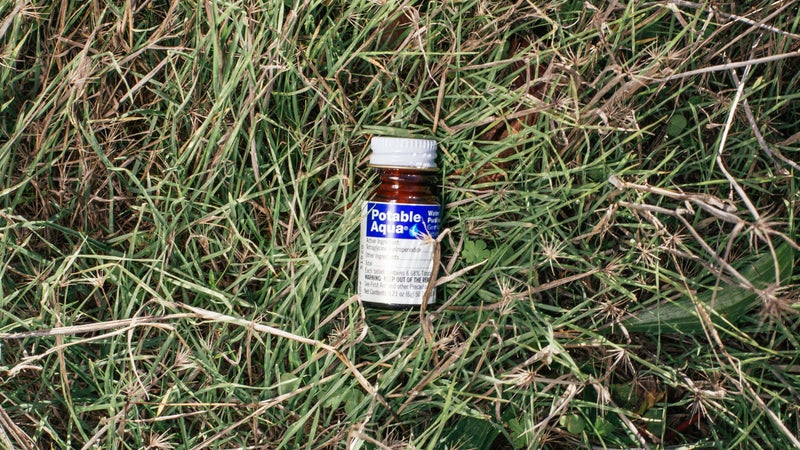 After many hundreds of hours of research, I am a strong supporter of physical water-filtration devices from reputable manufacturers. I have also learned to hedge my bets against human error as well as catastrophic malfunctions (like crushing a filter underfoot) when waterborne illness is on the line. Potable Aqua Tabs are a reliable way to kill nearly any bug I would worry about on a backpacking trip, and they only take up a tiny corner of my pack.
---
Leukotape ($9)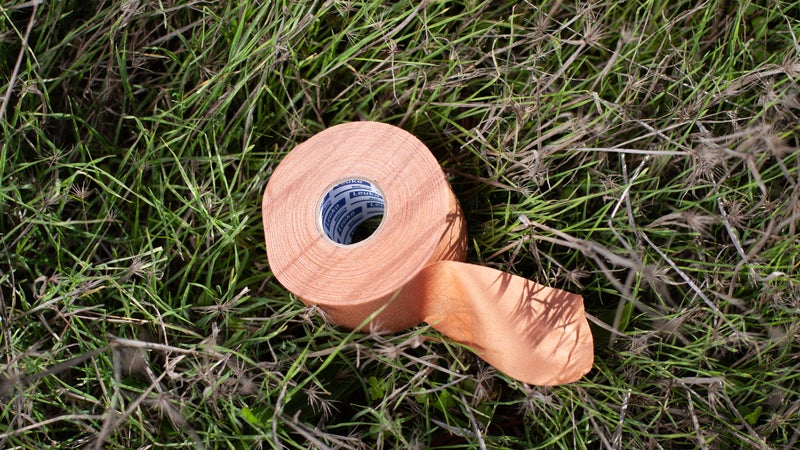 I have tried any number of fancy blister-mitigating technologies over the years, and Leukotape still holds a special place in my heart—and my first aid kit. It does just what I ask of it: stays on my feet and in between my blisters and my socks. Every year I interview Pacific Crest Trail hikers about their gear as they walk through Ashland, Oregon, and Leukotape is always the clear winner for blister alleviation.
Lead Photo: Sarah Jackson
Trending on Outside Online