Gear Storage Hacks for the Apartment Dweller
The best, most creative, time-saving ways to fit (and organize) all your gear into a tiny apartment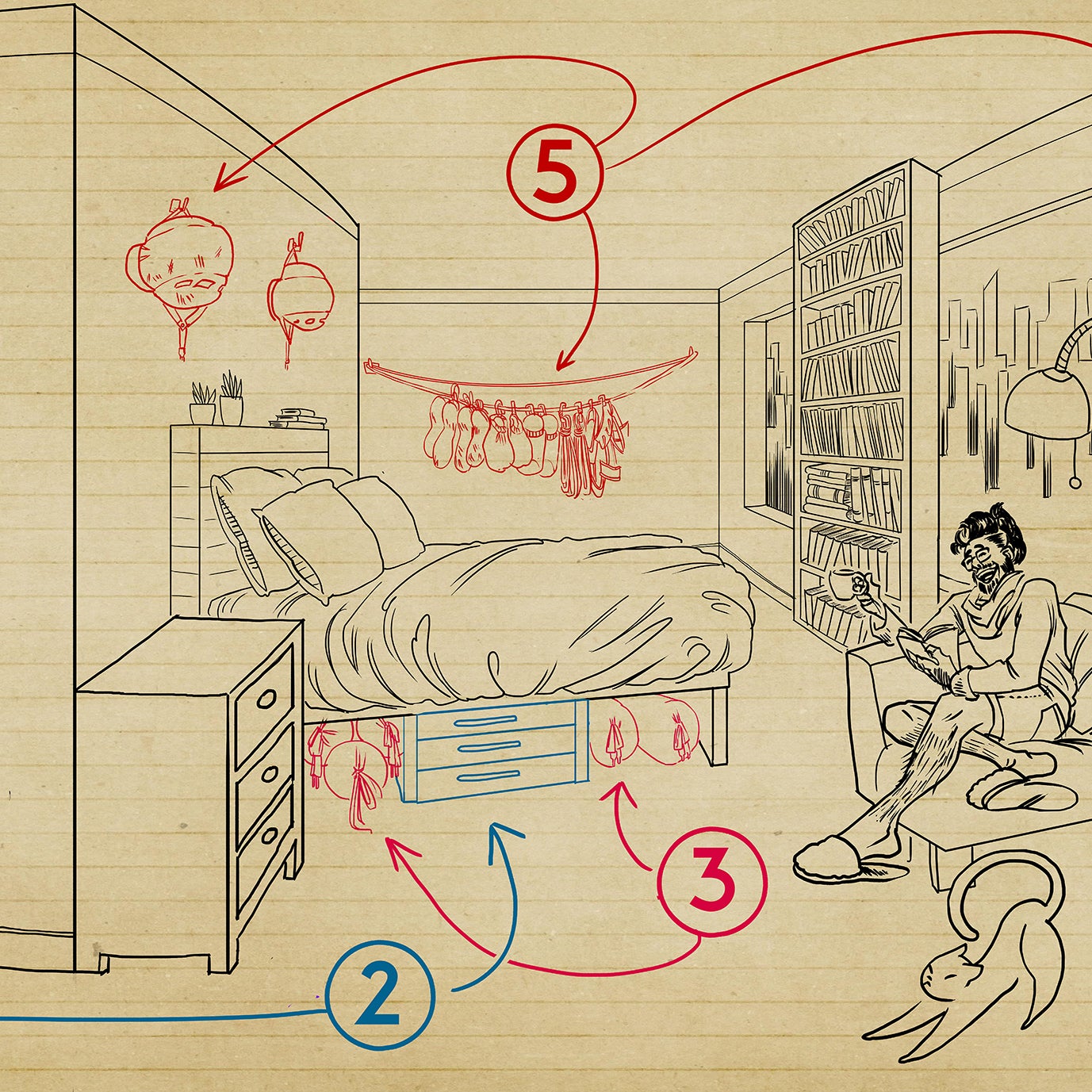 Erin Wilson(Photo)
Heading out the door? Read this article on the new Outside+ app available now on iOS devices for members! Download the app.
Storing gear in a city is like trying to complete an elaborate puzzle with half its pieces missing. Staying organized takes some creativity, especially if you're like me and have way more gear than the average person. I checked in with a handful of living-space-challenged people, including tiny house and big-city apartment dwellers, for their tips, tricks, and hacks when it comes to storing and decluttering.
Storage Hacks
Storage bins: Almost everyone I spoke with immediately replied enthusiastically with "ActionPackers!" These durable, weather-resistant plastic bins from Rubbermaid make it easy to organize all your gear by category (kitchen, climbing, tents, running clothes, ski jackets, etc.) and help keep your collection in check—when the bin fills up, for example, you can't get any more climbing gear without giving something away. Once consolidated and labeled, the storage bins are easy to hide away in a closet, corner of the room, or even covered with a blanket and used as a nightstand. When you're ready to hit the road for your outdoor adventure, simply grab the appropriate bin and throw it in the back of your car. One tiny-house owner in Alaska has even been known to reuse her ActionPacker as an outdoor bathtub.
Rollout shelves: Standard closets are an inefficient use of space. By installing rollout shelves, you can pack much more into a small area and gain better access to all your gear at once. Most rollout units are versatile, allowing you to set the divider where needed to create shelves of different depths. Plus, your closet looks neater and tidier when the shelves are pushed back in. Add a deep top shelf above the rollouts to hold all your big storage bins.
Make use of dead space: Take a look around and notice all the unused space in your apartment—like under your bed and couch. Long, low-profile items such as skis, backpacks, and trekking poles can live there. But don't forget to look up. Sling your hammocks across the ceiling to create a Moroccan souk vibe that also serves as a storage place for sleeping bags, sleeping pads, and other lightweight gear. Run a climbing rope high across the room and rack up all your climbing hardware. One outdoor-loving Brooklynite has been known to store a ton of gear in his oven. Who has the time or need to cook when you live in the big city anyway?
Shoe hangers: Use an over-the-door shoe organizer for wrangling everything from camp cooking gear to headlamps to hats and gloves. The back of any door is a great spot for storage, especially if you have a lot of small things looking for a home.
Gear as art: Why spends hundreds or thousands of dollars decorating your walls when you can use your outdoor gear as art? Hang your bike, stand-up paddleboard, snowboard, or skis above the couch. Install some pegboard on an empty wall and artfully hang your backpacks, tools, and other gear.
Embrace Efficiency
Scrutinize your inventory to get rid of the excess (you don't need 18 pairs of running shorts) and the extravagant (portable hot tub, anyone?). Also, swap out multiple items for one high-quality multipurpose tool. Here are a few of our favorite versatile products.
Nemo Concerto Sleeping Bag: There is no need to own a sleeping bag for all four seasons when you can buy one sleep system that covers a wide range of temperatures and conditions. Whether you're camping in the fall or the height of summer, this single sleep system keeps you comfortable from 20 degrees up to 60-plus degrees. Simply unsnap the top quilt and use the integrated bedsheet when it's hot, or add the quilted mattress top for extra warmth on colder nights. Throw in a comfy sleeping pad and the Concerto makes the perfect spare bed when you have company. ($400, nemoequipment.com)
Cotopaxi Inti 2 Tent: Designed as a tent that adapts to your chosen adventure—whether you're camping alone, with a friend, or in a party of four—the Inti 2 comes with a snap-in alcove that seamlessly integrates with the tent and doubles the sleeping and storage space. ($560, cotopaxi.com)
Arc'teryx Indisce Blazer: Made from the same technical fabric as your cycling jacket, these blazers offer wind and rain protection during your bike commute or walk to the subway yet are dressed-up enough for date night. ($750, veilance.arcteryx.com)
Columbia Cityside Fold Waterproof Boot: From mucky trails to snowy city streets, this versatile women's boot oozes city style along with full waterproof protection for wherever your day takes you. ($130, columbia.com)
Diamondback Haanjo Trail Carbon: This go-everywhere adventure bike replaces all your other bikes. Use it as a commuter during the week, then seek out dirt road adventures on the weekend. An affordable price tag makes this the perfect one-bike quiver for adventurous riders. As a bonus, it looks great hung on the wall. ($3,100, diamondback.com)
Offload the Excess
Now that you've pared down to the essentials, what should you do with all that extra stuff piling up in your spare bedroom?
Sell it online: Sites such as eBay, Craigslist, or GearTrade.com serve as the perfect platform for selling gently used gear, especially high-value items like bike parts, tents, or GPS watches, which have much better resale value than things like apparel and footwear. Regardless of what you're selling, keep your expectations in check and don't try to get back exactly what you paid for each item.
Garage sale: Throw a huge garage sale to celebrate your new minimalist approach to life. Plus, you can get rid of that bread maker, waffle iron, and juicer gathering dust in your kitchen at the same time. Convince your friends to downsize as well and make it a full-on community sale.
Gear swaps: Normally held between October and November, ski and snowsport swaps are a great way to offload winter gear you don't use anymore. A simple Google search with your city plus "ski swap" or "snowsports swap" is a great place to start. Drop off your gear the first morning of the swap for maximum exposure, and price it competitively to ensure that it moves. For all other types of outdoor gear, REI regularly holds community swaps where a small entry fee gets you access to the event, free beer, and a table to hawk all your lightly used gear.
Donate: If you can't or don't want to bother selling your gear, or if you're in search for a few karma points, donate it to local charity shops or youth groups. Chances are you'll get a tax deduction in the process.
Consignment stores: Most mountain towns have consignment stores where you can offload used gear. With all the pro athletes that live and train in Salt Lake City, 2nd Tracks is one of the more popular shops. Consignment stores will do all the hard work of selling your gear, and then cut you a check once your item sells. To stay in business, the store takes a commission on all sales. If your gear doesn't sell, you can pick it up or let the store donate it to its charity organization of choice.
Lead Photo: Erin Wilson