Gear for the Ultimate Grand Canyon Getaway
Everything you need to plan the perfect Grand Canyon summer escape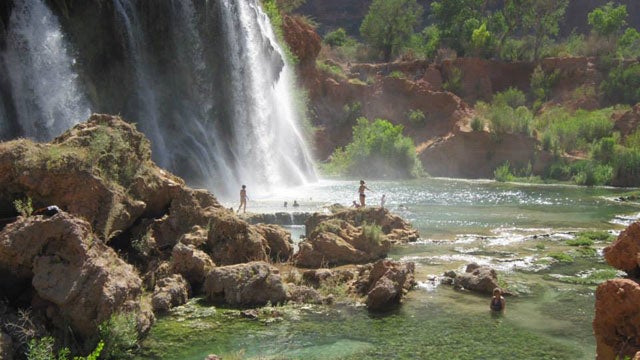 Heading out the door? Read this article on the new Outside+ app available now on iOS devices for members! Download the app.
On our second day in Havasu Canyon, as we hiked the uphill mile and a half to Navajo Falls in 110-degree midday heat, my fiancee said she felt like she was in T.E. Lawrence's book, suffering through the "sun's anvil" of the Arabian Desert. She didn't mean it in a good way. But whatever sort of crazy, asking-for-melanoma fool it makes me, my love of the desert is year-round, even when the sun is at its most scorching. So long as there's water nearby—which, in Havasu, is the whole point. 
This series of four major aquamarine falls—the highest measuring 200 feet—in the western part of the Grand Canyon is one of the most uncannily beautiful places ever, one that has to be seen to be believed. Its uniqueness comes from the travertine in the water, which accumulates in great bulging terraces, making everything look like some David Lynch vision of Xanadu.
And the opportunities to jump into pools, bodysurf currents, and explore shady fern canyons make it ideal for families with kids over eight. Think of it as God's own water park. A 2.5-hour drive from Flagstaff, followed by a ten-mile trek (best undertaken at the first light of day), takes you to Supai, home of the Havasupai people, on whose land these falls plunge. The 300-capacity, reservation-only campground is well shaded and equipped with outhouses, a natural spring, and a large rushing creek cutting through its middle.
Our favorite way to usher in every summer is with a canyon trip in northern Arizona or southern Utah. This year we were celebrating my daughter's high school graduation, so we brought her best pals and their families, all of whom vow to return annually. For this place yields up secrets, and they're worth ten miles of tramping in anvil-esque heat. Here's some of the stuff that made it a perfect desert-camping escape. (A pair of Keens, Tevas, or Chacos with heel straps is also essential.)
When to go: Spring and fall have pleasant temperatures, but the water is cold; May and June are hot, but the water is perfect. We avoid late summer on the hunch that heavy use takes its toll on water quality.
When to reserve: The camping office takes reservations beginning February 1. Call then.
Cost: $40 per person to enter; $17 per person per night to camp.
Provisions: You'll pack in all your food and pack out your trash. For $187 round-trip, you can send up to 130 pounds of gear and food down and back by mule; inquire with the camping office.
Desert Gear: Arc'teryx Altra 62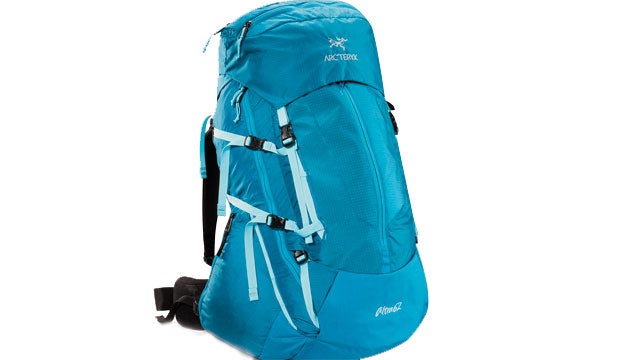 This women's pack has all the smart design hallmarks Arc'teryx is known for, but two features make it particularly suited to desert treks, with their frequent side-to-side, up-and-down movement over uneven terrain. Its pear shape hugs the body, making the load feel lighter than it is, and a feature called the Load Transfer Disc on the hipbelt lets the whole package pivot as you step, leaving the hips to freely do their thing. $449
Desert Gear: Big Agnes Fish Hawk with Q-Core SL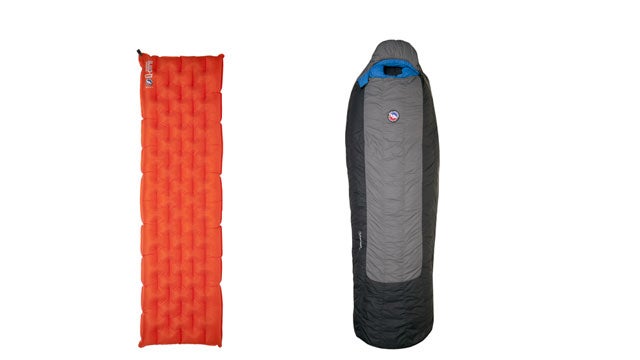 This integrated system (44-ounce Fish Hawk bag and nesting 19-ounce pad) addresses multiple problems: my aching body after ten miles of walking; too much weight (referring to the load in my pack, not my body); a bag that slides off the pad by 3 a.m.; and the cramped foot and shoulder space of a mummy bag. The Q-Core insulated pad is a marvel of lightness and comfort. Random note: The fish hawk and the osprey are the same bird—is this my spirit animal? As tested: bag, $210; pad, $170.
Desert Gear: Osprey Xenith 88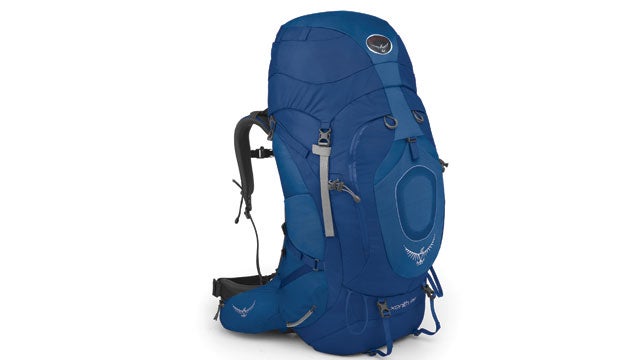 Carrying four nights' food and lodging for myself and others means an inevitably heavy pack. The Gear of the Year–winning Xenith was spacious enough (5,400 cu. in.) and—most important—perfectly fitting, with heat-moldable hipbelts and easy on-the-fly load adjustment. Especially handy in the thirsty heat was the externally accessed hydration sleeve, for quick refills. $349.
Desert Gear: CamelBak All Clear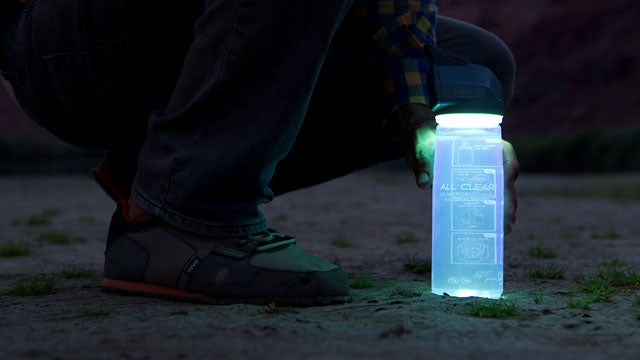 I like to rely on multiple means of clean water (SteriPen, gravity filter, iodine in a pinch), because we go through a lot of it. But nothing makes it as simple as the UV-purifying All Clear: Fill the .75L bottle with river water (an optional $15 pre-filter is available to remove chunks), screw on the top, press button, and in 60 seconds the LCD readout tells you it's safe to drink. From there, refill everyone else's bottles and keep going—for up to 16 gallons on a single charge. And to keep it running for days, bring along a portable power pack like this one from Trident, which should recharge it five times. $99.
Desert Gear: FITS Performance Trail Socks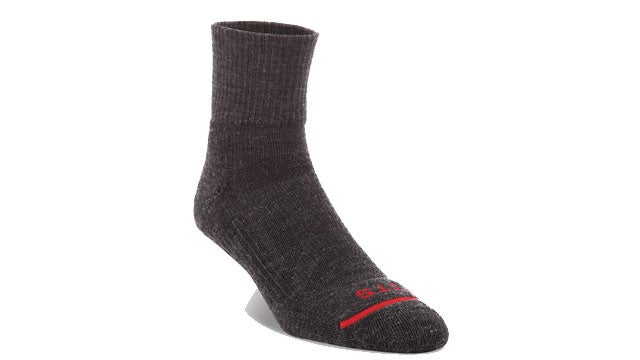 Moisture-wicking merino wool is a no-brainer on a hot and sweaty trail, but often a comfortable sock will slide around after a few miles, resulting in hot spots and worse. FITS engineers its wool-nylon-Lycra socks with an extra-deep heel pocket, contour-fitting toe pockets, and a snug fit around your ankle to prevent movement. They left our feet unscathed. And because I prefer a light hiking shoe (the Adidas Fast R GTX), the medium-low profile was just what I needed. $18
Desert Gear: Helly Hansen Odin Short
Quick-drying, stretchy, and tough—there's never been a more perfect or comfortable pair of shorts for hiking long distances, jumping in a swimming hole, and wearing all night at camp and again the next day. UPF 30 fabric wards off intense rays, and zippered pockets let you safely stash your (waterproof) phone before Butch-and-Sundancing off a waterfall. $75
Desert Gear: Kelty Noah's Tarp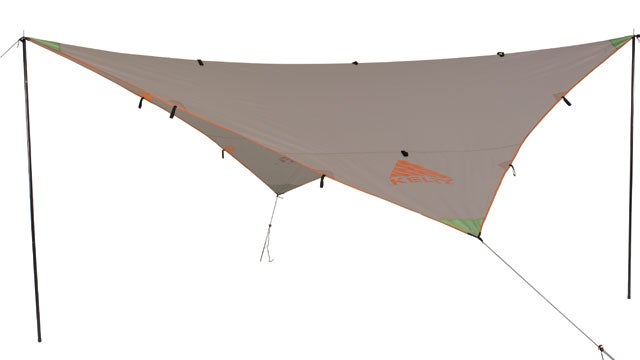 Summer rain in the Southwest comes rarely, and in bursts, so (at warmer low elevations anyway) a tent is an unnecessary burden. Instead lay this two-pound, 12-by-12-foot tarp down and live on it (it has plenty of room for two). In the event of rain, make a burrito with yourselves as the filling. And if there are no trees around, use the integrated guy lines to tie it to trekking poles for a shady shelter. $70
Desert Gear: KIND Healthy Snacks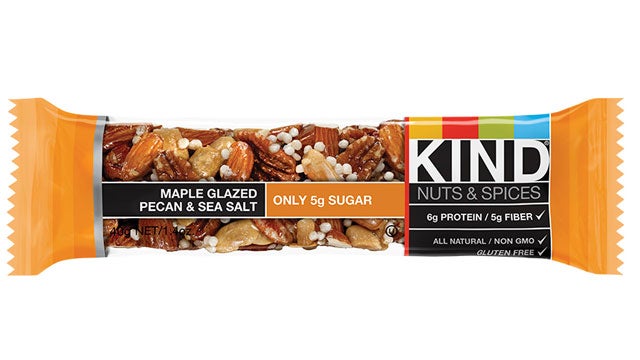 Trail food can get old fast, and an energy bar that tastes good at home can have all the appeal of mud by the second day on the trail. Not so with KIND bars, which offer greater variety and simply taste better than the others. Our favorite, Dark Chocolate Nuts and Sea Salt, does experience meltage in the Arizona sun, so instead try the heat-proof and equally pleasing Maple Glazed Pecan and Sea Salt or other chocolate-free varieties. $1.99
Desert Gear: MSR Flex 4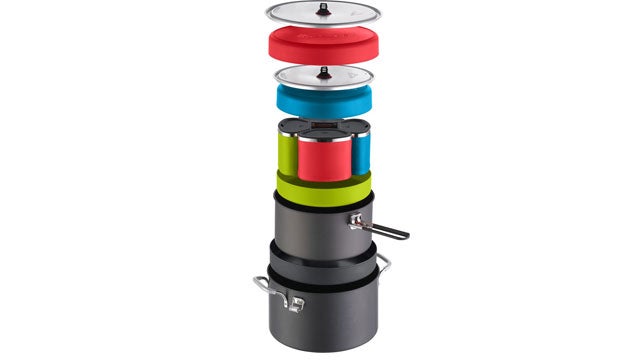 Having camped with a small family for years, and placing a priority on eating well, I've never found a better cookset than this. It has a large and a small pot, four bowls, and four cups with lids—all tougher and more heat-resistant than other brands. For our group of a dozen people, this lightweight set, at a little over 3.5 pounds—along with an additional large pot and cups or bowls for everyone—was all we needed. $160
Desert Gear: The North Face Women's Wreck GTX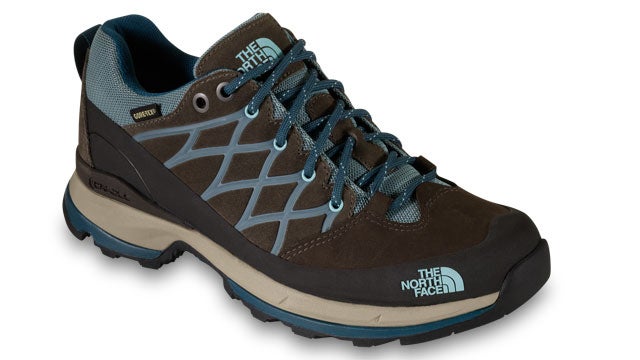 This women's trail shoe carried out exactly the mission that a hybrid should: it provided stability and cushioning, making it comfortable for the ten-mile hike down and back, while removing the hot-and-heavy factor of a full hiking boot—especially nice when the mercury topped 100. It also lent adequate traction over smooth rock and up hills while maintaining an agile feel, and ran just high enough to keep dirt and rocks out. $140