H2O to Go: The World's Best Water Bottles
When it comes to staying hydrated, you need the right bottle for any activity.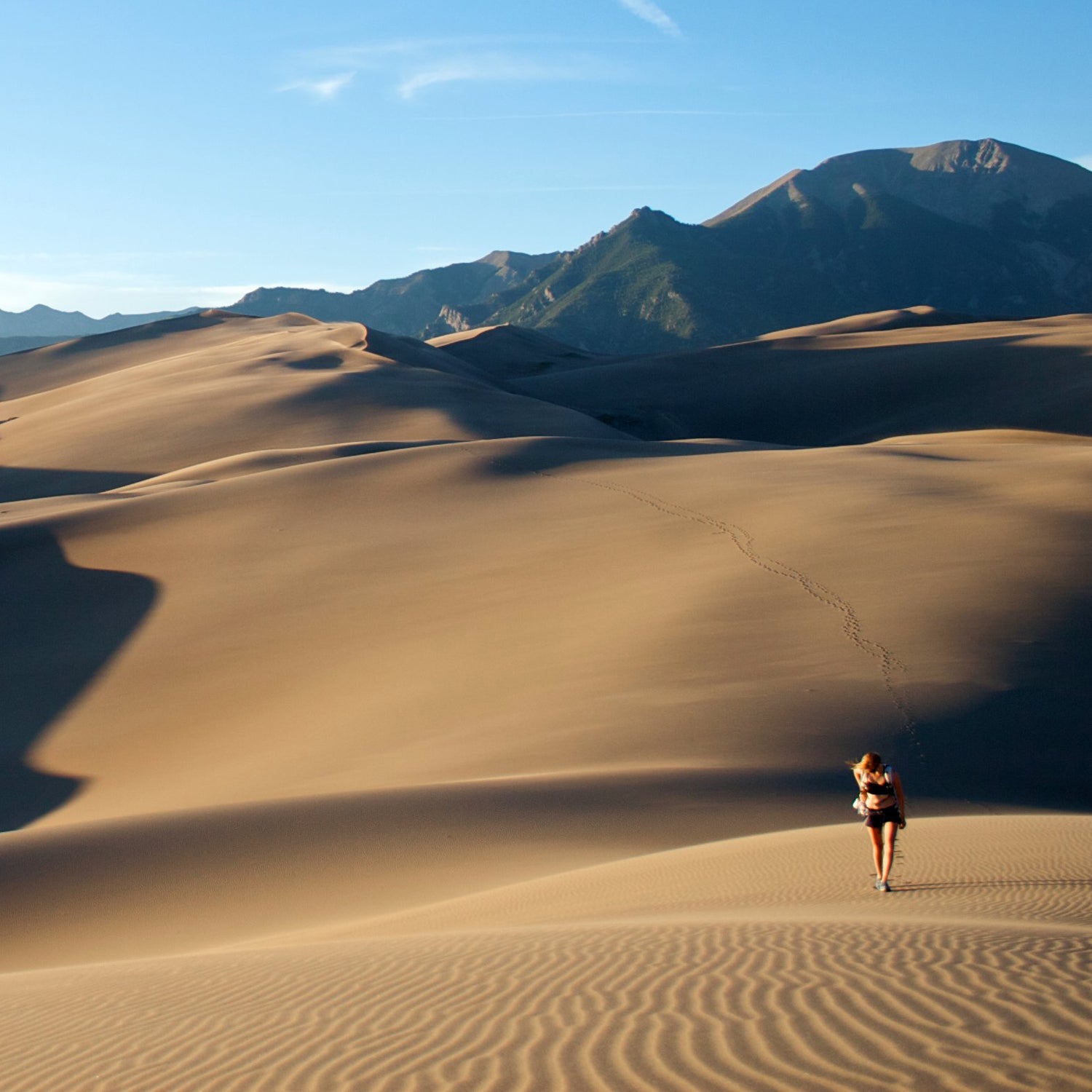 Heading out the door? Read this article on the new Outside+ app available now on iOS devices for members! Download the app.
The number-one most essential product to pack on every adventure? A water bottle. But not all of them are created equal. 
Sports bottles have historically been made from plastic, but ever since scientists discovered the ill effects of BPA—an additive used to strengthen the material—back in 2007, we've seen more and more plastic-free water bottles on the market. Glass is great (it's easy to clean and doesn't ruin the taste of whatever you're drinking), but it's also heavy and can be fragile.
Enter stainless steel and aluminum bottles, which are durable, BPA-free, and lighter than glass. For three weeks, I tested six popular metal models on the high desert trails surrounding  Santa Fe, New Mexico. Bottles were judged on their durability, weight, volume, price, insulation, how easy they were to clean and drink from, and whether they made the water inside taste funky.  
Here's how the bottles stacked up: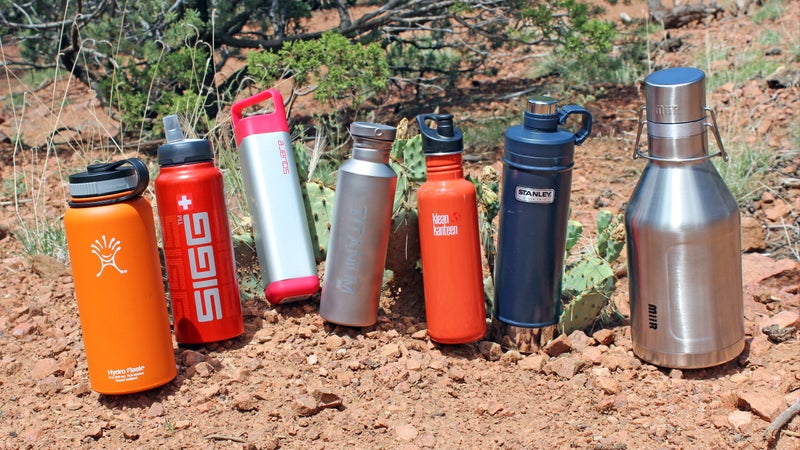 ---
Klean Kanteen 27oz Classic Bottle with Sport Cap ($20)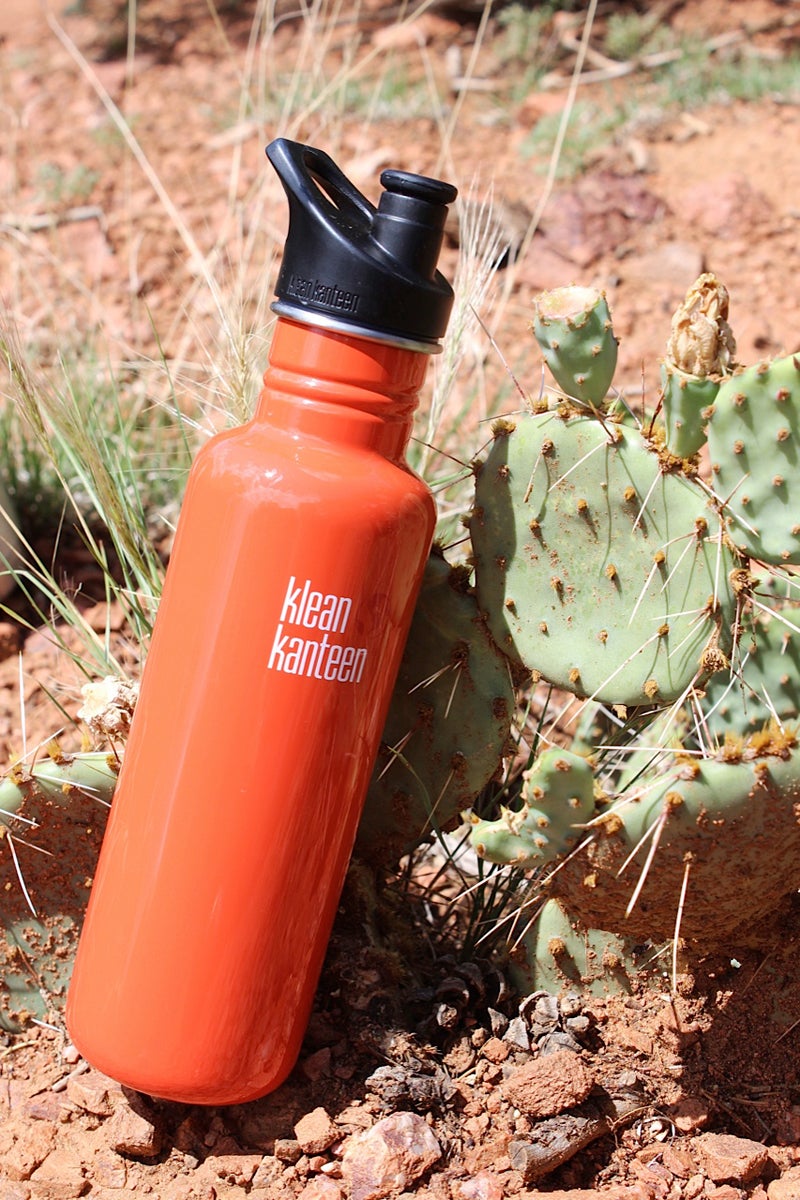 Best for: Balanced Commuters
This stainless steel bottle with a smooth finish has many of the best qualities of its larger competitors, but in a slimmer, sleeker package. The 1.75-inch opening on Klean Kanteen's Classic bottle is wide enough to easily fill with ice cubes but not so wide you're likely to spill while drinking. The advantage for commuters: to drink, just grab the Klean Kanteen from a bike cage and pull up the rubber spout with your teeth. A happy medium of function and style. 
The sport cap gives you the option of clipping this Klean Kanteen to your backpack while hiking. Bonus: it was the least expensive model tested.   
Cons: The sometimes-leaky cap. Klean Kanteen makes no claims of its Sport Cap being leak-free, and for good reason—don't leave it sideways or upside down in a gym bag. Keep it in a bike cage or a backpack's side pocket.
---
Hydro Flask 32oz Insulated Bottle ($32)
Best for: Nalgene Diehards
There's a reason why the traditional one-quart Nalgene is so popular with hikers: it holds a lot of water, it's lightweight, it's easy to clean, and thanks to its wide mouth, you can fill it with ice or mix in drink powders. 
The Hydro Flask offers most of those benefits in a steel double-walled, vacuum-insulated package. I found this bottle kept coffee hot for up to 12 hours—and margaritas cold for 24. And although some people say steel bottles give water a metallic taste, I didn't find that to be the case with this Hydro Flask. If you like a sport top, try the Hydro Flask with the Wide Mouth Straw Lid or Hydro Flip Lid.
Cons: At 10.6 ounces unfilled, this bottle is substantially heavier than other options. Use it for car camping. 
---
Sigg 1.0L SIGGnificant Bottle ($29)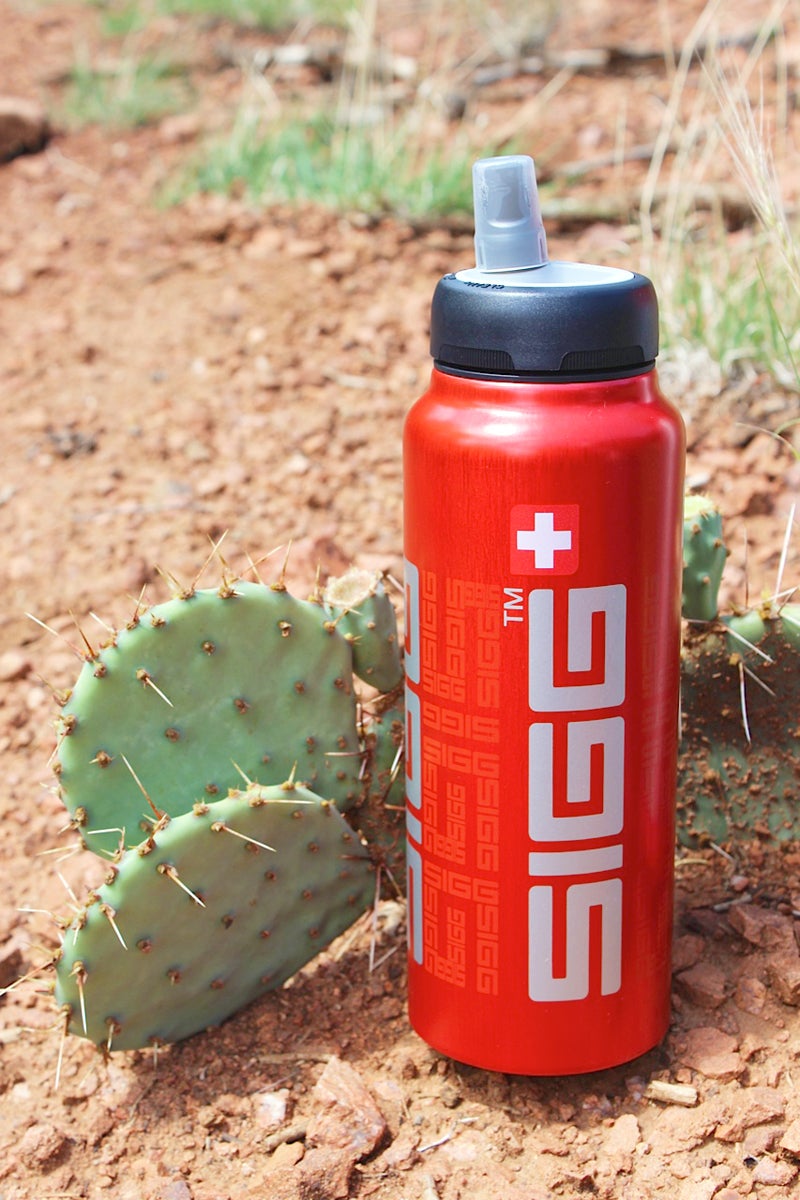 Best for: Leak Geeks
This bottle from Sigg's Active line is built to prevent any leakage. The body was crafted seamlessly from one sheet of lined aluminum and fitted with Sigg's Active Top, a gadget I initially found awkward (it doesn't let much water out at a time) but grew to appreciate (great for expressive arm movements that, with other bottles, might cause spills).
The lid connects to a straw inside the bottle. To get the water out, you bite a leakproof-plastic nub on top of the lid. As a bonus, Sigg built this bottle with what it calls a "pre-ventilation system." Basically, if you fill the Sigg with something bubbly (beer, anyone?), it won't explode all over you.
Cons: Usually, sport bottles have a loop or a handle you can use to carry the bottle. The Active Top on the Sigg lacks this.
---
Clean Bottle 20oz. The Square Bottle ($45)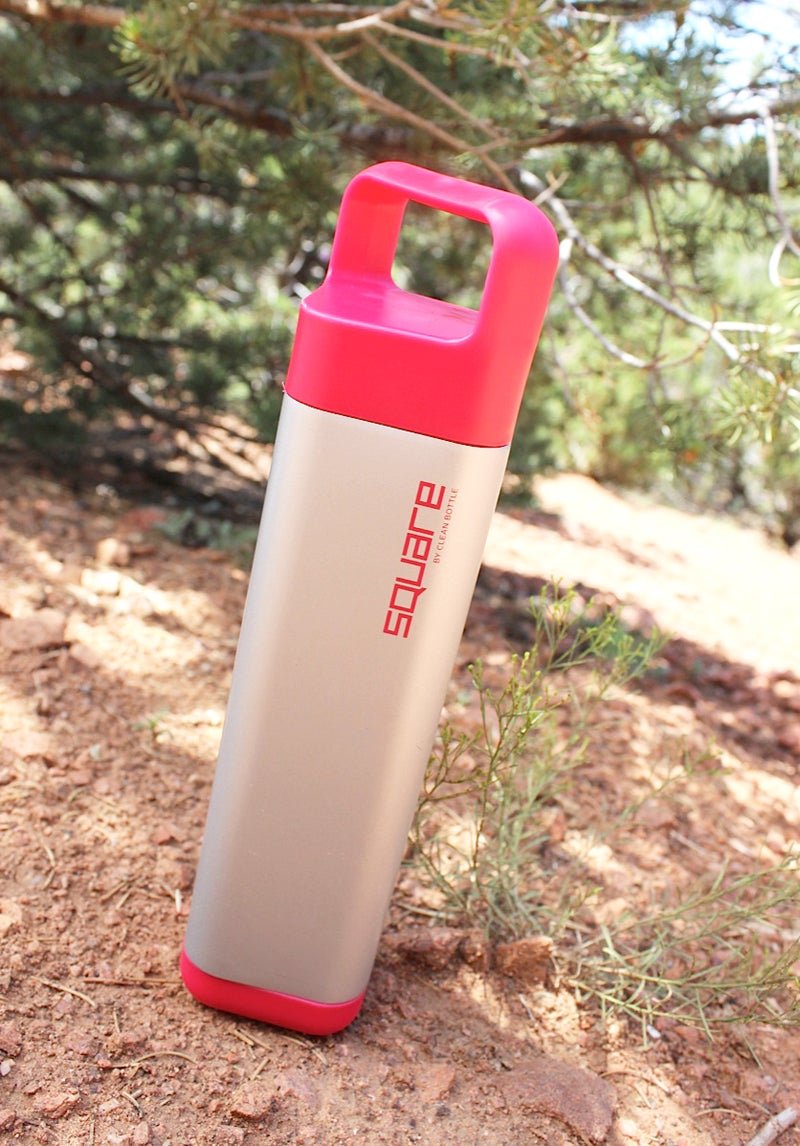 Best for: Clean Freaks
How do you crowdfund six times the amount you asked for to manufacture a water bottle? You offer a product packed with innovative features. Many bottles are hard to clean. Not so The Square Bottle. After three years of research and design, the guys over at Clean Bottle realized they could make a narrow-mouth bottle without forcing customers to contort their hands into weird positions to clean every nook and cranny.
Simply unscrew the bottom of the bottle, pop the bottle in the top rack of your dishwasher, and voilà—you have a sanitized bottle. (Just make sure to clean the caps by hand.) Plus, the bottle is square, which means it's less likely to roll, and it has a solid handle on the lid. 
Cons: Drinking from The Square was a bit awkward due to its odd-shaped opening. I also found it got scuffed up more quickly than any other bottle tested. 
---
Vargo 22oz. Titanium Bottle with Titanium Lid ($85)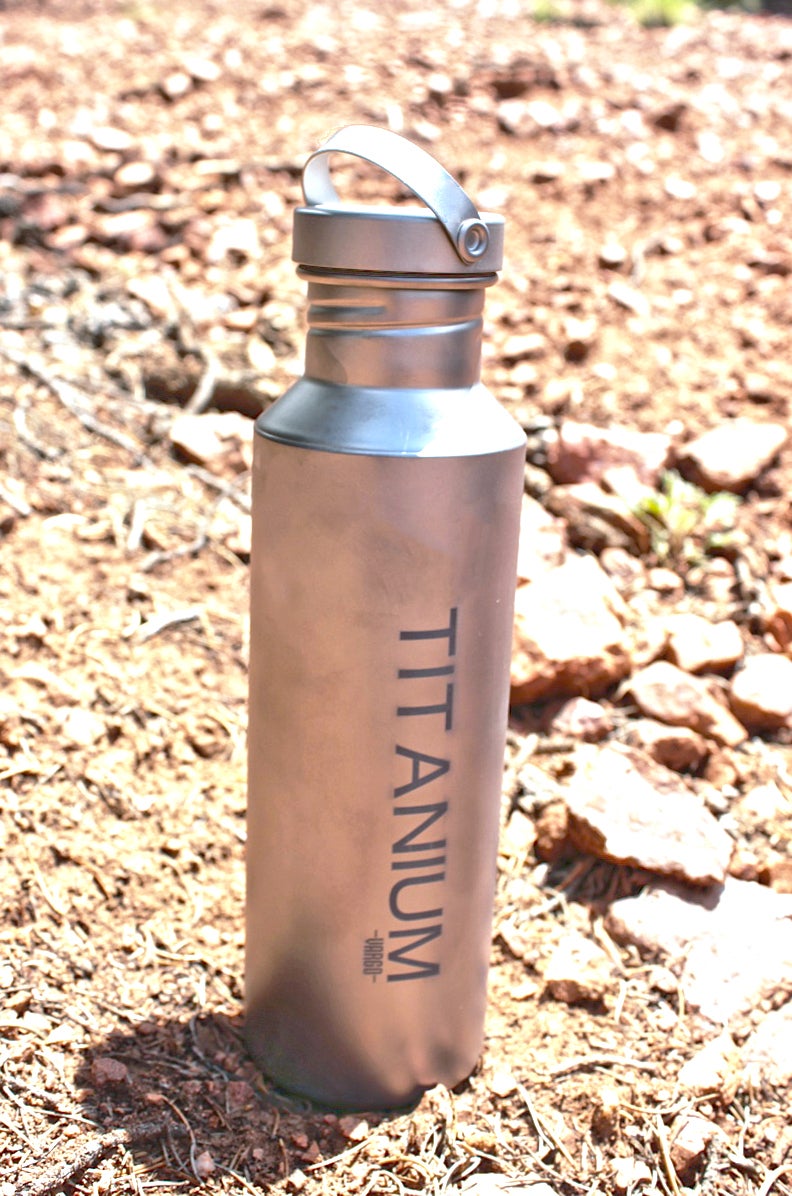 Best for: Thru-hikers
When you want to go lightweight, the Titanium Bottle is the water bottle for you. Vargo, a small Pennsylvania-based gear company, deals exclusively in ultralight titanium—a material as strong as stainless steel, but a fraction of the weight. I found that the Titanium Bottle's 3.9-ounce body can take a beating without degrading or rusting. Whether it "accidentally" rolls out of your car (it fits in cup holders, FYI), or you drop it from five feet on the trail, you don't have to worry about frequent replacements.
This bottle improves upon the already solid design of the original Titanium Bottle, but makes cleaning even easier by simplifying the threading around the opening: fewer ridges, fewer places for sports drink residue to accumulate. Even the cap is titanium, with a leak-proof silicone o-ring. 
Cons: At $85, this is about as expensive as water bottles get. Also, although I dropped the bottle without denting it, its matte coating smudged shortly after I took it out of the box. It's definitely durable, but not the hardiest of the bunch. 
---
MiiR 64oz. Growler ($59)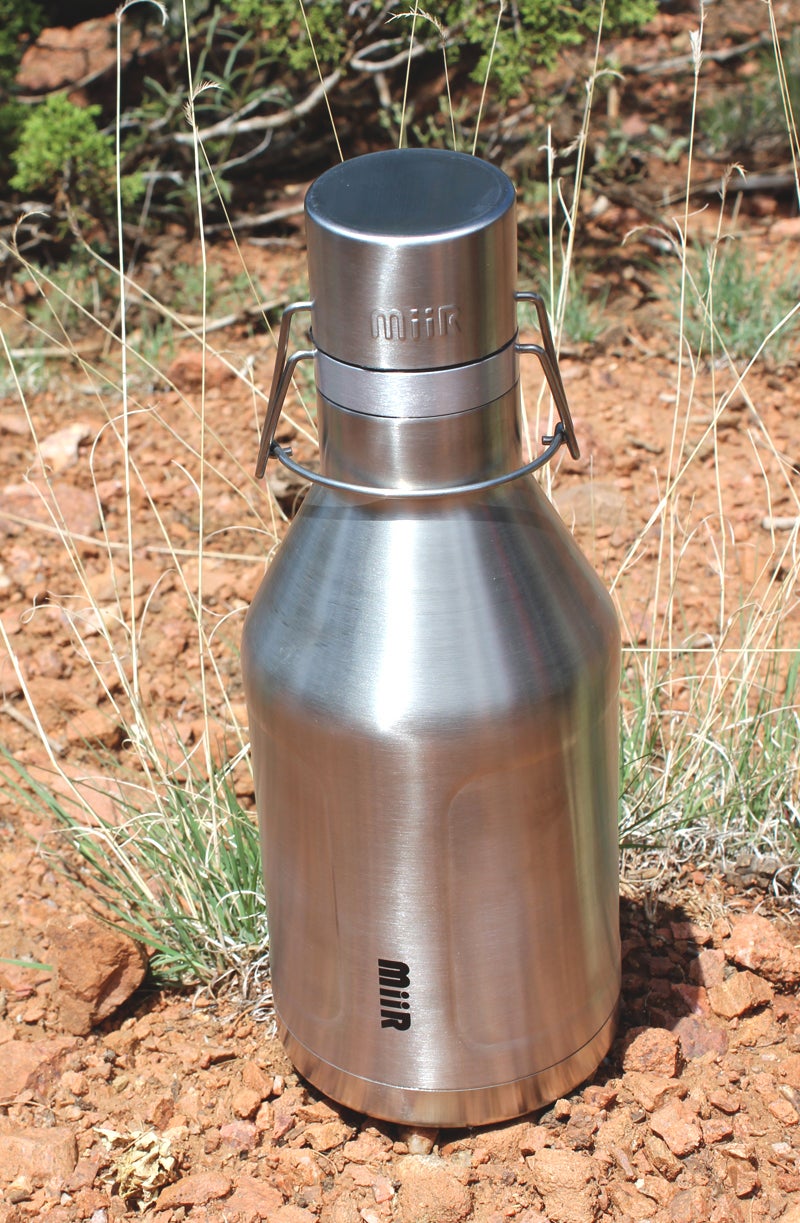 Best for: Backwoods Boozers  
This stainless steel growler is a great car-camping companion. Double-walled and vacuum-insulated, the MiiR keeps beer cold and coffee hot for 24 and 12 hours, respectively. I also liked the threadless design: instead, it has a nifty clamp system that prevents leaks and gunk from building up around the opening. Plus, it's protected by a bomb-proof powder coating; I took it on three hikes in a backpack full of sunscreen bottles, multitools, and a camera, and it didn't get scuffed up. I got the model with a classic stainless steel finish, but if you want to stand out, try the blue version.
Cons: Weight. Before you buy this 2-pound growler, accept that it's just not a handheld product. Or, make the best of a bad situation, and you've got a really light and expensive freeweight.
---
Honorable Mention
Stanley Classic 27oz. Vacuum Insulated Water Bottle ($30)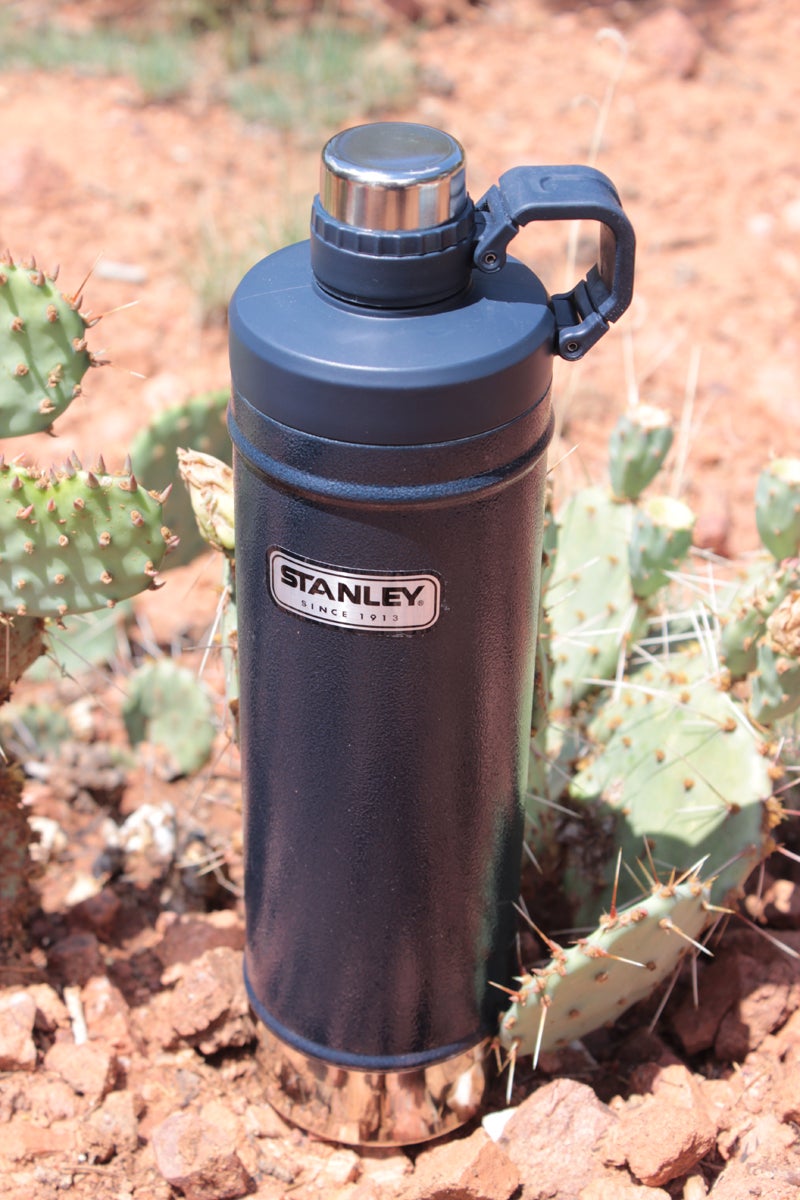 Best for: Beverage Guardians
Where most outdoor companies cater to a crowd bent on shaving every possible ounce from pack weight, Stanley's Classic line is "built like a battleship"—double-walled and double-lidded, this bottle's goal is to protect your beverage at all costs. Vacuum insulation means that when this Classic is used with ice cubes, it can keep cold water cold for 48 hours; it also keeps hot water hot for eight. The bottle's leak-proof double lid makes it hard to spill and gives you options. Either drink from the smaller looped top closure, or unscrew the top and drink with a wide mouth. A great car-camping option. 
Cons: Bulk. The Classic is almost a half-pound heavier than the Hydro Flask, which is five ounces larger. It's wider than the Klean Kanteen (of the same volume) and quite tall.