Mobile Homes
Thanks to smart design and engineering, today's tents deliver high-altitude performance at a low-elevation price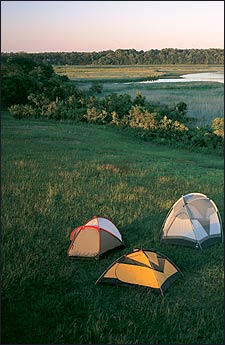 Heading out the door? Read this article on the new Outside+ app available now on iOS devices for members! Download the app.
EVERY GUIDE HAS A client-with-a- cheap-tent horror story, each one a variation on the same theme: The weary outfitter has just marshalled a squad of tenderfoots up a mountain, or maybe he's pacing out the Griswold family compound on a gravel beach in Oregon. Now watch our hero's face fall as one of his clients proudly unpacks a $39.95 discount dome that will leak in the lightest drizzle, collapse in the slightest breeze, tear at the merest abrasion, and come apart at the seams without any help from the elements. Guess who gets to fix it at 3 a.m.? (Hint: It ain't the client.)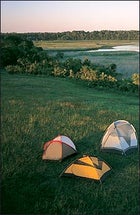 You don't have to be a pro to know that a tent is your last refuge when everything else goes to hell. Whether it's a blizzard on Pakistan's Nanga Parbat or a summer thunderstorm during a car-camping jaunt to Yellowstone, you need a well-made shelter to shield you from the elements. Fortunately, it's easier than ever to find a high-quality tent that fits any budget. Plus, many models span several needs: Three- season convertible tents with zippered screen panels adapt easily to summer sun or winter storms, while other models light enough to pack on your back are still plenty roomy for tailgate expeditions. Meanwhile, strength and durability continue to improve. More manufacturers are using naturally UV-resistant polyester for rain flies, stronger and lighter aluminum poles, and computer-aided design to create taut structures that won't collapse, even in the stiffest gales.
To bring you up to date, we've assembled the newest nylon wonders, from a tiny solo hiker up to a cabin-size family shelter. Each one spells pleasant dreams for everyone in your party—including, of course, the guy who knows the way home.



MSR Superfusion, Sierra Designs Nomad 4, and Marmot Racer X


On those warm, buggy nights, turn the two-person, four-season, 42-square-foot MSR SUPERFUSION ($400) into a screened-in porch by zipping open the door panel and three floor-to-ceiling panels on the canopy to uncover gigantic swaths of netting. When the clouds darken, zip everything tight and attach the fly—gusts we clocked at 41 mph during our field test rolled right off. Inside, a tan polyester fly bathes the space in a pleasant neutral light. But be sure to pitch this ten-pound tent before the raindrops arrive: It took me eight minutes and change to assemble. (800-531-9531, www.msrcorp.com)

At 13 pounds, 15 ounces, the SIERRA DESIGNS NOMAD 4 ($349) is an admitted heavyweight for a family backpacking jaunt. On the other hand, its 56 square feet will comfortably sleep two adults and two kids, deftly serving both family trekking and car-camping needs (sofa and TV not included). (And check out the five feet, six inches of headroom.) Its cunning fly rolls up to expose the canopy's large screen panels to the breeze, and unrolls and secures in seconds under stormy conditions, where, thanks to its three large aluminum poles, you'll feel secure in the sturdiest tent of its size we've ever seen. (800-635-0461, www.sierradesigns.com)
If the The Price Is Right put the MARMOT RACER X ($199) up for bid, every contestant would guess way over retail. You get a two-person, three-season tent; a full door with a seven-square-foot vestibule; and a generous 34.5 square feet of floor space. All this in a six-pound, eight-ounce package that takes one person three minutes and five seconds to deploy from stuffsack to fully staked (after a little practice). There's only one significant trade-off: A lone horizontal band of screen mesh along the top allows decent ventilation when the fly is off, but not enough when it's on. (707-544-4590, www.marmot.com)
Expd Andromeda, The North Face Mountain Marathon, and Mountain Hardwear's Hammerhead 2



Thanks in part to its Quonset-hut shape, the EXPED ANDROMEDA ($469) yields a garage of a vestibule that houses up to two bicycles. Surprisingly for its size, the tent went up—after rehearsing—in four minutes flat. Stake out the rear, insert the three poles into their sleeves, peg down the front, and you're left with a low-profile design that shrugs off howling crosswinds. Inside, two people share 38 square feet of play room with bright yellow walls. But air moves only via the screen door and two peak vents in the fly, so save this eight-pound, 15-ounce tent for wherever wind and rain protection come first. (888-609-7187, www.exped.com)

Want to travel swift and solo? Carry THE NORTH FACE MAOUNTAIN MARATHON ($199). .It provides all-mountain weather protection and just enough headroom to thwart claustrophobia The Lilliputian shelter (24 square feet; three pounds, ten ounces) comes with a screen canopy and a polyester fly complete with a tiny vestibule. The low profile sheds wind so effectively that, were it not for the screen canopy, this baby would qualify for winter duty. Minimalists, listen up: Haul just the tent for simple protection from pests, pack only the fly for a two-pound rain shelter. (800-719-6678, www.thenorthface.com)

For a two-person backpacking tent, the MOUNTAIN HARDWEAR HAMMERHEAD 2 ($255) is darn near perfect. Size: 36 square feet. Weight: seven pounds, ten ounces. Fly: factory-sealed seams, polyester, with a skylight to boot. Ventilation: a roll-back ceiling panel that lets you feel the breeze (though with the fly staked down, that airflow stops). Pitch time: less than five minutes. When staked, the Hammerhead sheds wind like a stalwart, high-elevation assault tent. We rate it a three-season-plus: brilliant for those sketchy late-fall trips when rain turns to snow. (800-499-8696, www.mountainhardwear.com)