The Only Water Bottle You'll Ever Need
The Klean Kanteen Classic is a water bottle that's solid, simple, and easy to drink from—and that's what counts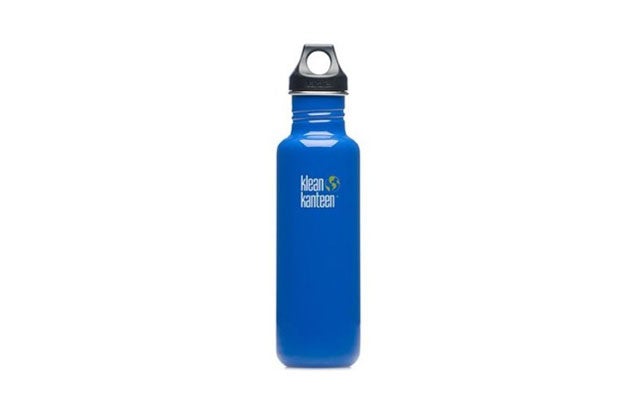 Heading out the door? Read this article on the new Outside+ app available now on iOS devices for members! Download the app.
Water is delicious and good. Bottled water is delicious and bad—it's costly for the environment and consumers alike. After hours of research, I decided the $18 Klean Kanteen Classic is the bottle I'd use to tote my ice cold water in this summer.
Key Specs
Sizes: 12 ounces, 18 ounces, 27 ounces, 40 ounces
Colors: Active Pink, Be Green, Black Eclipse, Commuter Orange, Forest Green, Glacier White, Green Energy, Indicator Red, Ocean Blue, Pink Renewal, Prevention Purple, Reef Blue, Sonar Yellow
Material: 18/8 stainless steel
Dishwasher Safe: Yes
Dimensions: 10.55×2.75 inches (HxW, without cap)
Weight: 8 ounces
Opening Diameter: 1.75 inches

In many ways, recommending a water bottle is tougher than recommending, say, a TV. Everyone watches TV pretty much the same way, so it's easy to find a TV that's well-suited for everyone. But what you're looking for in a water bottle will depend heavily on where, when, and how you'll be using it. It's a subjective thing.

But here's what's not subjective: finding a solid, reusable water bottle for everyday use around the home, work and gym. And weaning yourself off store-bought bottled water will save the planet a small share of its precious fossil fuels and save you a lot of money. A study published in the journal Environmental Research Letters estimated that bottled water production in 2007 in the U.S. alone required somewhere between 32 and 54 million barrels of oil—only a third of a percent or so of total U.S. energy consumption annually but roughly 2,000 times more than the energy cost of producing tap water. Bottled water's also up to a thousand times more expensive than tap water for consumers, so there's that too. Add that to the fact that, in 2009, nearly half of all bottled water sold in the United States was simply tap water with a fancy label, and the makings of a big ol' scam starting to take shape. Let's not take part.

We set out to find a water bottle that would satisfy most people's day-to-day drinking needs and could also be brought along on a day trip or a weekend adventure—one that's durable, easy to use, and affordable. The Klean Kanteen Classic does this. The Classic comes in an assortment of colors and 12-, 18-, 27-, and 42-ounce varieties, though we recommend the 27-ounce model as the best compromise between portability and liquid storage. It's tall, but not so tall that it won't fit comfortably in a backpack, and it's slender enough to sit in a standard cup holder.

The bottles are made of stainless steel, which means they're plenty durable for outdoors activity (and, of course, desk-bound drinking), but the metal also means they won't retain odors nearly as much as some plastic bottles, and they can be trusted not to add any weird tastes to the water inside them. They're dishwasher safe. The screw-top lids mean you can toss 'em in your messenger bag or passenger seat without worrying about leaks. And they're also just really nice looking objects.

But how exactly did we make our pick? After poring over dozens of bottles and their accompanying reviews, we narrowed the field down to a few popular contenders and ended up with two main criteria separating our choices: materials and, for lack of a better term, drinkability.

We also had two heavyweight outdoor gear testers chime in on the matter. Both of them, it turns out, use Klean Kanteens for a good deal of their day-to-day use.

Berne Broudy, a lifelong adventurer who has contributed to magazines like Bike, National Geographic Adventure, Skiing, and Backpacker and currently writes for OutsideOnline.com, corrects me when I mention it's helpful to talk to someone who has tried a few different bottles. She's tried "most of them," she explains, but she still thinks the Klean Kanteens are "a really good bet because they have such a wide variety of sizes, they're very rugged, they're gonna last forever, and they have a bunch of different tops that go with them." More on those tops in a second.

Stephen Regenold, editor and founder of the outdoor product review site GearJunkie.com and a former contributor to the New York Times on all-things outdoors, also personally uses the brand. "For casual stuff, I almost always just use the Klean Kanteens," he told me, "which seem a little more natural for some reason in terms of metal versus plastic. It's just sort of a personal thing. And it seems to keep the liquid colder, just because the metal stays colder."

That metal construction is one important part of the Klean Kanteen's appeal.

With water bottles, the materials debate basically boils down to bottles made from metal, like the Klean Kanteen, versus bottles from plastic, like the traditional and ubiquitous Nalgene. There are a few concrete advantages and disadvantages with each material. Plastic bottles are better at insulating temperature—keeping the outside of the bottle from getting too hot when its holding hot liquids and preventing condensation from forming when it contains cold ones.

The flip side to plastic's good temperature-insulating qualities is that they're much more prone to retaining odors and tastes than metal ones. OutdoorGearLab gave the Nalgene a 6/10 in its "Funk Factor" rating, while the Klean Kanteen received a near-perfect 9/10. If you've left a partially full Nalgene untouched for a few days, even if just with water, the "Funk Factor" needs no explanation. And while I can deal with a sweaty metal bottle on a hot day, I'm much less willing to put up with a stinky one. Some drinkers say they can occasionally detect a slight metallic taste when water's left in a metal bottle, but generally it's agreed that plastic ones are more susceptible to introducing new tastes and odors to the liquids they carry.

And then, of course, there's the whole BPA business. In 2007, everyone lost their shit when it was discovered that Bisphenol A, a chemical used in Nalgene and other plastic bottles, was potentially toxic to humans. Everyone scrambled to eliminate the chemical from their products, and now Nalgene's bottles are made of hard plastic called Tritan, a new BPA-free co-polyester. So for now everything is gravy, but the plastics are still plastics at the end of the day, and some people just feel better drinking out of a metal bottle.

But for their differences, both metal and hard plastic bottles are considered very durable. REI's "How To Choose a Water Bottle" guide gives stainless steel bottles one more star for impact resistance (4/5 as opposed to 3/5 for the Tritan-made Nalgene), though stainless steel bottles like the Kanteen are known to pick up dings and dents as they're dropped. Some consider those imperfections an annoyance, others just say it gives their bottle character.

The other big distinction between the Klean Kanteen and the Nalgene is the style and size of the opening (termed the bottle's "mouth") which is in many ways the most important characteristic of a water bottle, since it's where the drinking happens. The standard Nalgene has a 2.25″ wide-mouth design with a screw top, where the Klean Kanteen has a narrower 1.75″ mouth which can be fitted with a few different types of lids, including a plastic "sport top" or a carabiner-ready loop top. Other official Kanteen tops available for a little extra cash include a kid-friendly "sippy" top and a stainless steel and bamboo screw top that lets you go totally plastic-free.

Though you'll find devotees in both camps, in terms of the act of drinking water, we give the Kanteen the edge here. The Nalgene's big, unobstructed maw certainly won't leave you wanting for liquid, but the size is such that its rim can press up against your nose in a not-entirely-comfortable way. It also means you'll spill from time to time. The Klean Kanteen's 1.75″ mouth, in my estimation, is a little bit easier to get your lips around in the first place, but opting for the "sport" top, which gives you a nozzle-style tip to drink from (like the ones you'd find on those old school soft-plastic water bottles), pushes "ease of drink" over to Kanteen's column.

Looking at five popular bottles for TIME magazine's travel section, Hillary Hylton stated the difference between the two size mouths plainly. For the frequent flier, the Nalgene's wide mouth means "sipping can be dodgy on bumpy flights," whereas the Klean Kanteen, her favorite of the lot, had a "mouth wide enough to allow ice cubes, but narrow enough to sip without spillage." Put it this way: between the sport top and the bottle's own medium-diameter mouth, you'll probably find a comfortable way to drink from a Klean Kanteen. Left with just a wide-mouth Nalgene, you'll probably get used to it, but comfort isn't a guarantee.

While the Kanteen may win for drinking water, Broudy explained that if you're planning on running your water through a portable purifying system, like a SteriPEN, or if you just want to have a nice big opening for dumping in some other type of liquid, the Nalgene's wide mouth is an asset. "It really depends on what you're putting in your water bottle," she said. "If you're putting something other than water, a wide mouth seems like it's easier to deal with." The wide-mouthed bottles are also a bit easier to clean, which is something you'll want to do regularly if you're dealing with non-water liquids.

There are more sip-friendly Nalgene bottles, like the Everyday OTG bottle with a plastic-flip top, though some users said that the top's seal was imperfect and many reported leaks. The CamelBak Better Bottle combines the insulating benefits of a plastic-made bottle with a novel drinking mechanism, a built-in, leak-proof straw dubbed the "Bite-Valve" that only offers up liquid when it's bitten down on. The Better Bottle is perfect for kids whose default grip on a water bottle might necessarily be right-side-up or just for those who get tired of screwing and unscrewing their tops every time they want to take a sip. Regenold told us that these CamelBaks were his favorite bottle for passing to kids in the backseat, and they've earned high praise on Amazon, but you might feel a little weird chewing on your plastic nipple every time you want to have a sip of water in the workplace.

But back to reviews of the Kanteen. Even though OutdoorGearLab gave Nalgene the overall edge for outdoor activity due to its slightly lighter build, they deemed the Klean Kanteen Classic "the perfect water bottle for daily use." In a round-up of metal bottles in Wired after the BPA scare, Daniel Dumas said, "For style as well as substance, the Klean Kanteen gets top marks in our gear test." And on Amazon, after 1,600 user reviews, the Kanteen Classic holds a strong 4.5/5 star average.

Actually, though, it's not quite perfect. Klean Kanteen recommends against using its Classic metal bottles for "hot" liquids, just because the steel bottles can get pretty hot pretty quickly, and the company says warm liquids should be used depending on personal comfort. It does, however, offer an insulated version of its bottle that is coffee-friendly (it'll keep hot beverages hot for up to six hours), though the double-walled, vacuum-sealed design makes them nearly twice as heavy as the non-insulated versions. There's also the dings and dents factor, if that makes a difference to you.

The sport top makes for handy drinking, but it's flawed, too. The first run of the sports top was subject to a recall, and some users have complained that their redesigned replacement caps still have some air flow problems, resulting in a less than generous release of liquid and a weird squeaking sound. Other users, however, have chimed in to report that loosening their caps a bit fixed those issues. It may not be quite as elegant as the bottle itself, but overall the Sports Cap version 2.0 has good user reviews.

As Regenold was quick to remind me, there's no "universal truth" when it comes to water bottles. While he uses the Kanteen for day-to-day drinking, he prefers the Nalgene for short outdoor trips when he wants to pack light. (But, for serious adventuring, he relies solely on soft, collapsible hydration packs, like those made by Platypus, that weigh up to 80 percent less than standard bottles and fold to take up minimal space but are obviously still plastic.)

Broudy was also keen on Liberty Bottleworks' metal bottles—the company claims theirs are the only American-made metal bottles on the market (Klean's are made in China). They're about the same price as Klean Kanteen Classics, but as a relatively new brand their bottles have yet to be put through the paces by reviewers, adventurers, desk jockeys, careless kids and everyone else who has tried out a Klean Kanteen and come away satisfied.

Then there are those bottles that focus on one function in particular, like the insulated Polar bottle that's designed to keep liquids cold for as long as possible. And, of course, in addition to the bottles mentioned, there's plenty of variations on the familiar themes: Nalgenes with small mouths (good for drinking, less good for ice cube filling), Klean Kanteens with wide ones (good for ice cube filling, less good for drinking), and so on.

Klean Kanteen has a few other lines of bottles as well, like the eco-conscious Reflect, though at $32 it's a bit pricier than other options. And there are the aforementioned wide-mouth and insulated versions. You get the picture: Lots of room for subjectivity.

But for most of us who just want to ditch Dasani, Fiji, Evian and co., the Klean Kanteen Classic is a water bottle that's solid, simple, and easy to drink from—and that's what counts.

This review originally appeared on The Wirecutter.
Lead Photo: Courtesy of The Wirecutter