Should I drop for a sleep "system," or just get a separate sleeping bag and pad?
I've been looking at some Big Agnes sleeping bags and interested in adding one of their REM sleep pads. Seems like a great idea (the pad inserts into a sleeve in the base of the bag), but I was wondering if this would be a mistake because the sleeping bag sacrifices insulation on its base. Should I go for the "system," or just drop for standalone sleeping bag and sleeping pad? Brad Durango, Colorado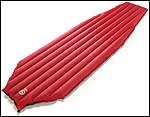 Heading out the door? Read this article on the new Outside+ app available now on iOS devices for members! Download the app.
Big Agnes's sleeping pads and bags rely on a basic principle: When you crush insulation, it insulates less. So when you're sleeping, any sleeping-bag insulation that's right underneath you is as good as worthless; just excess weight. So Big Agnes—like some companies that tried this in the past—puts no insulation along the bottom of the bag. Instead, as you note, a sleeve is sewn into the bag that holds a sleeping pad (either one of Big Agnes's REM pads or one from another maker). This makes perfect sense, as the pad is what provides all the ground-level insulation, anyway. It also means you don't play chase the pad as you roll around your tent at night.

REM Air Core


Drawbacks? Yeah, some. Mainly, these systems orient the bag in a single way, and tend to assume you want to sleep on your back with your face looking straight up. If you sleep on your side, the hood at the back of your head must turn with you—which it does, a little. And there really isn't a huge weight savings. Big Agnes's 20-degree down-filled Zirkel ($279; www.bigagnes.com) weighs two pounds two ounces, which is pretty good. Feathered Friends' 20-degree Swallow ($320 with Nextec shell; www.featheredfriends.com) has down all the way around yet weighs an ounce less. Meanwhile, Big Agnes's self-inflating REM Air Core pad will run you $55, and add a relatively wispy 19 ounces to your load.
So it's a matter of taste. Big Agnes's stuff is practical, well-made, and well-priced—I never thought they'd make it when their stuff first came out four years ago, but here they are, doing great. Myself, I tend to prefer the separate pad and bag route. I just find it a little more comfortable. But that's just me—people have been known to disagree…
Get the scoop on more of the year's best sleeping bags and pads in Outside's 2004 Buyer's Guide.
Trending on Outside Online