Should I follow MEC's lead and get rid of my polycarbonate water bottles?
I just read that Vancouver-based Mountain Equipment Co-Op (MEC) has pulled all polycarbonate water bottles from its shelves due to safety concerns of the chemical bisphenol A (BPA). Should I be worried? With a retailer of that magnitude deciding to no longer sell polycarbonate bottles, it makes quite a statement. Brian Columbus, Ohio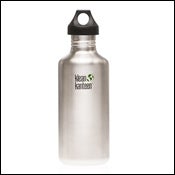 Heading out the door? Read this article on the new Outside+ app available now on iOS devices for members! Download the app.
Yes, I read about MEC's decision too. That is an eye-catching move, I agree.
Kleen Kanteen Stainless Steel Water Bottle

Kleen Kanteen Bottle
This might be a new issue for some readers. In a nutshell, there are concerns that polycarbonate water bottles, such as the hard, clear "plastic" Nalgene bottles, can leach bisphenol A (BPA) which users then drink with whatever liquid is in the bottle. BPA, in large quantities, is an "endocrine disruptor," meaning it can mess with your hormones. In extreme cases, that could mean damage to reproductive organs in males, and issues such as early puberty in females.
The jury clearly is out on this one. After a flurry of articles about the risk of polycarbonate bottles in 2004, things calmed down. Some researchers also refuted any findings that they posed a hazard, saying earlier studies used examples and numbers that didn't reflect real-world conditions.
So, let's say that there "may" be an issue with polycarbonate bottles. How to reduce the risk? Harsh chemicals, heat, and aging all seem to cause more BPA to leach from bottles, so to avoid that:
Wash a new bottle with a mild detergent such as Dawn to remove any BPA that may have leached out of the plastic during manufacture.
Don't use bleach and other harsh chemicals or detergents.
Don't put hot liquids into the bottle, or leave it in the sun or in a hot backpack in the sun (hard to avoid sometimes, I know).
Get a new bottle every six months or so.
Alternatively, use a stainless steel bottle (Kleen Kanteen in 27-ounce size, $18; kleankanteen.com). Or use one of the "older" style Nalgene bottles made with polyethylene, which you can identify by its softer feel and milkier appearance. Those bottles contain no BPA at all.
The 2008 Winter Outside Buyer's Guide is now online. From snow sports to trail-running to camping, get reviews of more than 300 new gear must-haves.