Gear Guy
What Backpacking Tent Should I Buy?
I'm in the market for a small, light backpacking tent that won't break the bank.
Heading out the door? Read this article on the new Outside+ app available now on iOS devices for members! Download the app.
One of the great things about backpacking these days is how light gear has become. Overall, I imagine the load before fuel/water/food for a trip of four or five days is about half what it was 20 years ago.
Tents are a great case in point. It wasn't that long ago that the sweet spot for a two-person backpacking tent was six or seven pounds. Now under five is what I regard as minimally acceptable. Mind you, we're talking about summer-weight tents here—one area where tent makers cut weight is through using more mesh and less ripstop fabric. But you still get excellent weather protection through full-coverage flies, and adequate room for two. Or one, if you prefer to go solo and camp really light.
These following three tents are my favorites.
The Best Backpacking Tents: REI Quarterdome T2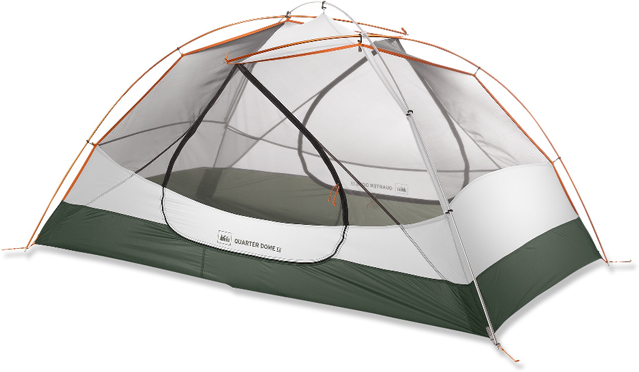 I've been using REI's Quarterdome T2 for two years now, and think it's a great tent. It offers a little more cool-weather protection than the Carbon Reflex due to more ripstop nylon in the canopy, and it's three-pole design is super-stable. But it still offers plenty of mesh for breathability, plus a fly that extends right down to ground level. I also like the T2's big twin doors, and its real sense of roominess.
The T2 arrives packed at 4 pounds, 8 ounces. But that can be trimmed to just under four for the trail, which is impressive. And at $299, it's an excellent buy.
The Best Backpacking Tents: MSR Carbon Reflex 2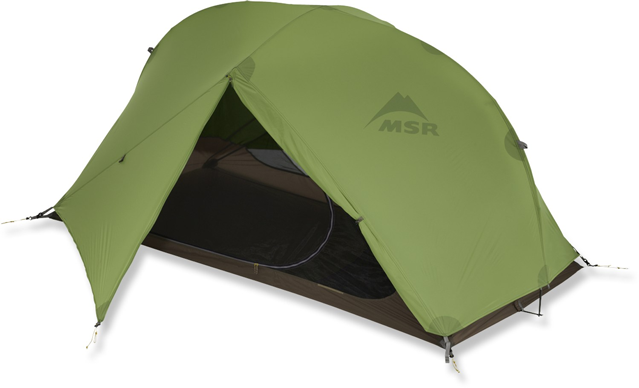 Carbon makes bicycles light and sturdy—and it can do the same for tents. MSR's Carbon Reflex 2 uses carbon poles for a weight savings of about 30 percent versus traditional poles. Carbon is strong and flexible as well—ideal pole material.
Overall, the Reflex utilizes a popular design employing an end-to-end pole that acts as the "spine" of the tent, with a short transverse pole that holds up the sides of the fly and canopy. The canopy is mostly mesh, but a fly extends all the way to the ground for good rain protection. And the design allows for two doors and two vestibules, so each occupant has space for her boots or other gear left outside. And getting in and out is easy.
Weight is a mere 3 pounds, 9 ounces as packed—you can trim that a little when packing. That's pretty remarkable. But it's $499, so you have to really want to save that extra pound, because you're paying about $200 to be rid of it. Still, this is a great investment for weight-conscious late-spring-to-early-fall backpackers.
The Best Backpacking Tents: Marmot EOS 1P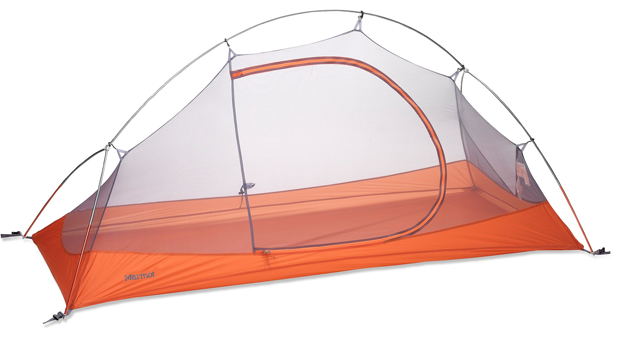 I like to backpack with friends. But I'm also perfectly happy to take my Thoreau side out for a hike.
For those occasions, I like a small solo tent such as Marmot's EOS 1P ($229). A solo tent saves weight, and also takes up less room in a small pack. The EOS comes in at just under three pounds—barely enough to register as an item in your pack. It has lots of mesh in the canopy, with a sturdy fly that seals the tent tightly in the event of a storm. There's plenty of room for a solo hiker, and it's tall enough (36 inches at the peak) for getting dressed or sitting up and reading.
Marmot always does a good job with the little things, such as plenty of inside pockets, zipper pulls that don't rattle in the wind, and reflective tabs that make the tent more visible in the dark.
Trending on Outside Online