What should I get to purify water while traveling in Latin America?
I planning a year-long trip to Central and South America and seek your opinion on water purification. What is the best purifier or filter combo? We need super-durable, convenient, and compact. Landon Rifle, Colorado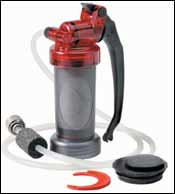 Heading out the door? Read this article on the new Outside+ app available now on iOS devices for members! Download the app.
My guess is you'll find plenty of bottled water, which means your filter system won't be maxed out every day. Still, as you note, a good, durable filter than can be easily field-maintained is advisable. One choice would be the MSR MiniWorks EX ($80; www.msrcorp.com), a very tough filter that has an easily replaceable ceramic cartridge ($38). It wouldn't be too onerous to pack two of them along, plus a maintenance kit ($12). Katadyn's Pocket Filter is another rugged, long-lasting filter that's easy to maintain on the road. It's a $200 item, however, which may be a factor (www.katadyn.com). A cheaper yet no less rugged and worthy alternative is the Katadyn Hiker ($60), which has an easy-to-use pump mechanism for quick on-the-hoof filtration.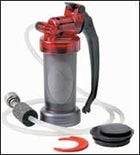 MiniWorks EX

Of course, you also have to deal with filter-proof organisms such as viruses. For that you need a purifying solution, such as MSR's SweetWater Purifier Solution ($9 per bottle). You add it to filtered water, let it stand for five minutes, then drink.
As a backup, there's old-fashioned Potable Aqua ($6; www.potableaqua.com), an iodine-based tablet that kills just about everything in the water from giardia on down the food chain. It doesn't taste great, but if you're in a hurry then it works fine. And no, you can't possibly drink enough of it for the iodine to pose the remotest danger.
Bon voyage!
Check out Outside Online's Filtration & Purification Buying Guide for more aqua-cleansing options.