What's the best solo tent out there?
Are there any solo, self-supported, rainproof tents available? It sure would be nice to wake up with a dry sleeping bag. Ron Tahlequah, Oklahoma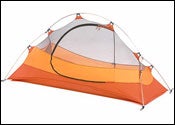 Heading out the door? Read this article on the new Outside+ app available now on iOS devices for members! Download the app.
Somehow I am reminded of the old joke in which Sherlock Holmes and Dr. Watson are sharing a tent (don't ask why). Holmes awakes and says to his sidekick, "Watson! I see that the stars are out. What does that tell you?" Watson replies: "I see millions of stars, and even if a few of those have planets, it's quite likely there are some planets like Earth, and if there are a few planets like Earth out there, there might also be life."
Marmot's Eos 1P Tent

Eos 1P Tent
To which an exasperated Holmes says, "Watson, what it means is that somebody stole our tent!"
In one survey, this was claimed to be the funniest joke in the world.
Anyway, it sounds to me as if somebody stole your tent. What are you using now? Are you just laying the bag on the ground and hoping for the best? This does indeed sometimes work, but dew, weather changes, and so on always seem to lead to a damp sleeping bag.
And there are LOTS of good solo tents out there these days. That's a growing market segment, which speaks to….well, something. Nobody has any friends to camp with? You tell me. A good example of a solo tent is Marmot's Eos 1P tent ($225; www.marmot.com), which offers 20 square feet of space, a full rainfly over a mostly mesh canopy, and self-supporting construction, all in a package that weighs just under three pounds. Pretty good! That's less than a pound more than most bivy bags, which are lousy substitutes for a decent tent.
There are others. Sierra Designs' Baku ($230; www.sierradesigns.com) is an interesting hybrid of single- and double-wall construction, enabling it to have two doors and a fairly large side vestibule while still hitting the three-pound weight mark. And REI's Chrysalis ($160; www.rei.com) is fairly lightweight at three pounds, eight ounces, and it offers plenty of room (20 square feet).
But don't wed yourself entirely to the self-supporting model. Self-supported tents require an extra pole, and besides, you have to stake them out anyway. A tent such as Mountain Hardwear's Skypoint 1 CF ($220; www.mountainheardwear.com) asks that you stake out the front and back, but then you have a sturdy, roomy tent that weighs only two pounds, four ounces. Or, Sierra Designs' Clip Flashlight ($169; www.sierradesigns.com), a two-person tent with a lavish 32 square feet, weighs only four pounds, so a solo camper can live in something akin to a palace without a big weight penalty. It too requires you to put in a few stakes, but that's not so much to ask.
Any of these tents will ensure you wake up dry.
Check out this year's more than 400 must-have gear items, including a comprehensive tents section, in the 2006 Buyer's Guide.