What's the best water filter for South America?
I'm planning a trip to South America this summer and want to invest in a water filter and/or purifier system. What do you recommend? Paul Salt Lake City, UT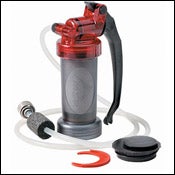 Heading out the door? Read this article on the new Outside+ app available now on iOS devices for members! Download the app.
I recommend a water filter and a purifier. How's that? A filter to get out sediment, bad tastes, and little creatures; and a purifier to take care of nasty viruses and other tiny things a filter can't get.

The Miniworks Filter
Myself, I've always been partial to the MSR Miniworks ($89) for a filter. It's easy to use and maintain, its "water-pump" handle is convenient and comfortable, and it's very effective against giardia and other protozoa. It also removes chemical tastes and other pollutants. On the high end, Katadyn's Pocket Filter ($289) is made of extremely tough materials for long use (stainless steel and aluminum) and also does a very good job of filtering.
To take care of viruses, treat filtered water with Sweetwater Purifier Solution ($10 for two ounces). Basically high-quality household bleach, the purifier kills whatever the filter misses. It's billed as approved only for Sweetwater filters (same company as MSR—MSR Sweetwater Microfilter, $79), but c'mon, it works the same no matter what filter is used. Katadyn, meanwhile, sells chlorine dioxide tablets that achieve the same end ($12 for 30).
Whether you have filtered or unfiltered water, you can also add solution from the MSR Miox purifier ($140), which uses salt and a battery-powered electrical charge to create a solution that "inactivates" bacteria, protozoa, and viruses. Light and easy to use.
In either case, learn good filter management. Try to draw from water that is as clean as possible—that will help the filter last longer and make it easier to pump. Also follow the manufacturer's recommendations for how and how often to clean the filter. And remember that it can take hours for some viruses to die even with a treatment, so read directions carefully.