What's the difference between MSR and Katadyn water filters?
I need a new water filter for summer trips into the Ouachita Mountains, and I'm torn between the MSR MiniWorks EX and the Katadyn Guide Pro. I know you're a fan of the MiniWorks, but I can't screw it onto my existing stock of Platypus water bottles. Is the MiniWorks superior to the Guide Pro? Greg Dallas, Texas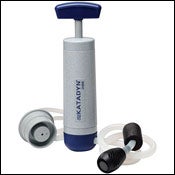 Heading out the door? Read this article on the new Outside+ app available now on iOS devices for members! Download the app.
Mainly the two filters differ in design. The Katadyn Guide Pro ($86; katadyn.com) uses a glass-fiber filtering system with a carbon core to remove off tastes. The MSR MiniWorks EX ($85; msrcorp.com) uses a ceramic/carbon filtering system that also is designed to improve water flavor. One big difference is that the Guide Pro has nearly twice the water output for the same number of pumps.
Katadyn Guide Pro Water Filter

Katadyn Guide Pro Water Filter
I like the MiniWorks largely because I'm familiar with the design, having used it for a long time. I also like its pump action, which uses a lever that you work like an old-style water pump. It's a little more ergonomic than the piston-style pumping action employed by the Katadyn. Also, I use Nalgene bottles a lot, and I like the way they screw right into the bottom of the MiniWorks. So, yeah, I guess I think the MiniWorks is a little bit superior. But that's partially a personal preference issue. In terms of removing bacteria, protozoa, and other bad things from water, they're very similar. Keep in mind neither deals with viruses so they are "filters," not "purifiers."
In your case, due to your investment in Platypus water bottles, I think it makes perfect sense to get the Katadyn filter. It will work well for you. The Ouachitas look like interesting country. Hope you have a great trip!
The Gear Guy reports from 2007 Winter Outdoor Retailer, the bi-annual gearapalooza in Salt Lake City. Check out his top picks for gear to watch in 2007.