What's the life expectancy of a down sleeping bag?
How long should a quality down sleeping bag last? I have a Feathered Friends Swallow that's about 15 years old. I've treated it well and kept it clean, but it seems to be losing loft. I due for a new bag? Bob San Francisco, California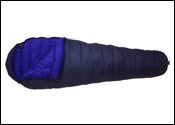 Heading out the door? Read this article on the new Outside+ app available now on iOS devices for members! Download the app.
A down sleeping bag may cost well north of $300, but this much can be said about it: With reasonable care it could well last the user's lifetime. I have a Feathered Friends Gore-Tex Swallow (www.featheredfriends.com) that's some 20 years old and is still in great shape.
Feathered Friends Swallow sleeping bag

Swallow sleeping bag
So yours may not be fading yet. You say you keep it clean. But have you had it laundered? One of the things that can cause the down to clump and lose loft is body oil that gets through the bag liner and into the down fill. Soil and crud also can come in through the shell and stitching. You can ship the bag to Feathered Friends in Seattle and they'll wash it for $35.
Or, buy some Nikwax Down Wash ($9; www.nikwax.com) and take the bag to a Laundromat or anywhere with a front-loading washer (the agitator in top-loading washers will tear the baffles). Wash according to directions on the Nikwax bottle, then dry the bag on medium heat. Some people advocate tossing in a clean tennis ball or two to break up the down clumps. But the tumbling action does a good job of that, I think. My belief is that you'll see the bag's loft restored to at least 90 percent of what it had originally.
If not, well, maybe the down clusters have gotten crushed a little and lost some of their resilience. That's not fixable. So what to do? If you've liked the Swallow—a fabulous bag, in my view—then maybe get another one. Rated to 20 degrees, the Swallow is cut fairly comfortably yet weighs only two pounds. A new one with nylon taffeta shell goes for $349; upgrade to waterproof/breathable eVent for $404.
If you've found you really haven't needed the warmth the Swallow provides, you might consider a Marmot Arroyo ($249; www.marmot.com), a lightweight down bag that weighs one pound, eleven ounces and is rated to 30 degrees. I've had an Arroyo for several years and have found it great to the freezing mark or a bit lower. And I love its light weight and compressibility.
If you'd like a bit more warmth, then Western Mountaineering's Apache Super MF ($375; www.westernmountaineering.com) is the ticket. It's rated to 15 degrees, and I love its excellent fit and polyester shell, which is breathable and naturally water repellent. Weight is outstanding at two pounds, one ounce in the regular length.
You've got your winter gear, now get outside and use it. Away.com's ski and snowboard guide makes it easy to find nearby slopes just begging for fresh tracks.