What's the most trustworthy water purification and filtration system?
My sister is joining the Peace Corps and will likely be stationed in Central or South erica. I want to get her a water filter/purifier. What do you recommend? Julie California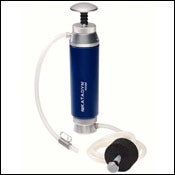 Heading out the door? Read this article on the new Outside+ app available now on iOS devices for members! Download the app.
You have the filter/purifier part right—she'll need both in those areas. And that isn't a knock on Third World water standards. It's increasingly the case that a purifier is needed everywhere, the United States included.
Katadyn Pocket Filter

Pocket Filter
I think the best way to approach this is through a two-stage approach. First, filter to remove grit, chemicals, and tiny creatures that can wreak havoc in your gut. Then, purify to kill viruses and other baddies the filter doesn't catch.
She'll be in these areas for at least a couple of years, correct? So I'd get a really reliable filter. MSR's WaterWorks EX ($150; msrcorp.com) is sturdy, effective, easy to use, and easy to maintain. I'd pack a spare cartridge ($40), membrane filter ($60), and maintenance kit ($20). Katadyn's Pocket Filter ($220; katadyn.com) is another excellent model. It's a little more rugged than the WaterWorks and equally effective at first-stage cleaning of water. Both units will remove chemical tastes, and catch nearly all measurable quantities of things such as giardia and cryptospiridia.
After the cleaning comes the purifying. The simplest way to achieve this is with MSR's SweetWater ($10 for a 2 oz. bottle, which is enough to treat 80 gallons). You add five drops of this stuff to a liter of water, mix it up, let it stand for five minutes, and drink. Potable Aqua ($8.50 for 50 tablets; potableaqua.com) works well also, but it can end up costing more than the SweetWater solution.
A good filter and water purifier is a combo that should keep your sister safe. And that's a wonderful thing she's doing.
Check out Outside's picks for Gear of the Year and 400-plus gear reviews in the 2007 Summer Buyer's Guide, on newsstands now.