What's a freestanding tent?
What kinds of tents are there other than freestanding, and what is the difference between them all? I keep hearing "freestanding tent" and I don't know what that means, much less what the other kinds are. Charlie Easley, South Carolina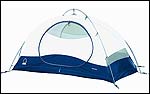 Heading out the door? Read this article on the new Outside+ app available now on iOS devices for members! Download the app.
To be honest, Charlie, the term "freestanding" is more than a little misleading. What it's supposed to mean is that the tent supports itself—the poles are tensioned by inserting them into pockets or grommets on the tent, and then the tent stands…erect, so to speak. The problem with the term is it implies that once the tent's poles are installed, you're all set. Far from it. ALL tents must be staked out to ensure they don't fly away in a strong breeze. And most freestanding tents have a vestibule that has no pole at all, so that must be staked out. Finally, in severe weather, it's more than a little prudent to add guylines to the tent to add stability and wind-resistance. You get the picture—more stakes.

Comet


Besides, ounce for ounce, tents that require you to set them up with stakes (i.e., "non freestanding") are sturdier than their freestanding equivalent. So go figure.
Why are freestanding tents so popular, then? Well, for one thing, they're much easier to set up in a camping store showroom. And there is a convenience factor—it's easier to set up a tent and simply stake it out to support the vestibule and pin down the corners than it is to set up a tent where you really have to pay attention to the stakes and how they're placed. So I understand their appeal. Myself, I use both types—for lightness, though, non-freestanding models usually are best.
For three-season camping, typical freestanding tents include the MSR Hubba Hubba ($280, www.msrcorp.com), the Sierra Designs Comet (maybe the classic backpacking tent; $300, www.sierradesigns.com), and the Marmot NYX ($269, www.marmot.com). All are two-person, three-season tents that weigh in the five- to seven-pound range, set up easily, and offer excellent protection from the elements along with plenty of ventilation.
In the non-freestanding category, I like Mountain Hardwear's Waypoint 2 ($250, www.mountainhardwear.com), which weighs just over three pounds but holds two people comfortably. Kelty's Crestone 2 ($140, www.kelty.com) has a similar design, but uses a little heavier materials so weight is just over four pounds. Both require solid stakes at the fore and aft ends, and the tension from those placements allows a center-arch pole to handle the job of creating interior space.
The best tents, freestanding and guyed-out, reviewed in Outside's
2004 Buyer's Guide
.