Gear Guy
What's the Most Versatile Camp Shoe?
I'm looking for a badass camp shoe that is also comfortable and up for a good rock scramble.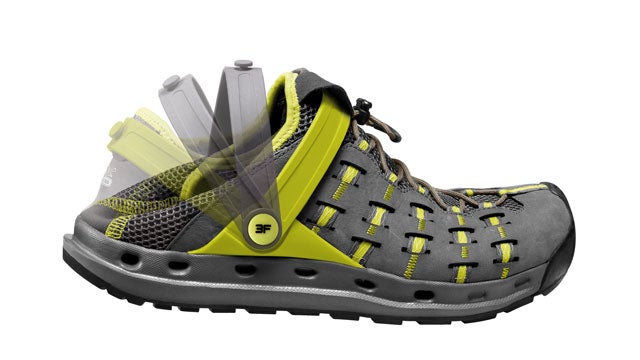 FABIO DELL'OGLIO(Photo)
Heading out the door? Read this article on the new Outside+ app available now on iOS devices for members! Download the app.
"Whoa, are you wearing clogs?" my wife asked when I walked into her office wearing Salewa's Capsicos ($109; salewa.com),  coming out in March. To put her surprise in perspective, being married to a shamelessly geeky gear tester, very little phases her. She didn't bat an eye when she came home and I was only wearing a purple Patagonia onesie and a neon orange helmet on a hot summer evening while looking over my testing notes. She doesn't complain when I leave the house with two different shoes on to compare. But the cloggy look got to her.
I tried to correct her: they look sporty; they are a beautiful marriage between camp and approach shoe, I showed her with the flip of one piece of plastic. I went deep into the tech story on the soles.
But, at the end of my monologue, I just looked more like a geek. A geek wearing clogs.
I will maintain, though, that they are the baddest-ass clogs you will ever wear.
The coolest bit about these shoes is in the rotating U of hardy, stretchy, plastic that connects to the midsole about three inches off the heel. Rotate the U forward and you can attach it to the top of the tongue and crush the neoprene heel down with your foot to make a fancy—damned comfy—clog. Rotate it to the back, attaching it to the heel, and these shoes offer a surprisingly snug fit. The forefoot is wide, which makes for a morning-slipper-like feel in clog mode.
Instead of holes, the laces attach to individual pieces of nylon webbing that connect to the sole. These make the laces incredibly easy to tighten to a tailored fit when in approach mode. When in approach mode, they can be slid on and off with one hand.
I certainly would not replace my go-to approach shoes with the Capsicos, but they performed head and shoulders better on scrambles than any camp slipper or flip-flop I have owned. This was not only thanks to the fit, but to the vibram rubber soles, which gripped like champs on wet granite. And the toe is treadless to help them perform more like a climbing shoe. On top of being comfy, they were extremely breathable, which made them a dream to put your foot in after climbing or paddling. 
If you are the type of person who needs a rugged camp shoe—think 70% camp 30% approach—or are looking for a clog on performance-enhancing drugs, you will love the new Capsicos.
Lead Photo: FABIO DELL'OGLIO