Indefinitely Wild
The 2018 Ford Expedition Is the Best SUV I've Driven
Big SUVs are a necessity for some families. Finally, they drive as well as they haul.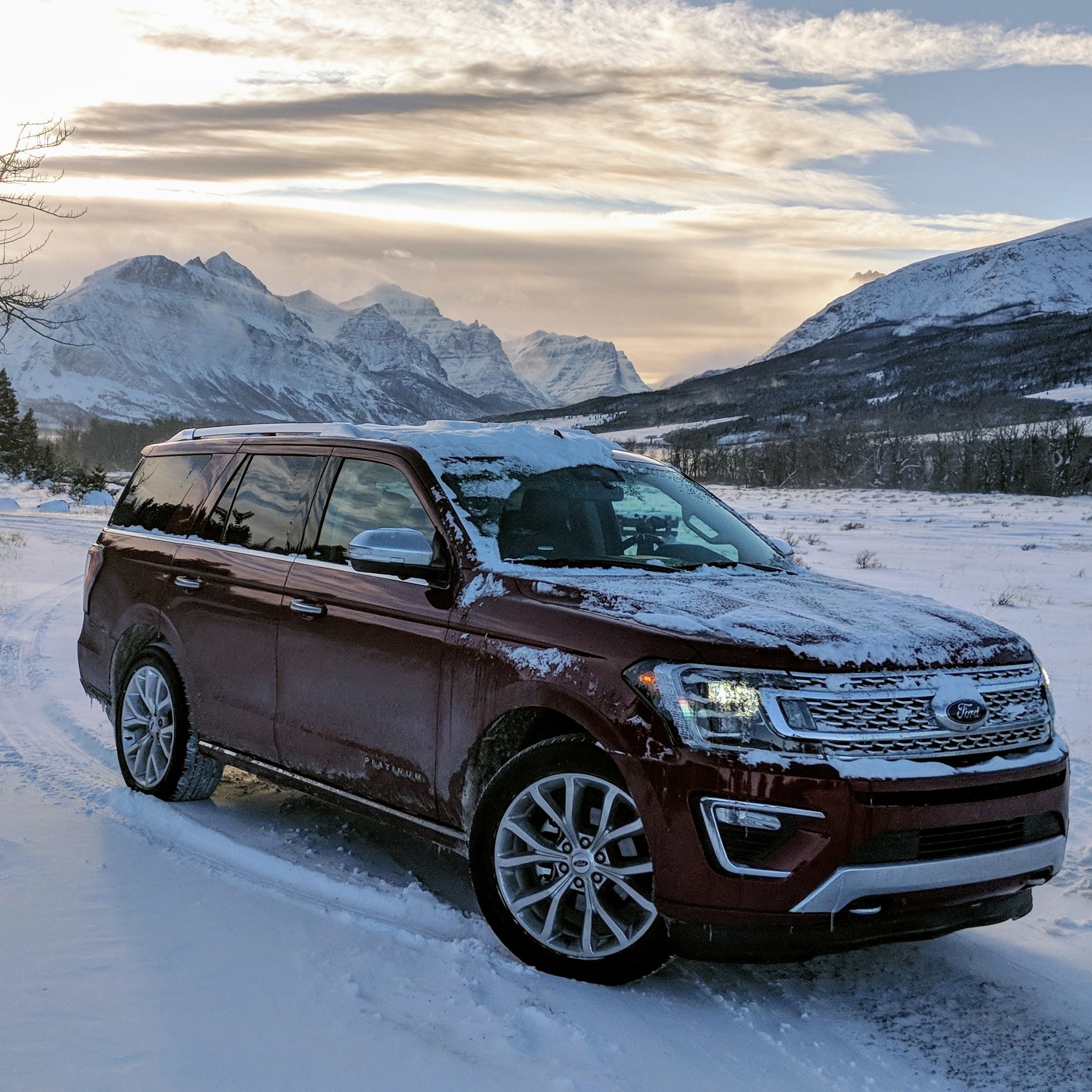 Heading out the door? Read this article on the new Outside+ app available now on iOS devices for members! Download the app.
Big SUVs have always been something of a necessary evil. Their massive proportions mean they can do jobs no other vehicle can do. But their size and truck-like construction have also made them awful to drive and sketchy in bad weather and off-road.
This all-new Ford Expedition is different.
What Is It?
Like the Chevy Suburban/Tahoe/Cadillac Escalade/GMC Yukon (behind the badges, the four are essentially identical) or Toyota Sequoia, the Expedition is a full-size, three-row, body-on-frame SUV. A truck, if you will. Compared to its competitors, the Expedition does three major things differently:
Like the F-150 it's based on, the Expedition uses a high-tech aluminum body to save weight.
Rather than a solid axle, the Expedition has independent rear suspension.
Rather than a large V8, the Expedition is equipped with a twin-turbo, 3.5-liter V6.
Those differences add up to a truck that's faster, more fuel efficient, more refined, more spacious, and better handling than anything that's existed in this class before.
This all-new 2018 Expedition is four inches longer and nearly five inches wider than the model it replaces, yet this new one weighs between 5,433 (2WD, short wheelbase) and 5,692 pounds (4WD, long wheelbase), compared to the old truck's 5,562 and 5,789 pounds, respectively. The heaviest Expedition is 116 pounds lighter than the heaviest Suburban and 308 pounds lighter than the heaviest Sequoia.
The independent rear suspension improves the Expedition's ride quality, handling, and interior space. Heavy solid axles require the suspension to work very hard, as all that weight moves up and down, leading to a bumpy ride. Independent suspension reduces unsprung weight and better isolates suspension movements, leading to a smoother ride and sharper handling. It also packages smaller. Without the need for suspension towers that eat up interior space, the floor can also be lower. This adds up to more than 40 inches of legroom for occupants in all three rows of seats in both short and long wheelbase configurations. Regardless of wheelbase, this new Expedition also has room behind the second row for a stack of four-by-eight-foot sheets of plywood.
Ford's twin-turbo V6 is the best truck motor going right now. Paired with the excellent ten-speed automatic that Ford co-developed with General Motors, it's incredibly torquey and satisfying to use. Despite having two fewer cylinders than a traditional V8 and a smaller capacity, it actually feels much stronger than the engines of its competitors. Paired with the weight-reducing aluminum body, it also returns better fuel economy.
Where a 4WD Chevy Suburban makes 355 horsepower and 383 pound-feet of torque and returns 15 mpg (city) and 22 mpg (highway), the lighter, more spacious Expedition makes 375 to 400 horsepower (depending on options) and 470 to 480 pound-feet of torque and returns 16 mpg (city) and 24 mpg (highway). Given the massive torque advantage and the larger interior, the superior fuel economy is really impressive.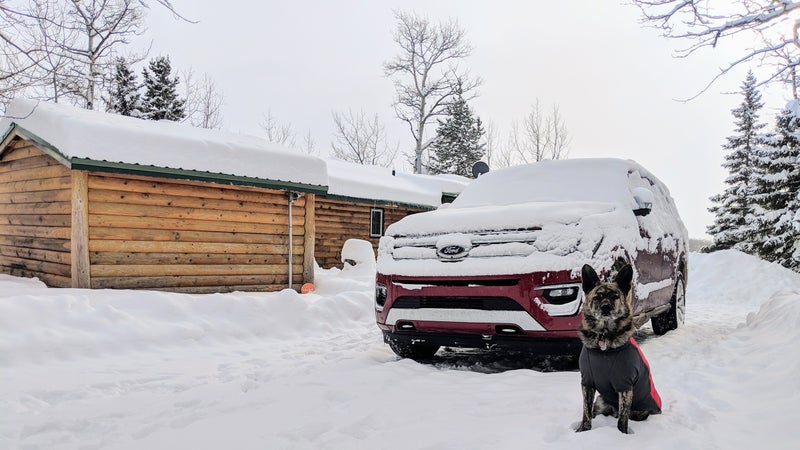 Who Is It For?
As soon as we post a review of a full-size SUV, I'm sure someone will take to social media to flame us for destroying the planet. And while that person would be absolutely correct that a vehicle like this consumes dead dinosaurs at a frightening rate, he'd also miss the fact that an awful lot of people actually need a vehicle like the Expedition.
Have more than two kids and want to take them skiing? The Expedition will carry a large family and their stuff in comfort, through challenging winter weather, better than anything else on sale today.
Have more than one large dog? You'll be able to fit them in the Expedition, along with all your camping gear, then take off for Baja.
Have a family and something like a horse, boat, or trailer? The Expedition can tow more than 9,000 pounds while providing luxurious seating for eight adults.
In terms of supporting outdoor adventures, no other vehicle but a full-size pickup will prove this useful. In fact, the biggest challenge potential customers will face is whether to buy an Expedition or an F-150. The determining factor is almost certainly going to be their number of children, furry or otherwise.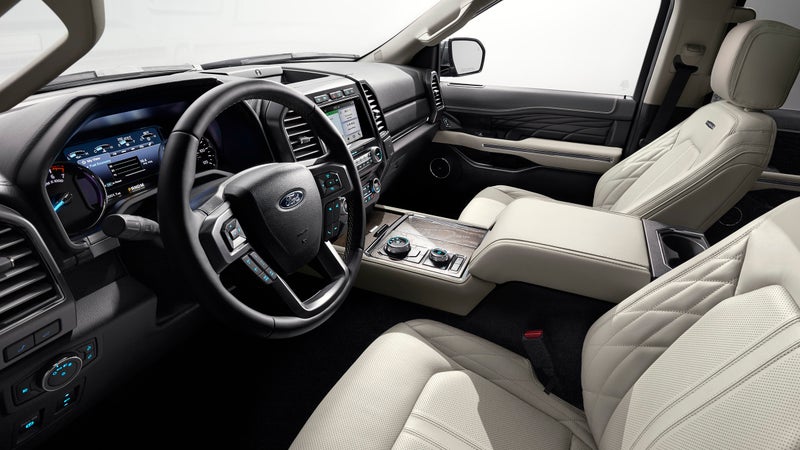 Design
Leave the Expedition in a parking lot full of Suburbans, Tahoes, Yukons, and Escalades and you better hope you picked a bright color or you're going to have a hard time finding your truck. The Expedition looks bizarrely similar in shape, proportion, and detail to GM's rivals—its LED daytime running lights are even identical to those of the Chevy.
Inside though, things couldn't get more different. Rather than mistaking the Expedition's interior for another domestic, you'll find yourself making comparisons to brands like Land Rover, Mercedes, and Porsche.
While the Expedition is based on the frame of the F-150, its interior borrows heavily from the larger, nicer Super Duty. It's incredibly spacious inside, and even the base XLT trim level (starting at $51,695) uses nice materials and is generously equipped. You can spend up to $80,865 on an Expedition if you want the long wheelbase, the nicest equipment levels, and four-wheel drive. Do so and you'll be rewarded with a host of semiautonomous driving features, adaptive damping shocks, real wood trim, and leather seats as nice as anything out there.
But we'd choose the $62,155 FX4 model. Starting with the basic XLT, it adds stiffer shock absorbers, all-terrain tires, skid plates, and, most important, low-range gears, all designed to boost the truck's off-road ability. It'd make an incredibly comfortable, spacious basis for an overland build. All it's lacking is decent rubber.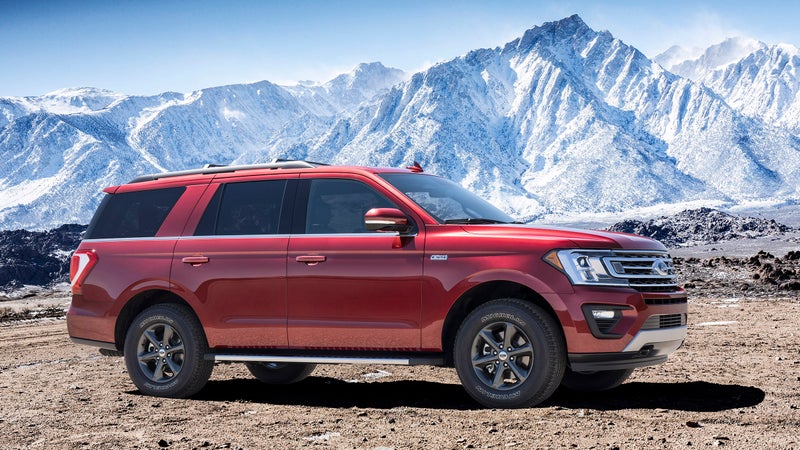 Driving It
Over Christmas, my girlfriend, our two dogs, and I took the Expedition (a Platinum 4×4 model) on a two-week, 3,500-mile road trip from our home in Southern California to a family cabin in northern Montana and back.
On the highway, the Expedition is as smooth and luxurious as any luxury sedan I've driven. Set the adaptive cruise control to 85 miles per hour, keep your hands on the wheel, decide what level of heating, cooling, or massaging your butt desires, and you'll arrive at your destination before you know it.
In congested urban traffic, the Expedition proves remarkably handy despite its gigantic proportions. Thank excellent outward vision from the large glasshouse for that, as well as the responsive engine, transmission, and brakes. We had to fight rush-hour traffic out of L.A. and into San Francisco one day, and the Expedition was able to carve its way through lane hogs and distracted drivers as well as anything I've driven.
On mixed snow, slush, and ice through the mountains, the Expedition proved incredibly sure-footed despite wearing a positively awful set of all-season tires. Its excellent stability control system combines with the automatic four-wheel drive to keep the truck planted even on slippery, changing surfaces.
We encountered deeper, unplowed snow on the dirt road leading to the cabin. I'd brought chains for just this scenario but was very surprised when the Expedition was able to make sure progress without them. Like a high-end Land Rover, this Ford is fitted with a Terrain Management system that tweaks individual brake calipers to prevent wheel spin in low-traction conditions like this. It also automatically actuates the four-wheel drive's transfer case and alters throttle response and the gearbox's shift algorithm.
That's what enabled us to tackle the trip's most challenging obstacle: a steep, 200-yard driveway that dropped down from the road to the lakeside cabin. It was totally snowed in, yet the Hill Descent Control walked us down it in total control, and the Terrain Management system managed to find just enough traction for us to full throttle back up it a week later, in even deeper snow, without fitting the chains.
On our way home, we decided to visit our favorite hot springs in Death Valley. That meant 100 miles of challenging dirt road with patches of snow and ice. Despite its length, girth, and relative lack of clearance, the Expedition couldn't have made it easier. We slept in it that night on our luxury two-person sleep system (technically a full-size mattress). Even with the dogs, there was plenty of room.
The one thing the Expedition could have used in all those circumstances was a better set of tires. The cheap all-seasons Ford specs on this thing are fine on dry roads but don't have a huge amount of traction in the wet, getting in the way of outright braking capability. The trouble is similar in winter weather, where the impressive vehicular capability makes up for the tires' lack of traction but can obviously do nothing to add grip for braking. Off-road, I constantly worried about getting punctures, had to pick lines specifically to be kind to the tires, and struggled to climb relatively moderate hills if the surface was at all loose. A quality snow-rated all-terrain tire like the BF Goodrich K02 would address all these issues without adversely affecting fuel economy or noise levels. If I were buying one of these, I'd negotiate with the dealer so I left the lot with a set already fitted. The only thing the stock tires are good for is netting Ford a good Corporate Average Fuel Economy number.
Because the cabin was so remote and receiving such extreme weather (it was minus 26 degrees Fahrenheit one day), because we had the dogs with us, and because we wanted to do some camping on the way back, we had to carry a ton of stuff with us. Vehicle recovery gear, a big shovel, an air compressor, a tire repair kit, 50 pounds of dog food, winter clothing, snow shoes…you get the idea. Because we had the Expedition, we never had to make a choice between taking something and leaving it behind. The dogs had more than enough space, we were spoiled, and rearward vision was unencumbered. No other vehicle could have made this trip so easily.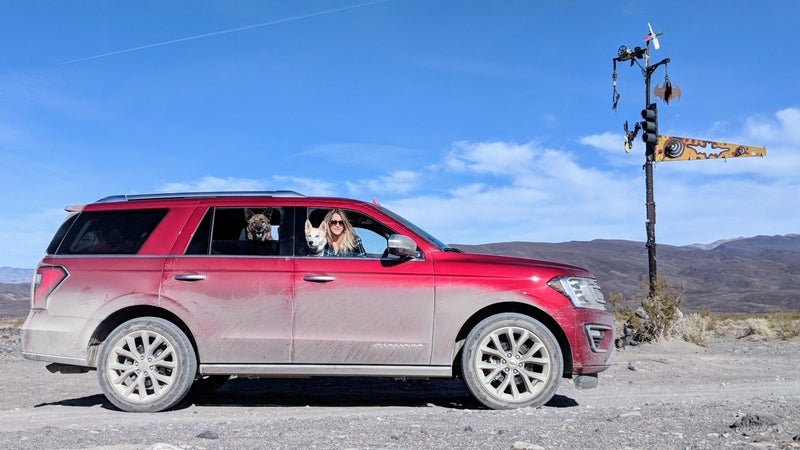 Likes
Luxury sedan–quality ride.
Hot-rod performance.
Silent interior.
You really can fit adults in the back row. Really, with headroom, knee room, and everything.
Excellent Terrain Management system takes the guesswork out of finding traction.
Loooooooonnnnnnnngggggg passenger doors and tip/slide second-row seats making rear-row access easy.
Dislikes
Relatively small 23.3-gallon tank limits fuel range to under 400 miles. Carry a jerry can off-road.
Like most vehicles, the stock tires are simply terrible.
Easily confused with the GM rivals.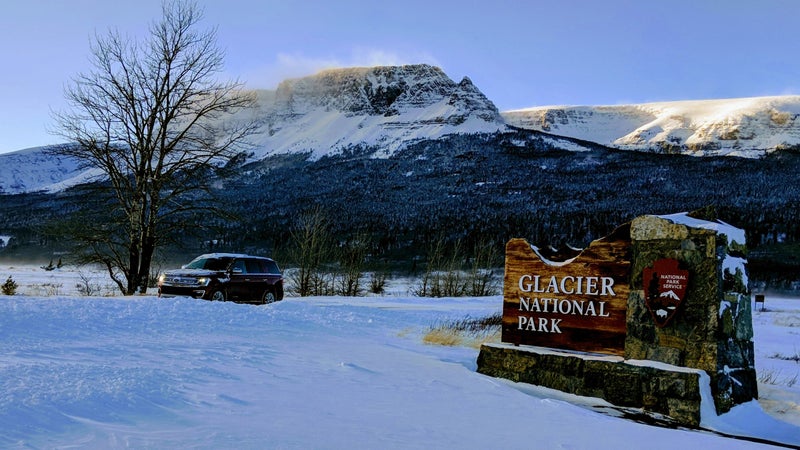 Should You Buy One?
If you need three-row people-hauling ability combined with four-wheel drive and/or towing ability, this is clearly the best large SUV you can buy. It's simply years ahead of any of its rivals.
Trending on Outside Online