Indefinitely Wild
The 2021 Ford Bronco Is the Most Capable SUV Ever
Meet the first Ford Broncos since 1996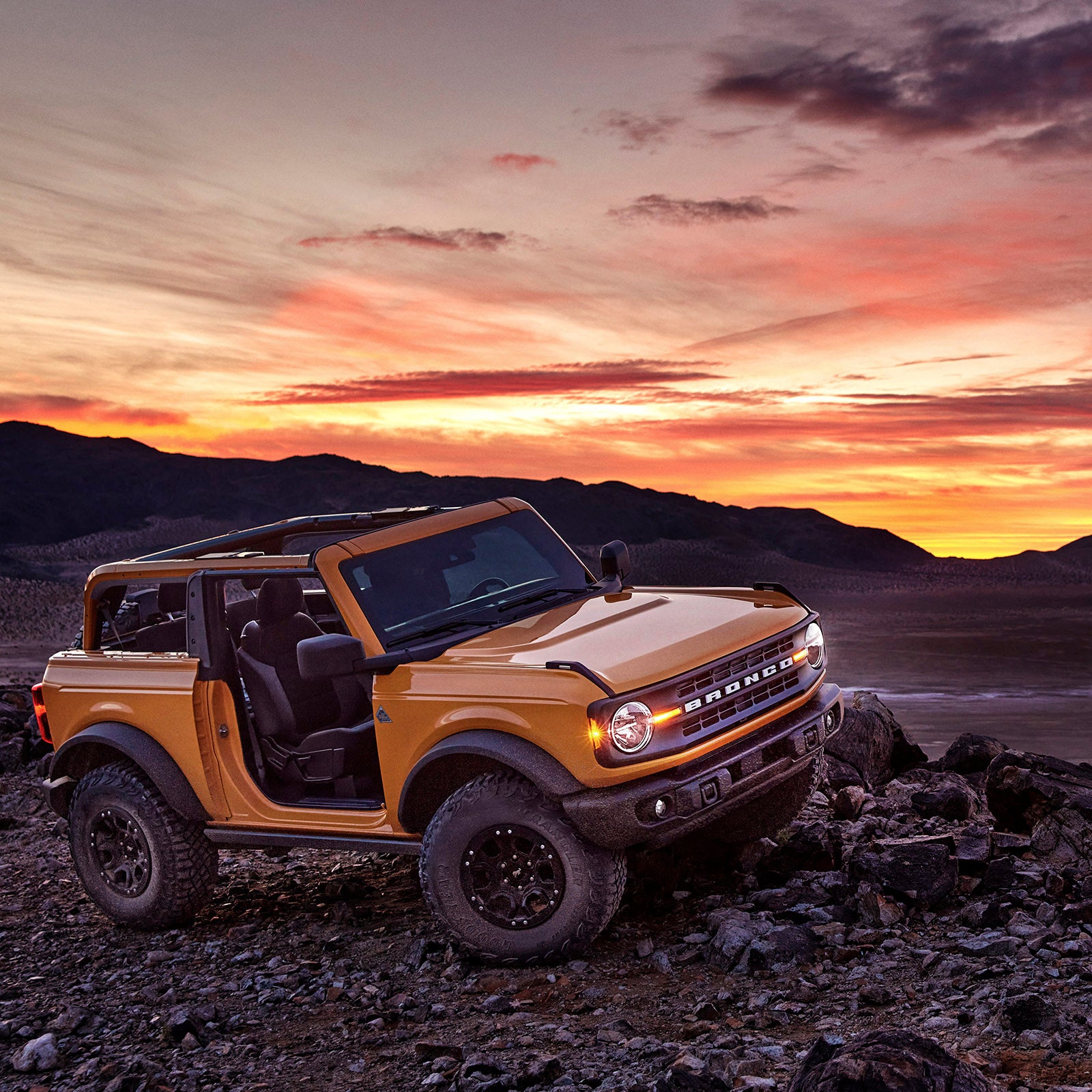 Heading out the door? Read this article on the new Outside+ app available now on iOS devices for members! Download the app.
With a much broader spread of capabilities, substantially superior engine and transmission options, and a more comprehensive suite of advanced driver aid technologies than other 4x4s out there, the Bronco should appeal to many drivers. And, if a giant off-roader isn't right for you, there's even a crossover in the new lineup, too.
These will be the first Ford Broncos available since 1996, and with them Ford has comprehensively re-imagined its off-road SUVs. 
Three Different Broncos
Bronco is now an entire sub-brand, not simply a single model. The 2021 Ford Bronco is a body-on-frame SUV that will, for the first time, come in both two- and four-door versions. There will also be a smaller, lighter unibody crossover called the 2021 Ford Bronco Sport. Think of that as a Toyota RAV4 or Subaru Forester rival with one key difference: it will actually be capable off-road. 
All models in the new Bronco range will be fitted as standard with a true four-wheel drive system capable of mechanically locking the speeds of the front and rear axles together, an arrangement that should be considered the bare minimum for off-road driving. Optional upgrades will take the capability of each vehicle much further. 
Ford is not yet releasing comprehensive specifications for this new product range, which will launch in spring 2021. Important numbers like fuel economy and acceleration times will be announced at a future date. What we do know right now is that the Bronco Sport will start at $28,155, the two-door Bronco will start at $29,995 (just $1,000 more than the cheapest two-door Jeep Wrangler), and four-door Bronco pricing starts at $33,200.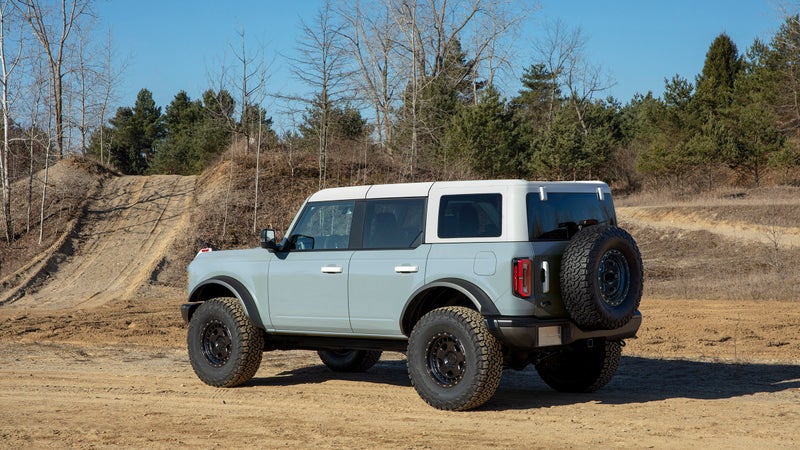 It's All About the Suspension
The third-generation Ford Bronco, which debuted in 1980, was revolutionary in its use of an independent front suspension system. The independent front end of that old Bronco endowed it with far superior ride and handling characteristics both on paved roads, and in certain conditions off-road. 
Think of a live axle as a metal tube that runs across a vehicle, connecting wheels on either side at their centers. This arrangement is simple and robust, but also heavy. That weight impairs ride quality and handling because of the momentum it generates as it moves up and down, and also because any bump experienced by one of the wheels ends up moving both wheels. Modern independent suspensions do away with that axle, and support each wheel separately. It's more complex and costly, but by reducing weight and separating the forces experienced by each wheel, the system delivers a much smoother ride, and more confidence-inspiring handling characteristics. 
All things being equal, the big advantage a live front axle offers over independent suspension is wheel articulation off-road. But all things are not equal, and it looks as if the Bronco's suspension setup is able to match the Wrangler's more than ten inches of wheel travel (thanks to disconnecting sway bars). And because of that, I think it's safe to say that the Bronco is going to exceed the off-road capability of of the Wrangler, while offering better on-road handling, and a smoother ride everywhere. 
The Bronco Sport is fitted with independent front suspension front and rear. Compared to the wimpy equipment offered elsewhere in the crossover space, its spec level is actually very impressive. Optional are hydraulic bump stops, which help avoid harsh bumps during heavy off-road driving, and rear shocks with 1.81-inch diameter pistons that help smooth ride quality.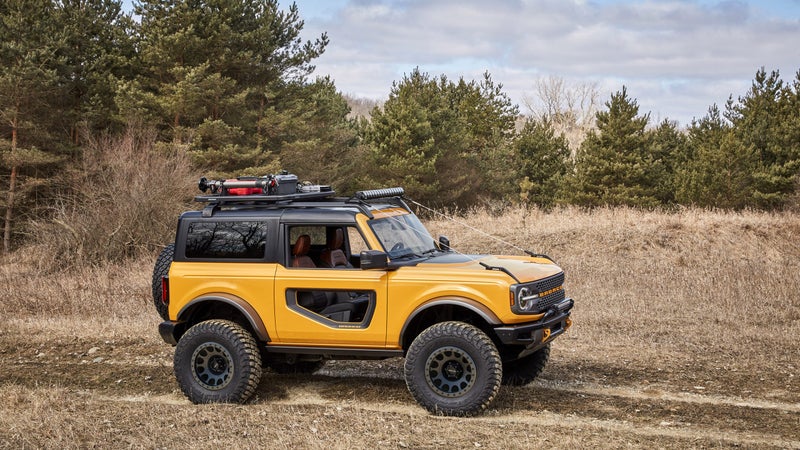 Gears Matter, Too
It's the job of gears to multiply the force an engine is able to apply to the wheels. So, the lower the gear ratio, the greater the force. This is what enables off-road vehicles to easily climb or descend extremely steep obstacles. And the Bronco is no slouch here either. 
Available with a crawl ratio as low as 94.75:1, both two- and four-door Broncos will outmatch the competition. The best crawl ratio offered by the Wrangler, for example, is 84.2:1. 
Of course, gears matter away from climbing up and down boulders, too. And the Bronco continues its ratio supremacy whether you're accelerating hard from a stop, or cruising along the highway. All that is thanks to the standard fitment of an all-new seven-speed manual transmission (which includes six normal gears, plus one extra low crawler gear), or an optional ten-speed automatic you'll already be familiar with from the rest of Ford's range. All those speeds in either transmission mean you'll enjoy lower gear ratios in lower gears for better acceleration, and higher ratios in higher gears for better fuel economy, compared to anything offered by any other 4×4. 
That range of gear ratios also has another advantage for 4×4 enthusiasts: with them, the Bronco will be able to push larger off-road tires more easily, resulting in less compromised fuel economy and performance, too. And that's good, because you'll be able to optionally fit tires up to 35 inches in diameter, straight off the showroom floor.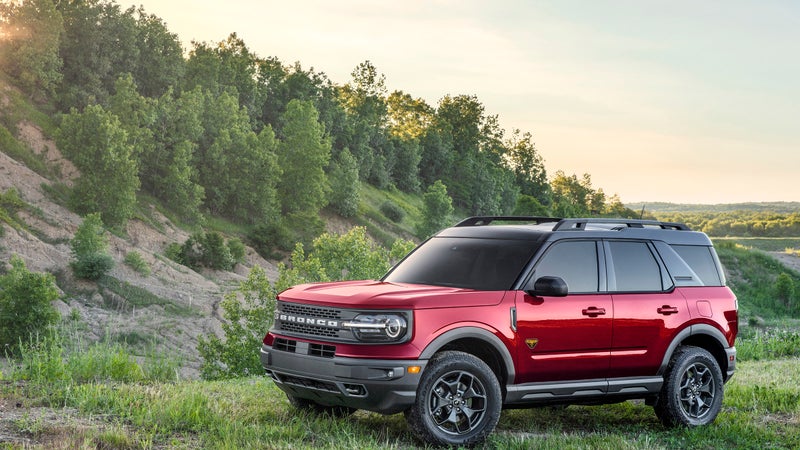 Angles Get You Over Stuff
Makers of crossovers love to advertise ground clearance, which is typically greater on vehicles with fully independent suspension systems than it is on trucks with live rear axles. Ground clearance doesn't actually matter off-road, but just in case you've fallen for the ads, the Bronco Sport will be best in class with 8.8 inches of air space between the frame and the ground. 
More importantly, the two- and four-door Broncos will have the best breakover and departure angles out there, enabling them to clear larger obstacles than any other SUV. 
Both two- and four-door Broncos share a 43.2-degree approach angle (the steepest obstacle they can drive onto) when fitted with the optional 35-inch tires. Breakover (the angle between either wheel and the frame) is 29 degrees on the two-door, and 26.3 degrees on the four-door. Departure (the steepest angle you can drive off of) is 37 degrees. The Ramp Travel Index is 700 for the two-door and 620 for the four-door. Water fording depth is 33.5 inches. 
All of that is ridiculously impressive for a stock vehicle. Ford's engineers tell me 35 inches will be the tallest tire you're going to be able to fit without aftermarket suspension. Both Broncos can take wheels as small as 16 inches.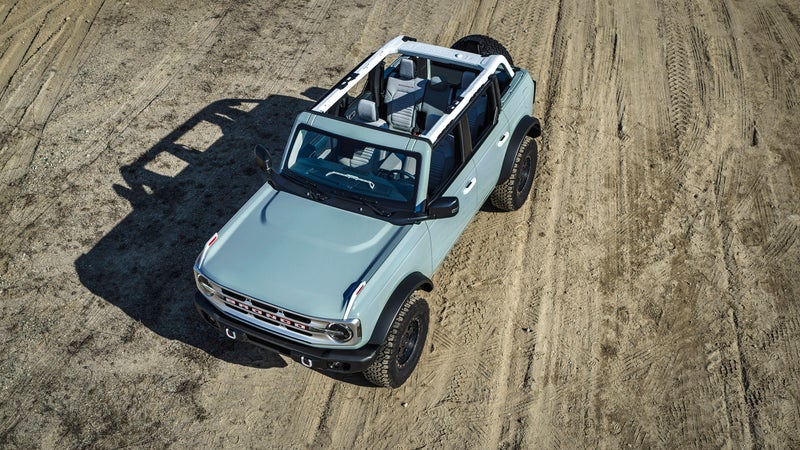 Let's Talk About Traction
There are two reasons to fit tall tires off-road: they more easily roll over large obstacles, and when aired-down to low pressures they deliver a longer footprint, which adds traction over loose or uneven surfaces. 
But, to take advantage of all that traction, you need to lock the speeds of your wheels together as much as possible. Four-wheel drive locks the speeds of the front and rear axles together. But, when the going gets slippery, that still sends all your power to the wheels on each axle that have the least traction. The traditional method for fixing that has always been axle lockers, which lock the speeds of each wheel across an axle together. And, the two- and four-door Bronco both offer front and rear axle lockers as options. But, because your inside and outside wheels need to spin at different speeds to round corners, axle lockers also limit your truck's ability to steer. 
In recent years, an electronic alternative to axle lockers has been developed that uses the Anti-lock Brake System to rapidly tweak individual brake calipers, mimicking the effect of axle lockers without the hassle. Land Rover was first to develop this system, and its remains the most effective and least intrusive. Ford, which owned Land Rover during the mid-2000s, just as the technology became mature, uses a very similar system. And that will be fitted to the Bronco, in addition to the mechanical lockers, delivering a best-case solution to all your traction needs. Very experienced drivers will be able to operate the transfer case, and both axle diffs as-needed. Others will benefit from various degrees of automatic 4WD operation, and a plethora of driving modes designed to tackle any type of terrain. 
Because 4WD offers twice the traction provided by all-wheel drive, the Bronco Sport will be that much better off-road than its crossover competition. Ford could have stopped there, but stopping there is not the nature of the Bronco brand. Optional on the Bronco Sport will be a locking rear differential, providing a level of traction that is currently unknown in the compact crossover space. The Sport will also feature some electronic traction aids, albeit not ones as capable as those that come with the larger Bronco.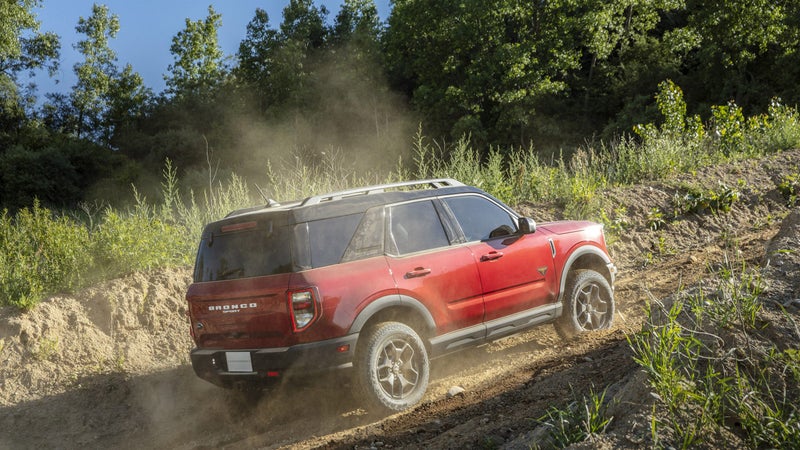 Fancy Stuff
As a truck nerd, it's traction and suspension arrangements that matter to me. But I totally get that not everyone geeks out as hard on differentials as they do on stuff like removable doors and fancy off-road lighting. And wow, does the Bronco deliver on those features. 
Standard on the two- and four-door Bronco are removable doors and roof panels. And all that stows onboard, so you can enjoy some fresh air on a trail, then go back to full weather protection for the drive home. Oh, and on this truck, the wing mirrors remain attached to the body when you pull off the doors. 
The Bronco Sport isn't quite as fancy, but it does include a sliding load shelf in the trunk, plus LED scene lights incorporated into the rear hatch, designed to illuminate a campsite. Its trunk has been specifically designed to accommodate two 27.5-inch mountain bikes, which will mount upright and securely to included mounting points, with the front wheels removed. 
And those are just standard features. Available from day one of sales will be a list of over 200 other accessories, including Rigid LED driving lights, Bronco-branded tools, and more.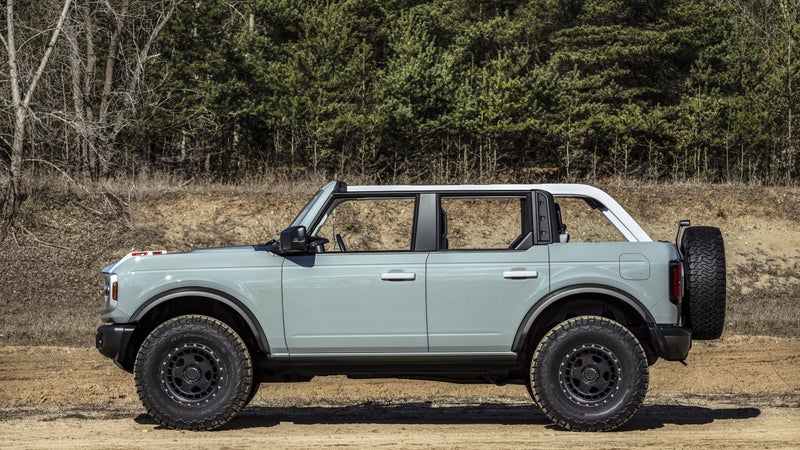 And Power!
Based on an evolution of the frame used in the new Ford Ranger, the Bronco will get that truck's 2.3-liter, four-cylinder, turbocharged motor as standard. It already develops a best-in-class 270 horsepower and 310 pound-feet of torque. 
Optional will be a 2.7-liter, six-cylinder, turbocharged motor, which makes 310 horsepower and 400 pound-feet of torque. Both engines are incredibly well proven already, having been used across the Ford lineup for several years. 
The Bronco Sport, which is honestly the model I'm most excited about, will be available with either a 1.5-liter turbocharged three-cylinder motor that makes 181 horsepower and 190 pound-feet of torque, or a 2.0-liter turbocharged four-cylinder with a very impressive 245 horsepower and 275 pound-feet. Both versions of the Sport are fitted with an eight-speed automatic transmission.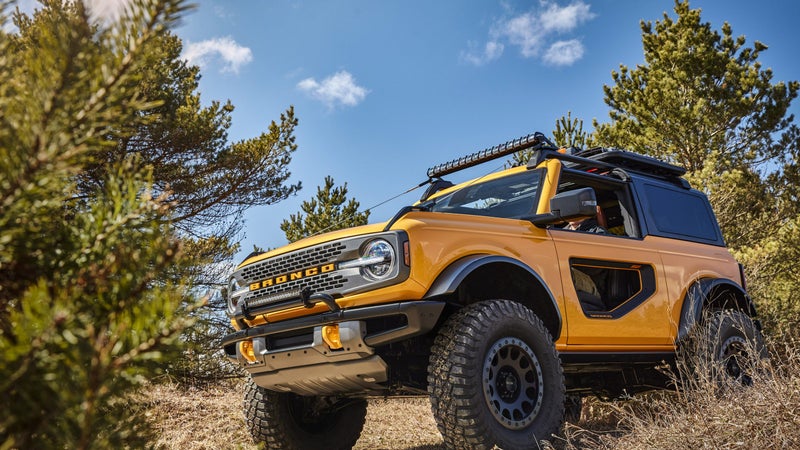 What's All This Mean?
The off-road world just changed. The Bronco is now the most capable 4×4 out there, full stop. Perhaps more relevant to more drivers is that the Bronco Sport now offers a massive advantage in traction over all of its competitors. Fitted with a full-time four-wheel drive system with a disconnecting front drive shaft, it will be capable of operating in two-wheel drive for efficient highway driving, all-wheel drive for safe operation in winter conditions, and genuine four-wheel drive with a locking rear diff for genuinely capable off-roading. That arrangement is utterly unique anywhere close to its price point. 
I'll get a chance to drive all of the above later this year. I'm sincerely hoping the Bronco family works as good in-person as they look on paper.