Indefinitely Wild
Ford Is Making a Genuinely Compact Pickup Truck
The 2022 Ford Maverick isn't just small. At $19,995 and delivering 40 MPG, it stands to disrupt the American truck market.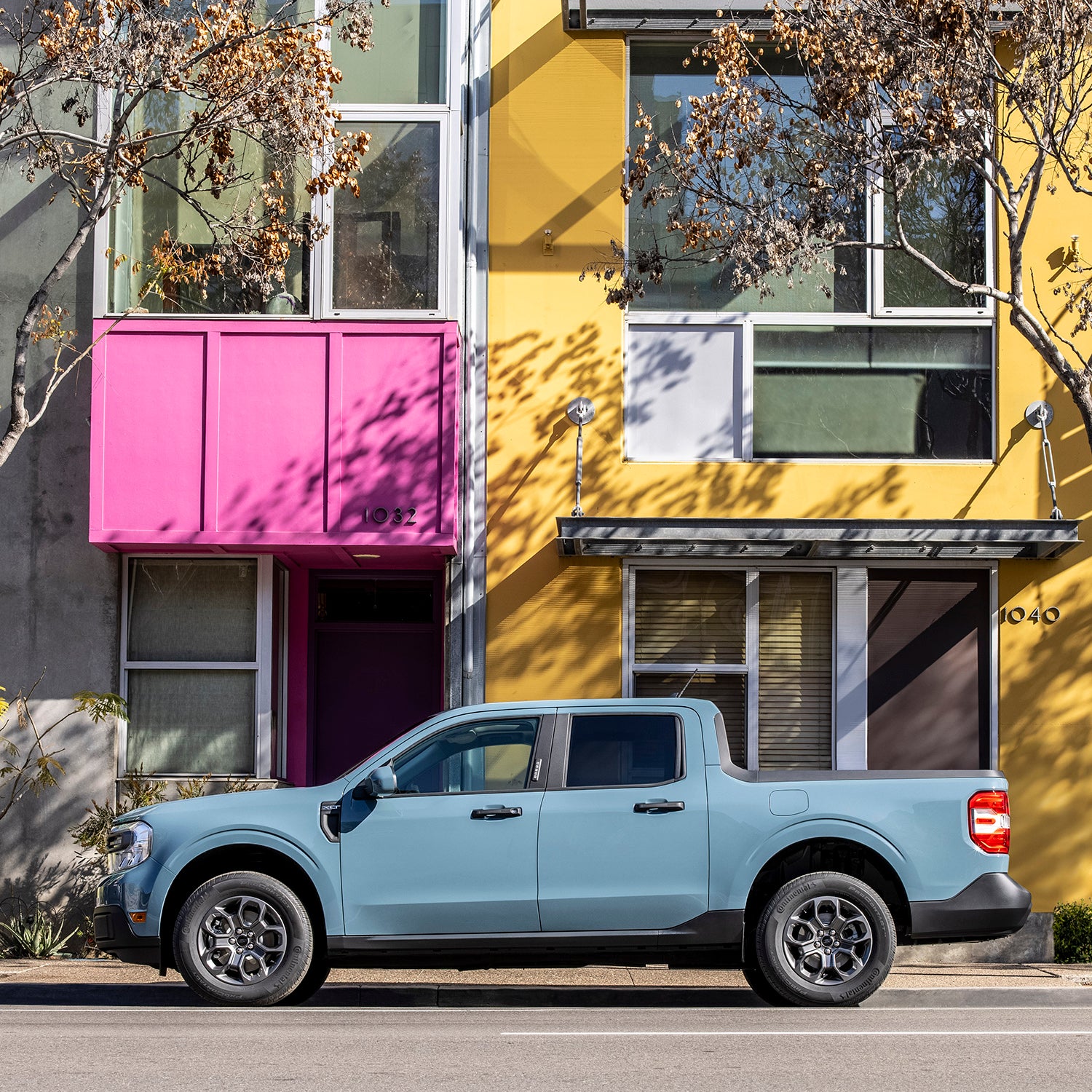 Heading out the door? Read this article on the new Outside+ app available now on iOS devices for members! Download the app.
Starting at $19,995, the all-new Ford Maverick will be the most affordable pickup you can buy, and the most efficient, returning 40 miles per gallon in the city, thanks to its standard hybrid powertrain. It'll also be Ford's smallest and most practical truck, including a 4.5-foot bed in a four-door, five-seat vehicle small enough that you'll have no problem fitting it into a normal garage or a parallel parking spot on a city street.
Compared to other unibody crossovers, the Maverick will also offer more traction off-road, or in winter weather, thanks to the availability of a true four-wheel drive powertrain. It even offers more payload capacity (1,500 pounds) than popular body-on-frame trucks like the Toyota Tacoma. And it bests the Tacoma in one other important metric too: it can carry full size sheets of plywood in its bed.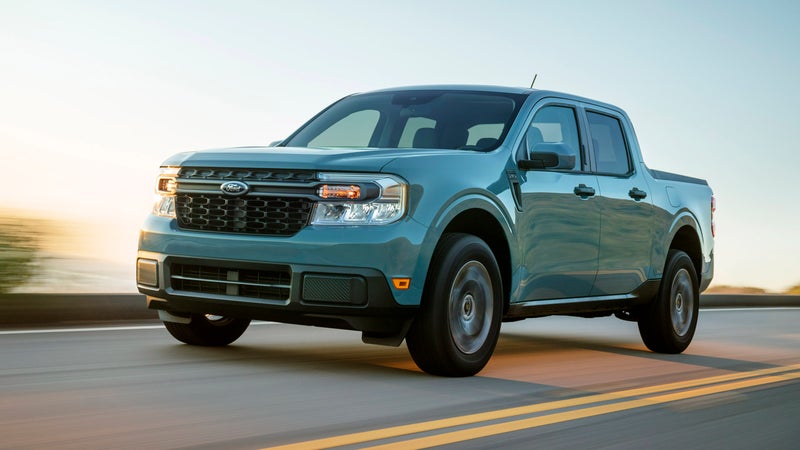 Does all of this sounds too good to be true? Until now it was. There is nothing else like the Maverick available to American drivers. Heck, nothing else even comes close to the value and utility this truck will offer. When it goes on sale this fall, I think it's going to seriously disrupt the car industry.
The Maverick is the culmination of major trends that have influenced the car industry in recent years, and the antithesis to much of the excess those trends have created.
Since 2009, the number of sedans and hatchbacks sold in the U.S. has decreased 59 percent. At the same time, truck and SUV (including crossover) sales have increased 73 percent. In 2009, the average price of a new car was $28,120. Today, it's $40,857.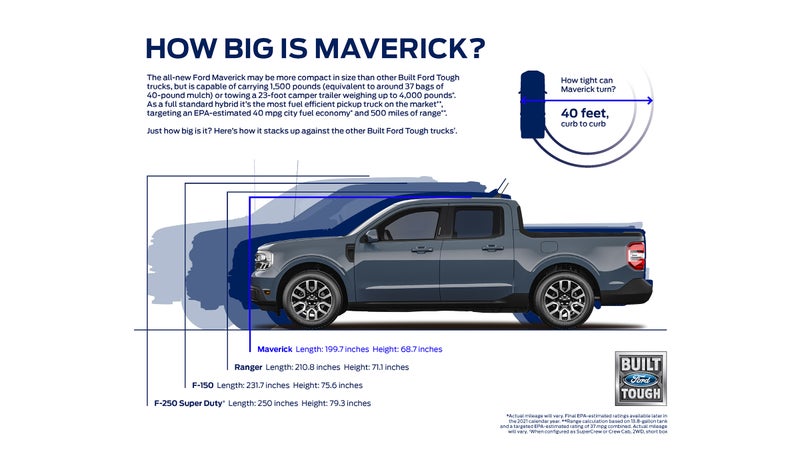 In that same time, interest in more environmentally friendly trucks has boomed. No fully-electric pickup has reached consumers yet, but the cheapest of those future vehicles—the Ford F-150 Lightning—is still projected to start at $41,669, and at that price will offer a 230-mile range.
How does the Maverick stack up? While the rest of the car market is getting bigger, the Maverick will be the smallest pickup sold in this country in over a decade. And rather than being priced above sedans and hatchbacks, it'll actually be less expensive than most of them. Ford projects that you'll be able to finance the purchase of a Maverick for less than $230 a month. Despite being at that sub-$20,000 starting price, it's not stuck with an outdated, underpowered engine, but rather an all-new gasoline-electric hybrid. At less than half the price of the electric F-150, it offers more than twice the range—the Maverick can travel up to 500 miles on a single tank.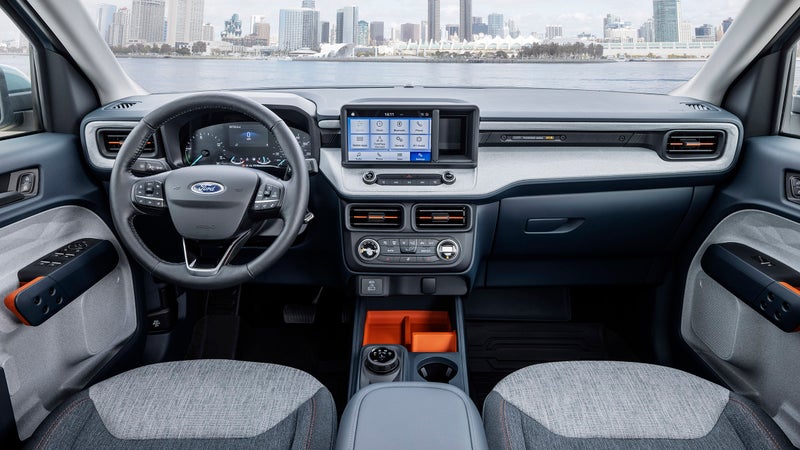 One of the reasons the Maverick is able to offer so much utility at such a low price is that it shares its basic platform with the Ford Escape and Bronco Sport. The other reason is that Ford plans to sell an awful lot of them. Automotive News reports that Ford told suppliers to prepare for an annual volume of 110,000 vehicles.
The base $19,995 Maverick will be equipped with front-wheel drive and a 2.5-liter, four-cylinder, Atkinson-cycle gas engine paired with a 94 kiloWatt electric motor. Its towing capacity is 2,000 pounds, a figure Ford says the vehicle can pull at highway speeds, even on steep grades. Four-wheel drive, and a more powerful, but non-hybrid 2.0-liter four-cylinder, turbocharged motor mated to an eight-speed transmission will be available at higher trim levels. That model can be optioned with a 4,000-pound tow capacity. Ford is not yet talking acceleration numbers for any Maverick or prices for the options.
The optional four-wheel drive system is identical to that used by lower-spec Bronco Sports. The vehicle will nominally operate in front-wheel drive to return the highest possible fuel economy, but when four-wheel drive is engaged, torque can be split evenly between the front and rear axles, doubling traction. The Maverick will not be available with the locking rear differential present on the highest trim level of the Bronco Sport (the Badlands). Still, if you refer to my explanation of how four-wheel drive differs from all-wheel drive, you'll see that the Maverick will offer more traction than most other crossovers.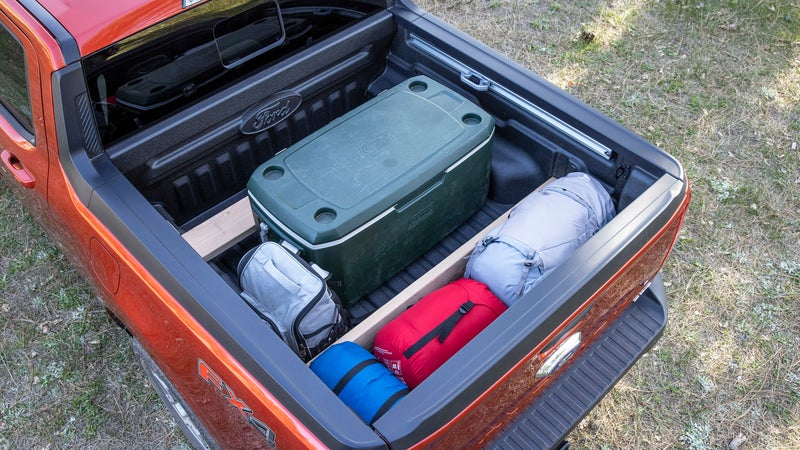 While the Maverick's 4.5-foot bed may sound small, Ford has packed it full of useful features. A 110-volt power outlet and a 12-volt port for connecting bed lights will both be standard. Molded docks designed to accept standard 2×4 lumber will also be included. Ford hopes owners will be able to slot in those cheap pieces of wood to create a variety of bed storage solutions. While optional bike racks and tie-down channels will be offered as accessories, Ford is also offering suggestions for ways owners can use those 2x4s to make their own bike racks or to build their own tie-down tracks using common hardware store parts. The company says owners will be able to put together either for just $45.
Want to carry full size, four by eight-foot sheets of plywood? That's become sort of a standardized metric by which a pickup bed can be judged truly practical. The Maverick's tailgate can be adjusted to a half-open position that matches the height of the wheel arches, and it can support 400 pounds. That's enough to carry 18 sheets of plywood back there. Ford also added tie-down hooks to the sides of that tailgate, making it easier to secure longer loads, like a kayak. Those tie downs double as bottle openers.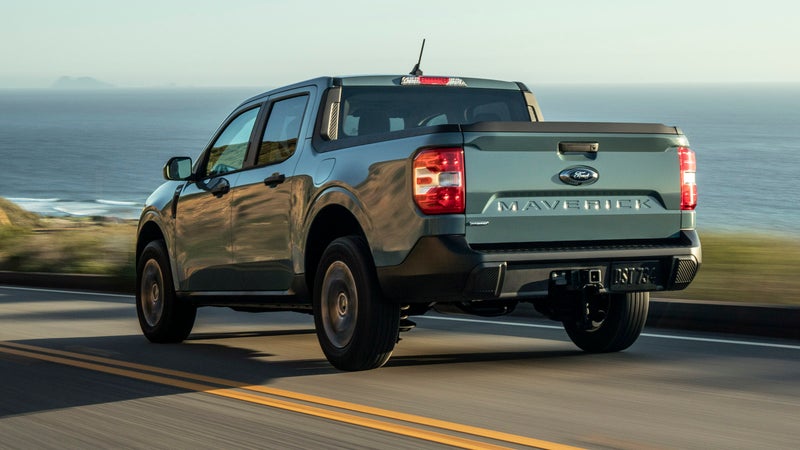 Should you buy one? If you have significant towing and hauling needs, a full-size truck like the F-150 will still offer substantially higher payload and tow rating numbers, along with much larger bed sizes. If you go farther off-road than simple dirt roads, a mid-size truck like the Ford Ranger or the upcoming Bronco will still offer more articulation, better angles, and more traction. But if you're a normal car buyer who values fuel efficiency, utility, and value, I don't see a reason to consider anything other than the new Maverick.