The 2024 Ford Bronco Is the Future of Wildland Firefighting (Really)
Pushing modern communication and management tools deeper into challenging terrain will allow firefighters to work smarter—and safer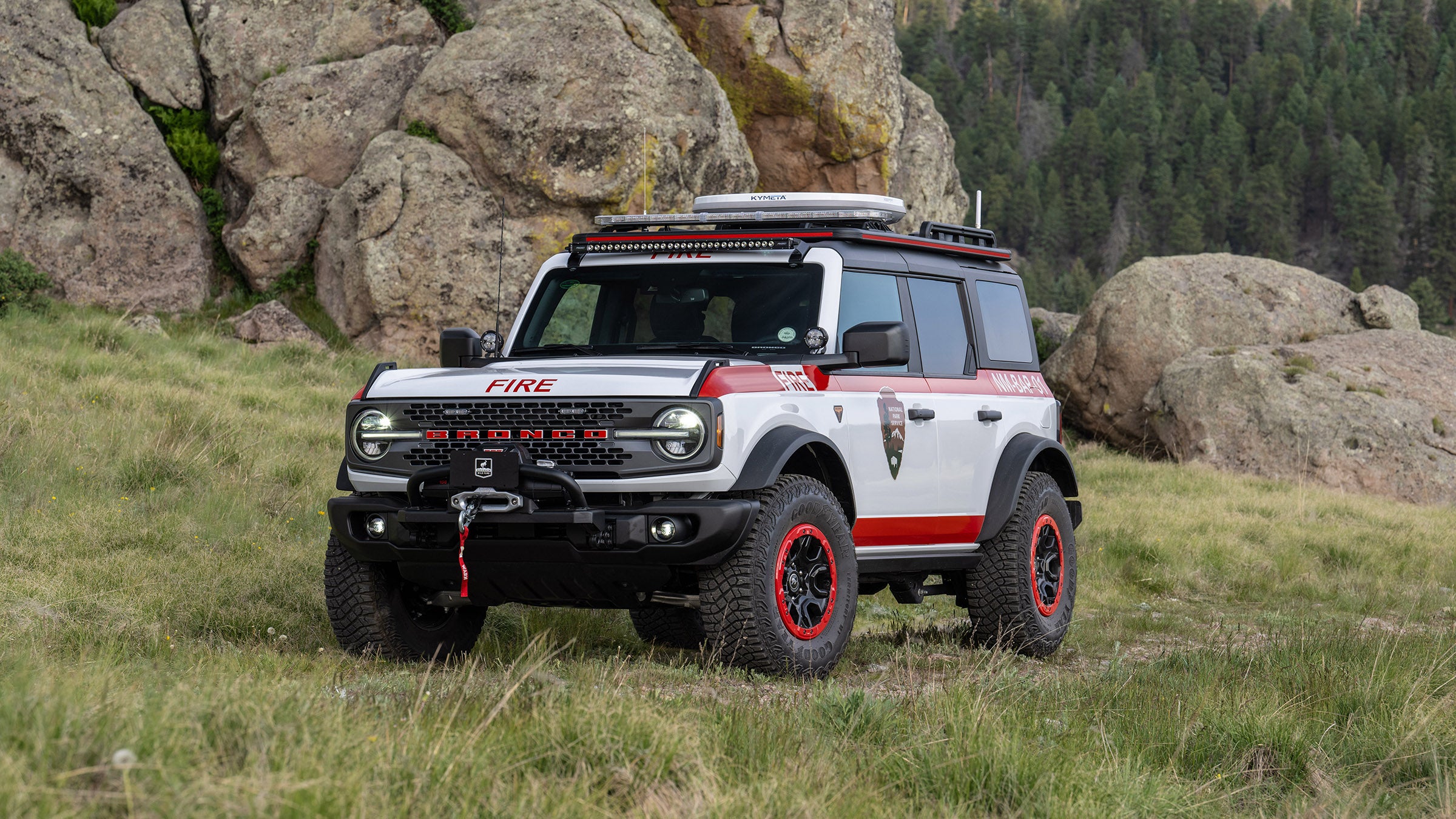 Courtesy of Ford
Heading out the door? Read this article on the new Outside+ app available now on iOS devices for members! Download the app.
"We fight fire with humans on the ground and hand tools primarily. Some are squirting water, some are swinging axes. We are nowhere near a technological solution to the human aspect. Either work on solving that at some point, or focus on how you can help the tired, dirty, hungry, firefighter who's been up for 36 hours do his or her job better." Those were the words of one frustrated fire chief, appealing to the assembled experts at the Wildfire Technology Innovation Summit in March, 2019, to deliver real, effective solutions for his firefighters.
The way we fight wildfires today, in 2023, is not fundamentally different from how they were fought during the early 20th century. Firefighters on the ground cut breaks with hand tools, or perform controlled burns with drip torches. They coordinate those actions via handheld radios with command centers that are often miles away. And communication across the five federal agencies responsible for wildland firefighting, plus the myriad state and local entities that might also be involved, is fractured and disorganized.
As more and more Americans move into the wildland-urban interface, and climate change increases incidences and severity of wildfires, this outdated approach is no longer a match for the scale of the problem.
Enter the Infrastructure Investment and Jobs Act, which President Biden signed into law in 2021. It provides $5 billion in funding through 2026 to improve the way in which our nation fights wildfires. A lot of that money is going toward mitigation efforts, improved pay for firefighters, and burned-area restoration. But at the Department of the Interior (DOI) alone, $72 million is being devoted to modernizing firefighting technology, and training firefighters to use it.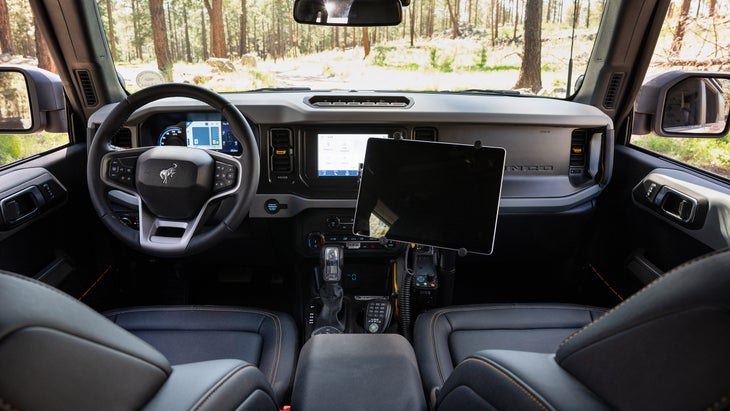 Enter the 2024 Ford Bronco
With these improvements in mind, this 2024 Ford Bronco is one of the very first examples of what that new firefighting technology will look like. Built in collaboration between Ford (which is donating the vehicle to the DOI as part of its Bronco Wild Fund initiative) and Darley, a vehicle upfitter serving defense and first responder agencies, it incorporates a host of communication abilities, as well as the ability to push fire command operations through rugged terrain, closer to the front lines.
Starting with a bone-stock Bronco equipped with Ford's Sasquatch package, Darley incorporated an integrated satellite, cellular, and radio-based communications system that brings redundant compatibility across an array of government and civilian communications channels. It's powered by a large, 3.5-kilowatt-hour battery pack that charges from the vehicle's alternator, and is operated by a single-tablet running prototype-incident management software developed by Darley. A drone housed in one of the rear storage areas adds the ability for incident managers to take eyes even further than the vehicle can travel itself.
This all probably sounds pretty basic to you and me, and the supercomputers we carry around in our pockets. But it's probably the best indication of how far behind fire-fighting technology really is. Right now, incident command is run out RV-size vehicles using simple radio equipment. Those vehicles are too large and unwieldy to get further than paved roads. So, on-the-ground information about fuel loads or fire behavior has to be radioed in by individual firefighters, then assembled and distributed again by radio. And anything from the exact location of fire crews, to localized fire behavior can easily be lost or missed in that process.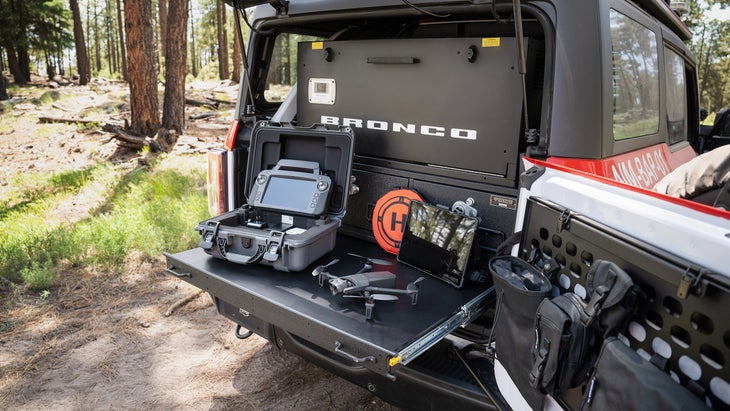 "We're using a tracking system that was developed in the 1940s and it was developed primarily to move military equipment for World War II," one firefighter told the President's Council of Advisors on Science and Technology (PCAST) in March, 2022. "Every one of your cellphones sitting on the desk in front of you can order whatever you need and have it delivered to your house tomorrow."
Here's How the 2024 Ford Bronco Will Improve Firefighting in the Field
With the 2024 Ford Bronco, incident commanders will be able to quickly—and easily—leave pavement behind. Equipped with 35-inch tires and locking axle differentials front and rear, the vehicle will be able to drive right into the frontlines of an active fire, then use satellite data, firsthand observations, and drone footage to assemble a live picture of current fire behavior, wind directions, fuel loads, and crew locations. Darley's new software will display all of that simply and intuitively on the tablet. And, all of that information can be distributed across the tangle of responders, agencies, and managers either present in the field, or remotely. The Bronco is equipped with transmitters to establish a large wireless network, giving field workers the ability to receive and transmit data even in the absence of cellular networks.
"We could put real-time fire perimeters—and by that I mean one minute from collection to firefighters' mobile phones—in the hands of almost every firefighter in the country right now if we pointed and wrote a few checks," another firefighter told the Wildfire Technology and Innovation Summit in March, 2019.
This integration of multiple data sources into a simple, intuitive interface is similar to the technologies soldiers and their commanders have been using to fight wars in recent decades. Darley tells me they're basing the fire equipment on the same capabilities. And just like Ukrainian soldiers are using modern communications to coordinate their efforts more effectively, with less risk in the ongoing counteroffensive, American firefighters will soon be able to fight fires more effectively, more safely, in the near future.
"Our biggest hurdle with all these different technologies is what we call our 'last mile connection,'" a firefighter testified to PCAST in March, 2022. "How do we get this data to boots on the ground?… The communication infrastructure is just not there."
Next Steps: Getting Firefighters the Gear They Need
Ford and Darley are building two of these Broncos, with this first example going into use in New Mexico's Bandelier National Monument later this year. Its capabilities fall exactly in line with the recommendations made in a report issued by PCAST in February, which found that existing technologies are capable of augmenting wildland firefighting efforts right now, and are desperately needed as fire behavior grows more and more dangerous.
"The needs of our wildland firefighters overlap substantially with those of America's warfighters," reads the report's conclusion. "Whereas we have a national commitment ensuring that our warfighters are not sent into harm's way without the best of American science and technology at their disposal, no similar organizational framework exists to protect and empower wildland firefighters."
Now, finally, a substantial budget is being applied to making that dirty, hungry firefighter's job better. And that solution is going to look a lot like this Bronco.
Lead Photo: Courtesy of Ford