The Best New Gear from Overland Expo West
These ten items caught our eyes at the 2023 show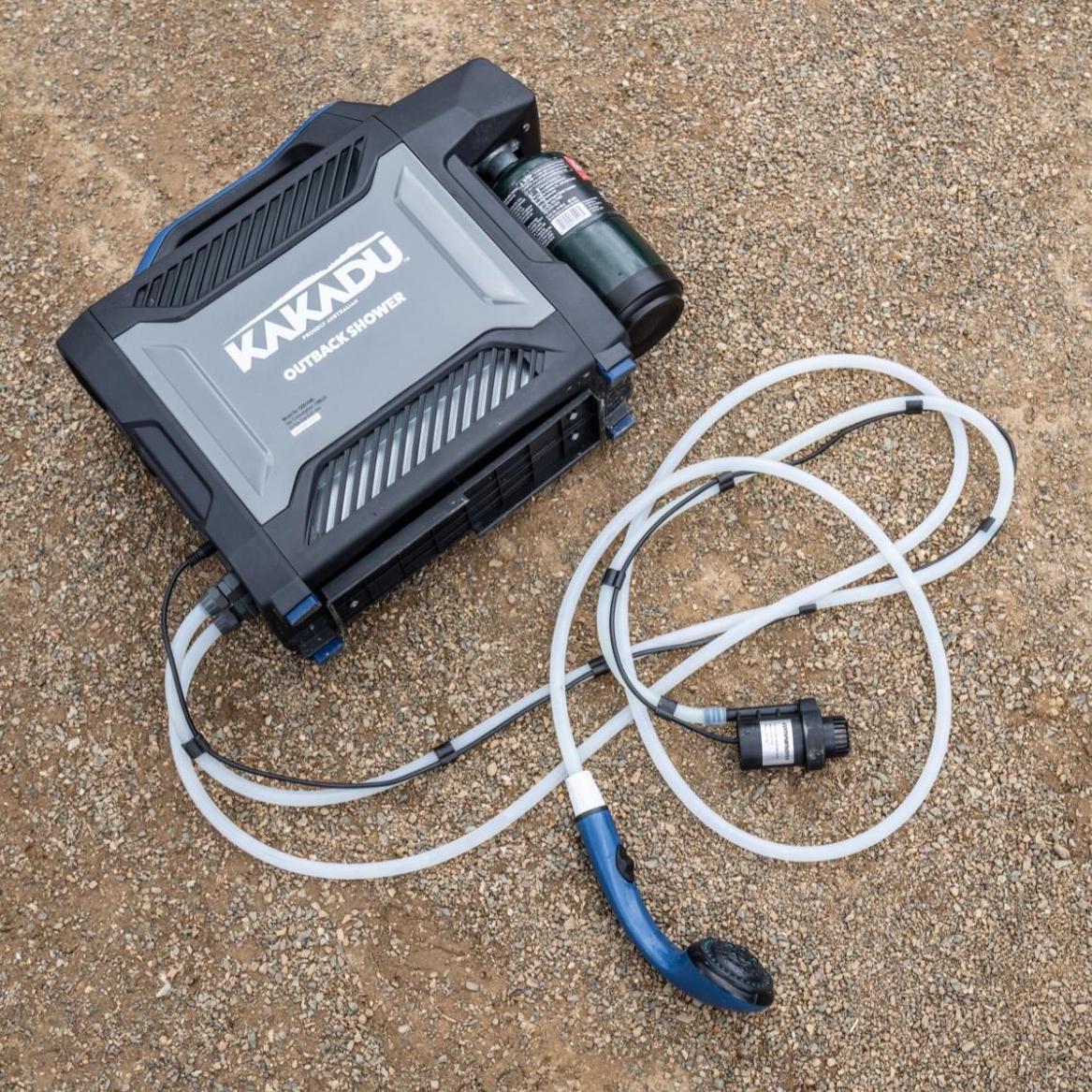 Bryan Rogala
Heading out the door? Read this article on the new Outside+ app available now on iOS devices for members! Download the app.
Each year, tens of thousands of people gather in Flagstaff, Arizona, for Overland Expo West, the overlanding industry's top trade show and a wonderland for adventure rig inspiration.
There are always plenty of tricked-out vehicles and new off-road campers to drool over, plus seminars and classes to learn about everything from off-road driving skills to how to plan a global adventure. But one of my favorite things to do at the show is wander the booths and check out all of the accessories. There's an endless supply display to help folks outfit their own rigs, get unstuck, and stay on the road longer. Here are some of my favorites from the 2023 show.
AT Overland Aterra Topper (from $20,500)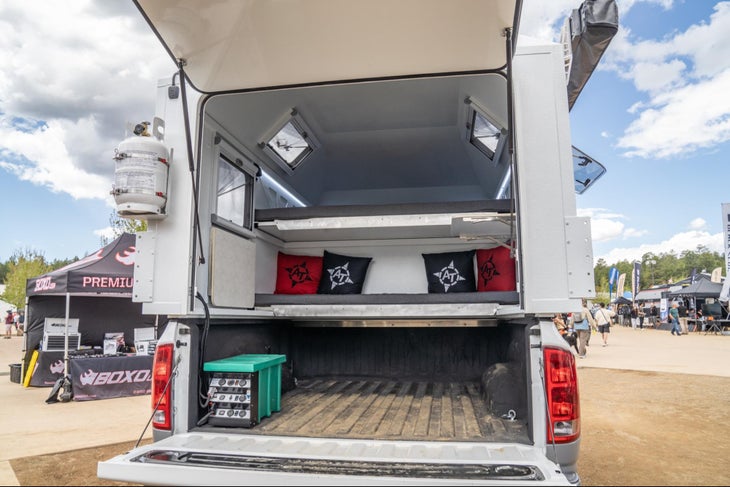 It might stretch the definition of an accessory, but we had to include at least one camper on this list. Longtime overland upfitter and camper manufacturer AT Overland launched their Aterra Topper at the event. The Aterra joins AT's lineup of three fantastic toppers, including the Summit, Atlas, and Habitat, and is one of the first toppers on the market to blend the idea of a full, hard-sided camper and a pop-up topper that rests on the truck's bed rails. You can think of it as the weekend-warrior version of the company's fully-featured, flatbed Aterra Flatbed XL Camper. Rather than creating a slide-in version of it, AT wisely chose to have the Aterra Topper simply sit on top of, and bolt to, the bed rails, which leaves the customer with full use of their truck bed.
The Aterra Topper is minimal by design, and comes with a bed platform, two fold up tables on the walls, wire chases, and a 185-watt solar panel on top that can be plugged into a power pack, like a Goal Zero. My favorite feature is the rear door, which is large enough to ride an ATV or dirt bike through, or lets you easily store mountain bikes and other pricey gear inside. It's a smart solution for anyone who wants more protection from the elements than a wedge-style camper, yet wants to retain use of their truck bed and doesn't need all the bells and whistles of a slide-in.
Kuat Ibex Truck Rack (from $1489)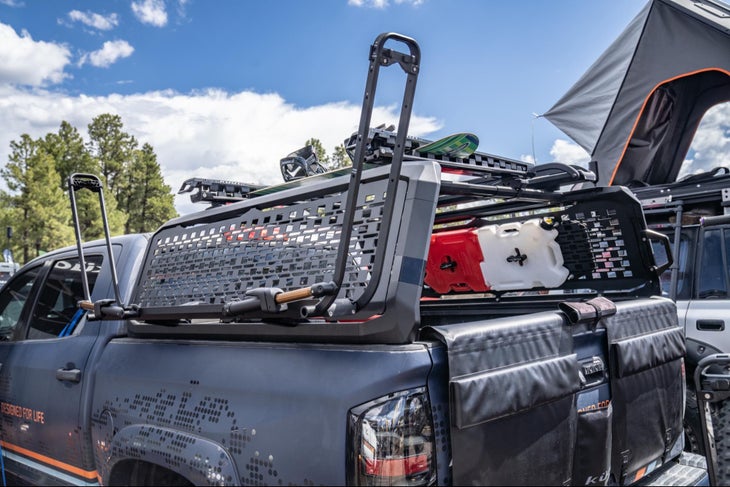 I'm a big fan of Kuat's bike racks, like the Piston Pro X, so I was pumped to see them take an even bigger step into the overlanding and truck world with the release of the Ibex truck bed rack. The Ibex is an aluminum truck bed rack that's incredibly versatile thanks to tons of built-in t-channels and available accessories. It comes in full or half-height versions, has telescoping load bars on top, and can be outfitted with molle panels and loads of other goodies, as seen above. So, if you're looking for a way to mount bikes to the side of your rig, and bolt on Maxtrax, jerry cans, shovels, or a hi-lift jack, Kuat has you covered. On top of that, the Ibex has a static load rating of 1,200 pounds, a dynamic load rating of 600 pounds, and an off-road dynamic rating of 300 pounds, so you can carry what you need.
Goose Gear Park Series (from $1150)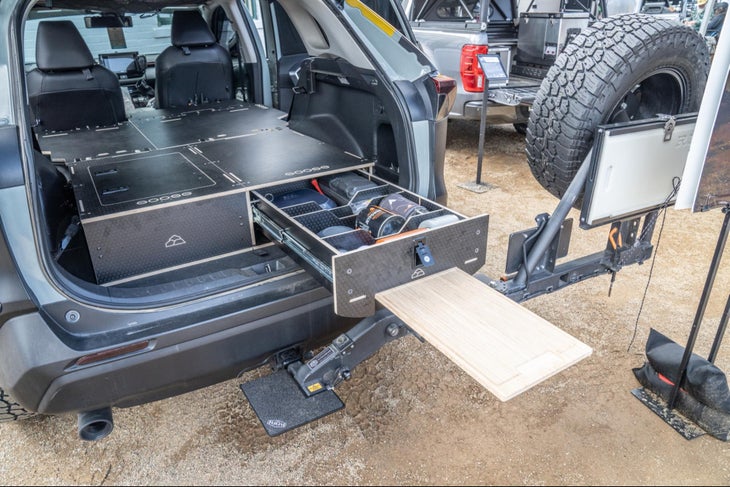 Recently, there's been a big push to turn crossovers like the Toyota Rav4 or Subaru Outback into overland rigs. This has become even more apparent with the OEMs getting into the game, with Toyota adding a TRD Off Road trim level to the Rav4 and Subaru adding a Wilderness trim level to the Outback. Goose Gear, one of our favorite vehicle storage solution makers, is looking to capitalize on this trend with their freshly launched Park Series, a line of storage platforms for folks with those vehicles. They're one of the first companies to offer a product like this for crossovers, and unlike some of their other units, these can be shipped directly to the consumer for an easy, DIY install. The Park Series system is also incredibly lightweight and removable, which means you can plop it in your rig on a Friday and have a killer overlanding and camping setup for the weekend, and easily pull it out for daily driver duties during the week.
Dometic Hub 2 Shelter ($749)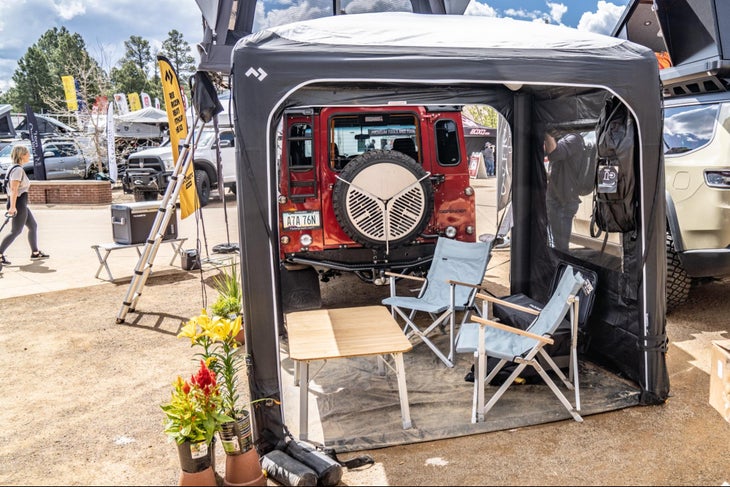 Dometic's latest Hub shelter is one of the most innovative structures of its kind we've seen in a long time. It uses Dometic's Air Frame technology, so it doesn't require poles and is single-point inflatable, which makes setup incredibly easy. You can use it as a vehicle awning, a shade structure, a freestanding gazebo, or even add tent annexes and turn it into a big group tent. It weighs just 19 pounds and packs down small enough to fit in any vehicle, so you'll always have some shade when you need it.
Agile Off Road Scissor Jack with Axle and Frame Adapter ($339)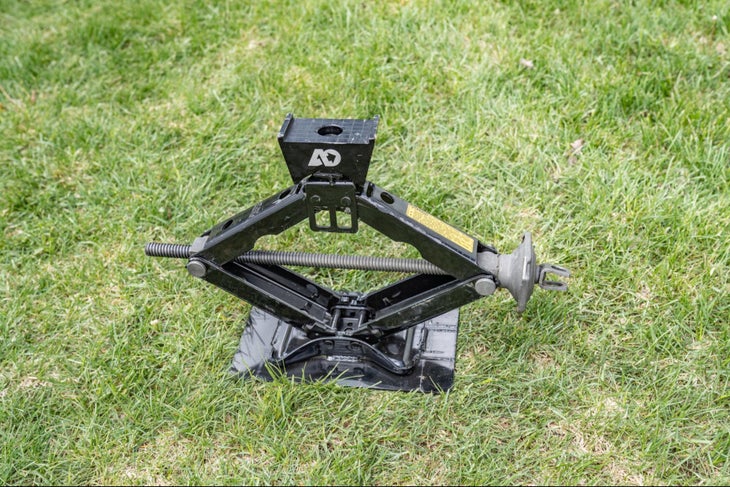 On the drive to the Expo one of the tires on my Airstream blew out on the highway. Aside from some minor damage to the underside of the trailer, everything was fine, but we had to borrow a floor jack from an auto shop to change the tire because the bottle jack I had wasn't substantial enough to jack up the recently lifted trailer. So jacks were on my mind as I wandered around the show this year, and Agile Off Road's Scissor Jack stood out as something I must have. The company took a military issued Hummer H1 jack, which has a 17 inch lift height and a 3.5 ton capacity, plus a wide, stable base for use in soft soil or mud. It also has a billet aluminum adapter that fits a rear axle or frame rail. Agiles designed it to work with Sprinters, but it'll work with any type of van or heavy lifted rig. If you've heavily modified your vehicle then you need a jack that can help you safely change a tire or lift the vehicle—this is the one I've got my eyes on.
Kokopelli Bikepacking Bags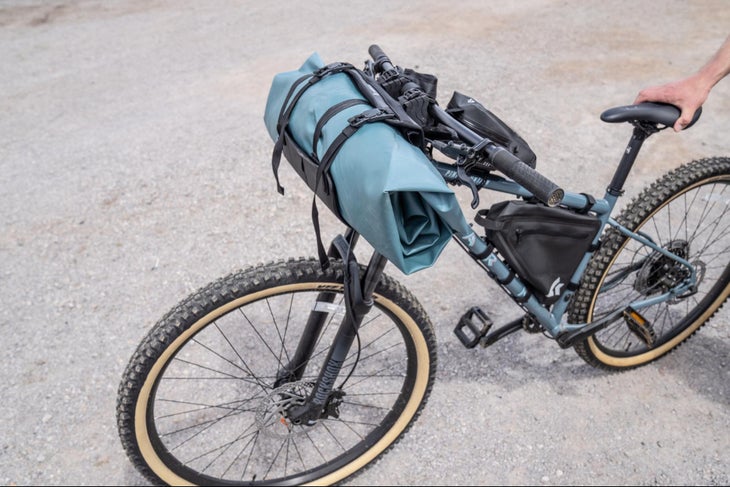 Overlanding can be done on two wheels—and even by raft. Case in point: packraft maker Kokopelli showed off their soon-to-be-released line of bikepacking bags at the show. The brand noticed more people doing trips combining bikepacking and packrafting—and often carrying both bike and drybags—so designed its own set of bags for just that purpose. They're completely waterproof, detach quickly from the bike, and let you easily store your paddle and raft in the handlebar bag. Plus, they eliminate extraneous bags for either part of your endeavor. We're excited to test these later this summer.  (Prices TBD.)
Kakadu Outback Shower ($499)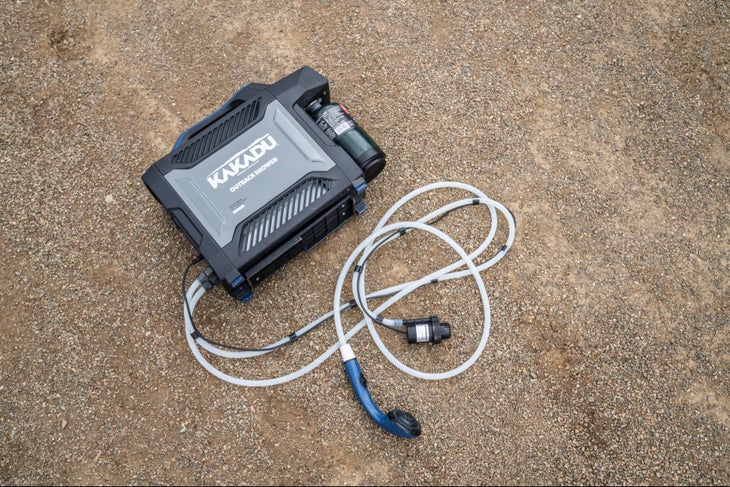 One of the cooler parts of Overland Expo is that brands from across the globe gather in one place. Kakadu has been making quality overlanding gear in Australia for 80 years, and just launched a line of products in the U.S., including this awesome heated camp shower. It's an all-in-one setup that includes a showerhead, pump, lithium battery, and pump. It's all built into one lightweight, compact package that stores easily and runs off of a standard one-pound propane canister. The battery will power the unit for two hours straight, and you can get four hours of hot water off one propane tank, so you'll run out of water long before needing to recharge the unit or swap fuel. Another brilliant feature is that when you turn off the water flow at the shower head, it automatically turns off the burner so the water doesn't get scorching hot (it kicks back on when you turn the water on). I built my own DIY version of this a few years ago, but spent a ton of time at the hardware store finding the right tubes and fittings. I wish this system had been around then, and am excited to test it out.
Renogy Rego Smart Solar System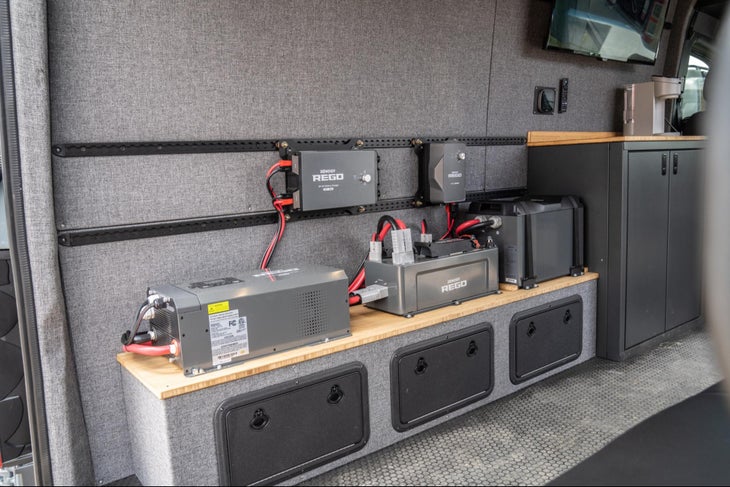 Renogy is a major player in the off-grid and overland power system market, long known for making affordable and quality components like solar panels, solar charge controllers, and batteries. Their recently launched Rego system caught our eyes because it's designed to be extremely easy to install. It comes with all the necessary wiring and Anderson plugs for easy, plug-and-play connections, which saves a ton of time over wiring them yourself, like I did recently with my dream truck camper build. The Rego system has seven different components, so you can easily add on more capacity and capability as your build evolves. One of those is the new 400ah lithium battery, which is one of the smallest batteries of this size we've seen. This is the most customizable, yet easy to install system on the market that we've seen. (Pricing depends on components.)
The Mounting Co. Mount (from $249)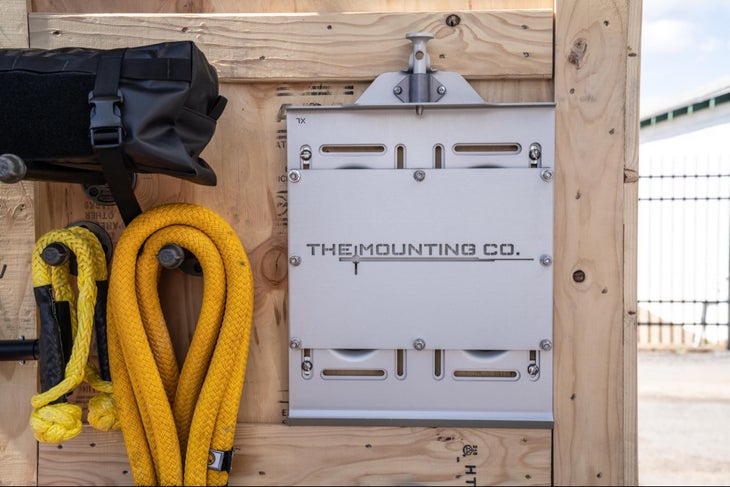 We're lucky to have one of the best overland shops in the country, Tactical Application Vehicles (TAV) where I live in New Mexico. They're known for their incredible work building some of the most capable adventure rigs around, so when we saw their new quick-release mounting system, we paid attention. The new lineup of vehicle mounts is made from aircraft-grade aluminum, and designed to help you securely mount everything from a Pelican case to a cooler to your rig—whether on a roof rack, in a truck bed, or on the back of an SUV. The designer has a background in trophy truck racing, where small time savers like how quickly you can change a tire or get to your recovery gear mean the difference between winning and losing. The system consists of a base plate and an incredibly simple pin locking system. As a videographer, I could see this being a great way to securely mount a Pelican case full of camera gear in the back of my truck, and I'm sure there are a billion other uses folks will come up with.
Benchmade Full Immunity Knife ($300)
Overlanders can't resist a good blade, as evidenced by the heavy traffic in the Benchmade booth this year. Maybe that stems from the idea of preparedness being ingrained into overlanding, or maybe it's because Benchmade makes a superb, sexy knife. Either way, we were impressed by the new Immunity collection, which feature a 2.5 inch CPM-M4 blade in a Wharncliffe profile. Translation? This small, assisted-open knife is a perfect everyday carry companion, and the blade size means it conforms to virtually all blade-length restrictions so you can keep it in your rig at all times.
Lead Photo: Bryan Rogala
Trending on Outside Online