Indefinitely Wild
Bollinger Is Making a Better 4×4 That's Electric, Too
More than just zero emissions, these new American-made electric trucks will out perform your SUV off-road and on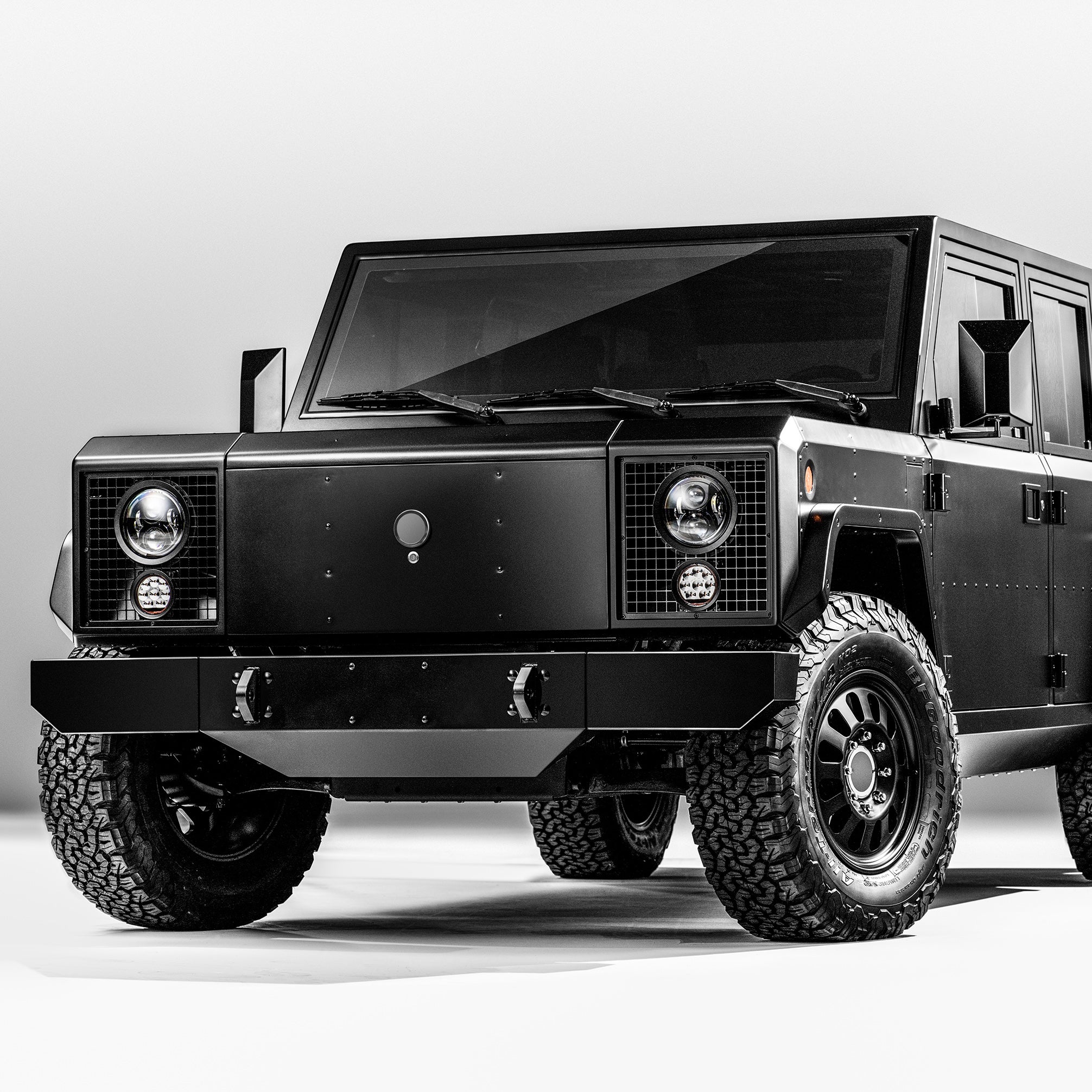 Studio Tower(Photo)
Heading out the door? Read this article on the new Outside+ app available now on iOS devices for members! Download the app.
Electrification will do more for vehicles than make them zero emissions. That's something Bollinger, a new startup out of Detroit, is acknowledging with the unveiling of its first production vehicles. They're not just electric 4x4s, they're better 4x4s. 
Based on the same chassis, both the Bollinger B1 SUV and B2 pickup are fitted with two electric motors, fully independent hydropneumatic suspension, inboard brake discs, 120 kWH battery packs, and 15 inches of ground clearance. Smaller than a mid-size truck (like the Toyota Tacoma), the Bollinger chassis endows both new vehicles with a very impressive Gross Vehicles Weight Rating of 10,001 pounds, meaning they can carry up to 5,001 pounds of cargo. 
Combined, the two motors give each truck 614 horsepower, and 668 pound-feet of torque. With a curb weight of only 5,000 pounds, all that adds up to an impressive zero to 60 mile per hour time of 4.5 seconds. Top speed is limited to 100 miles per hour. Bollinger estimates that on-road range will exceed 200 miles in the EPA test cycle. That seems conservative, given that Teslas fitted with smaller 100 kWH batteries weigh about the same, and return up to a 370-mile figure. Both the B1 and B2 will be compatible with level 3 fast chargers, which will be capable of recharging the batteries in 75 minutes.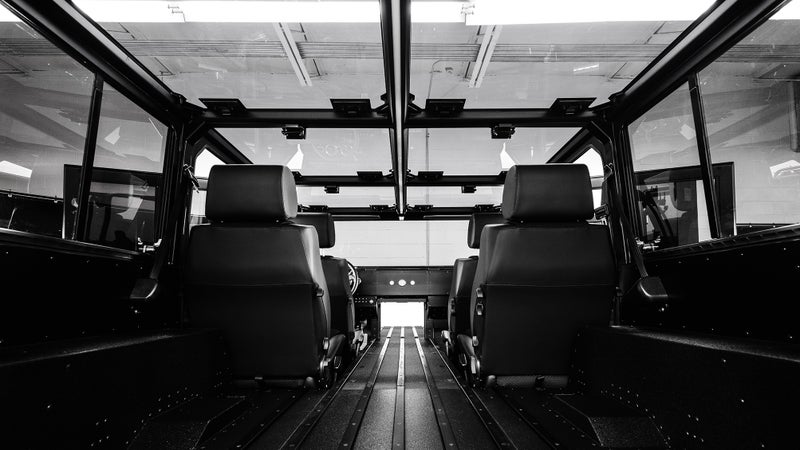 Founder and CEO Robert Bollinger says he hopes to put the vehicles into production during the second half of 2020, with the first customer deliveries slated for early 2021. Pricing will be announced later this year, at which time Bollinger will begin accepting deposits. 
Visually one part classic Land Rover and one part modern Jeep, the aluminum-bodied trucks will both initially be sold in four-door, four-seat versions. Both feature removable windows and windshields, as well as removable doors and removable glass roofs. The rear of the B2's cab folds up, and its rear seats are removable, to accommodate oversize loads. 
So what makes these trucks not just electric, but truly innovative? Two main things: packaging, and traction. 
Unlike internal combustion engine (ICE) vehicles, electrics aren't limited by a fixed layout of major mechanical components. There's no longer an engine that has to go in the front, with a gearbox behind it, for example. Bollinger is locating its motors between the front and rear wheels, and the batteries under the floor. So, like other electric vehicles, there's room for a front trunk (or frunk) under the hood, where the engine on an ICE truck would go. Bollinger's innovation: opening that frunk to both the front and rear, creating a pass through that's easy to load and as long as the vehicle itself. Both trucks will be able to carry stuff like 40 13-foot long 2x4s internally. With the rear seats removed, the B2 pickup can haul 72 full-size 4-foot by 8-foot sheets of plywood in its bed. 
As for the suspension? CJ Winegar, Bollinger's drivetrain engineer, explains that the hydropneumatic suspension design gives the vehicles variable spring and damper rates. Skipping the really nerdy stuff, he says that means, "The vehicles will handle identically whether they're fully loaded or unloaded." The fully-independent nature of the system also allows for the underside of the vehicles to be fully flat. Ground clearance can be lowered to 10 inches, or raised as high as 20 inches, but will nominally operate at 15 inches. 
As we've covered at length while explaining the technical merits that make vehicles capable of traversing challenging off-road terrain, it's not actually ground clearance that means something. It's the approach, departure, and breakover angles that determine the size and severity of obstacles a truck can climb, drive off of, or go over. And boy, does the Bollinger have some angles. Let's compare them to Jeep's new Gladiator Rubicon for comparison. 
At 207.5 inches in length, the B2 is quite a bit smaller than the Jeep pickup, which measures 218 inches. But, at 139 inches to the Jeep's 137-inch figure, the B2 also has a longer wheelbase, meaning its wheels are closer to either end of the vehicle. And that gives Bollinger's pickup a huge advantage in approach (52 degrees versus the Jeep's 40.8 degrees), and departure (28 degrees for the Bollinger, 25 for the Jeep). All that ground clearance also gives the Bollinger a superior breakover angle (25 degrees versus 18.4), despite the longer wheelbase. All those specs are with both vehicles wearing the same 33-inch 285/70-17 tire size. Angles are better on the shorter B2 SUV.  
Did I mention the the Bollinger exceeds the Jeep's 1,200 pound payload by 3,800 pounds? All other things being equal, Bollinger's vehicles will be able to traverse more challenging terrain, while carrying much more weight. And the B1 and B2 will be capable of finding more traction than any ICE 4×4 has ever been able to. 
Working in conjunction with a combustion motor, four-wheel drive locks the speeds of the front and rear axles together, meaning only two of the vehicle's wheels will lose traction in slippery terrain. Locking axle differentials can then lock the speeds of all four wheels together, which has traditionally represented the highest potential for traction a vehicle can achieve.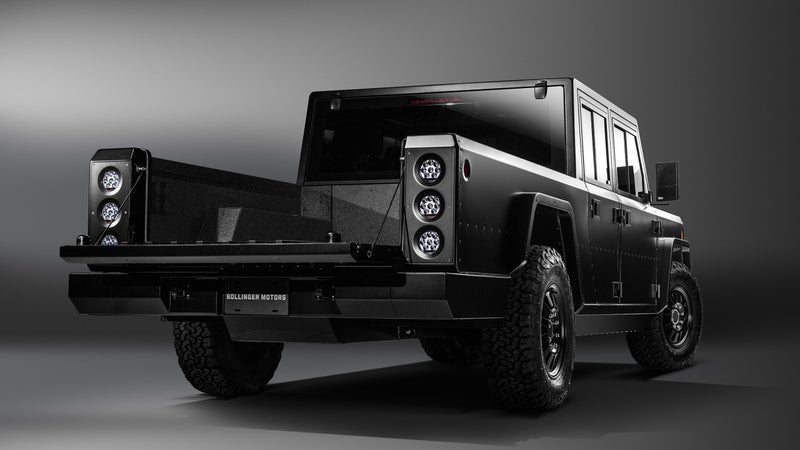 Winegar, the drivetrain engineer, explained to us that software will lock the speed and torque outputs of the motors on each of the B1 and B2's axles together, replicating the function of 4WD. He also shared that both vehicles are fitted with traditional electronic locking differentials on their axles. So, they're capable of locking the speed of all four wheels together, just like the Jeep. But, Winegar also revealed that the Bollingers will be capable of something more. By monitoring individual wheel speeds and the torque inputs it takes to reach them, the B1 and B2 will be able to determine which of their axles has the most available traction in any split second, and will actively portion torque to that axle. Such an arrangement should allow Bollinger to take advantage of available traction off-road in a way that's never been possible with ICE 4x4s. 
Bollinger says both vehicles will be equipped with a two-speed transfer case, just like a regular 4×4, which will allow them to employ multiplied gearing off-road. That's what enables off-roaders to scale very steep obstacles and descend them with control and safety. Winegar says the B1 and B2's crawl ratio is a fairly unimpressive 22:1 (the Jeep's is 77.2:1), but says that, because electric motors make maximum torque just above 0 RPM, and because those torque figures are so high, that performance should not be lacking. Controlled descents will be facilitated by regenerative braking, which the engineer says should work just like engine braking.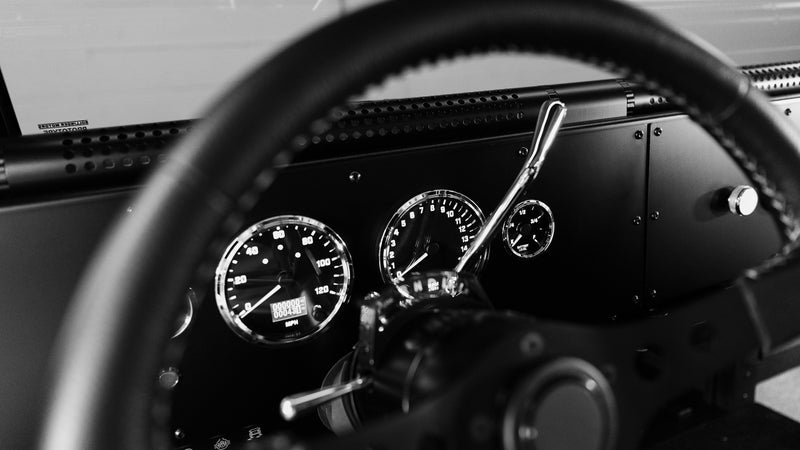 Put all of this together and you have a smaller truck with more spacious packaging for its occupants and cargo; literal tons of additional payload which, thanks to that clever packaging, can be carried much lower; superior angles and ground clearance to anything else on the market; and more traction than any other 4×4 ever made. I'm as excited as anyone else at the prospect of zero-emissions off-roading, but what we should really be stoked on here is that these vehicles appear to be moving the truck game forward in significant, useful ways. 
I asked Robert Bollinger if what we're seeing are just pie-in-the-sky concepts or real vehicles we're going to be able to put in our driveways in 2021. "This is not an attempt to raise billions of dollars," he says. "We are really going to make these trucks." 
Lead Photo: Studio Tower