Indefinitely Wild
Can You Spot the Next Wrangler and Wagoneer in These Jeep Concepts?
The company's head designer talks about next-gen vehicles hidden in new designs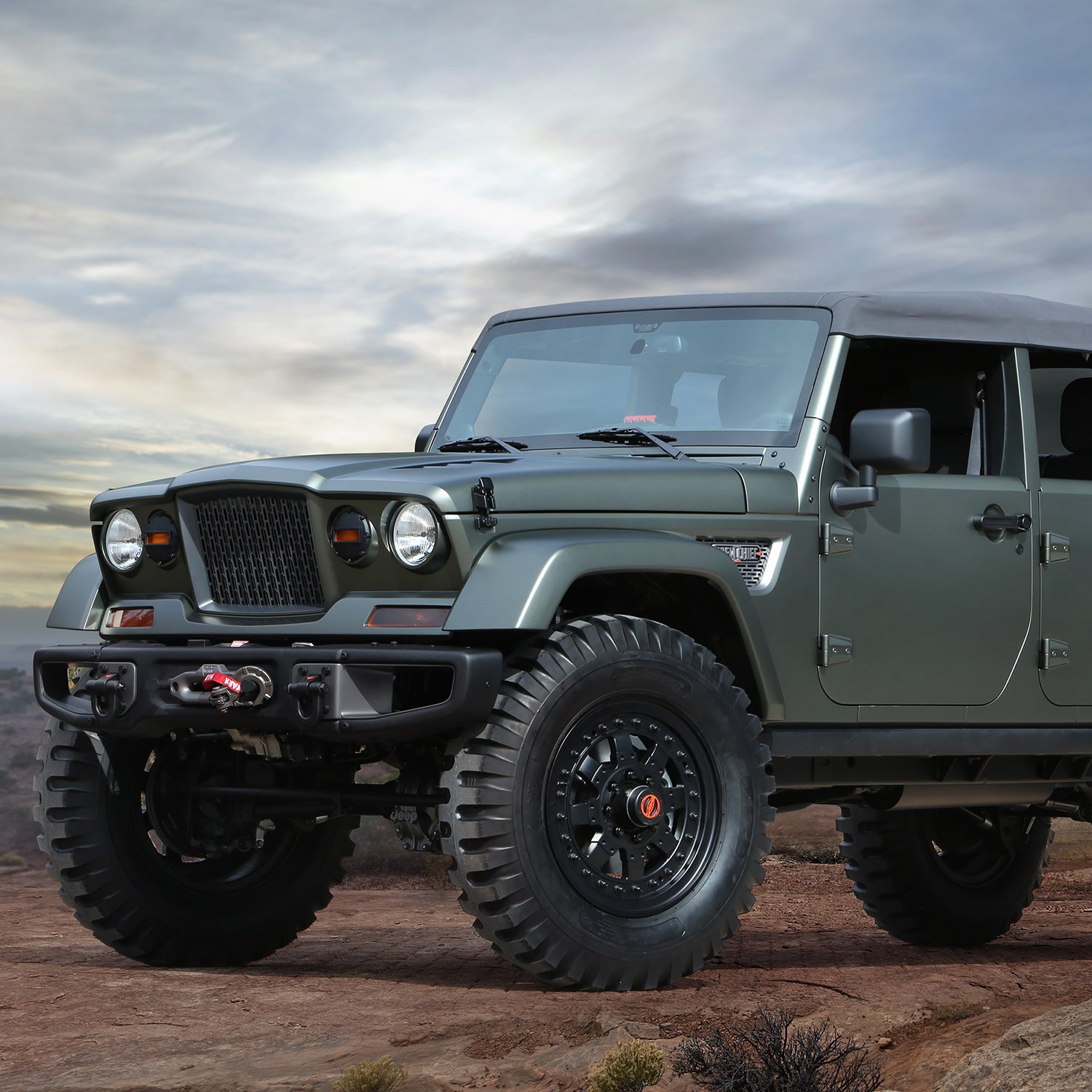 Jim Frenak - FPI Studios(Photo)
Heading out the door? Read this article on the new Outside+ app available now on iOS devices for members! Download the app.
Head of Jeep design Mark Allen says he's hidden "hints" of the next-generation Wrangler, Wrangler pickup, and the all-new, high-end Grand Wagoneer in these Jeep concepts. Let's see if we can figure out what they are. 
Two years ago, a freshly re-organized Fiat Chrysler Automobiles (Jeep's parent company) sought to reassure investors by releasing its five-year plan for new models. The plan includes an ambitious cycle of new releases for Jeep, beginning with last year's Renegade, and culminating with the release of the new, range-topping Grand Wagoneer in 2018. In between, 2016 will see the launch of a new SUV sitting between the compact Renegade and mid-size Cherokee, and 2017 will bring an all-new Wrangler and a new Grand Cherokee. It's an open secret that Jeep is working on a pickup version of that next Wrangler. 
"Am I going to be busy?" asks Allen. "The answer is yes."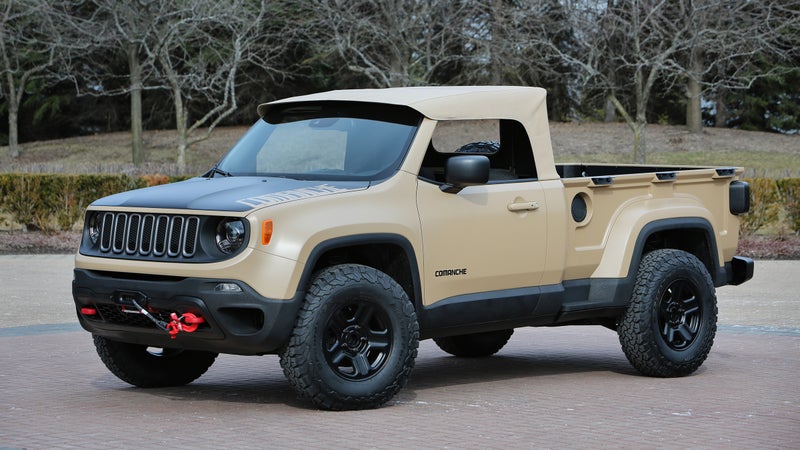 How do these concepts, debuting at the Easter Jeep Safari in Moab, Utah this weekend, fit in? Jeep allows its design team to run wild on projects for this trip each year, producing fully-functional concepts that they haul out to to the slick rock and wheel around on the trails with the brand's fans and customers. Read: All the vehicles you see here are built to be used—and used hard—off-road. 
"They're driven by pure passion," says Allen. "It's a creative outlet for our design studio, and it allows us to try new things, be they good, bad, or indifferent. We put out some head scratchers, some things that help the product plan, and it also allows us to play with 'forbidden fruit,' like export diesel cars that we can't get here [in the U.S.]."
But, with so many new models coming, this year's test in Utah is a bit different. "We've hidden some hints about what's going on behind the scenes, right in front of you," says Allen. 
"We're finally going to get to do a pickup truck," Allen says, referring to the Wrangler Pickup that's been spied in heavily disguised test form. "I can't explain too much, but there may be things you see on the Crew Chief that you might see on that truck."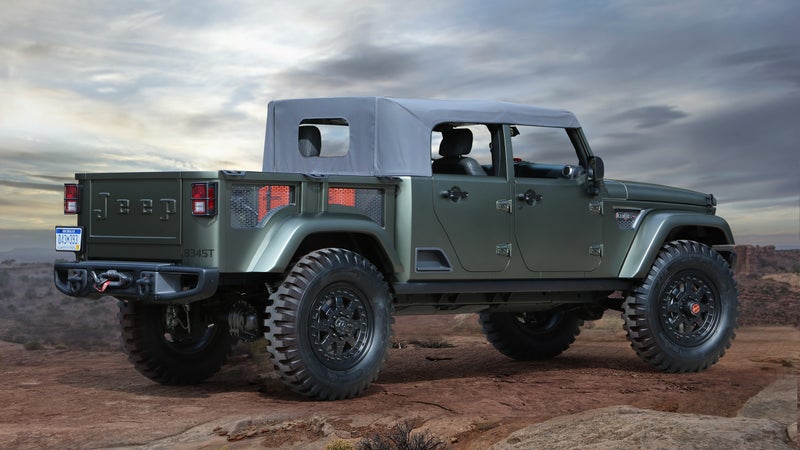 It likely won't have that old school, slanted nose that's so heavily reminiscent of old Jeep trucks like the Jeep Gladiator of the 1960s. "This is the fourth time we've used that nose [on a concept]," says Allen. "Every time we do it, people go crazy, but I think this is the last time we're going to do it, honestly. Oddly enough though, we've never done a crew cab pickup [concept] before. Hint, hint." The Crew Chief features a four-door cab that's similar to the current Wrangler's, along with a six-foot bed. It's a larger vehicle than the Wrangler, not just a case of locating a pickup bed where the rear seats used to be. 
Allen is forthright about another feature from the Crew Chief, and other recent Jeep concepts, that won't make it to production: the stamped tailgate logo. "They're just fraught with quality issues," he explains. "You end up throwing away a lot of tailgates to get it right. That doesn't mean there won't be something back there, but it won't be stamped in."
Does the Renegade Comanche concept, which locates a diminutive bed on the tiny frame of the Renegade compact SUV, have any bearing on a future product? Allen says no, at least not in the near future. "The Renegade platform is certainly flexible enough to spawn other vehicles, but a pickup truck? It's probably just going to be this concept. I do miss the time when the world was flooded with small, inexpensive pickup trucks, and the Comanche concept opens that conversation back up. I'm getting a lot of questions about it."
The Renegade is Jeep's most affordable vehicle. The upcoming Grand Wagoneer will be its most expensive, sitting above the Grand Cherokee, which can run up to $65,000. "Jeep is a unique brand in that I can ask for a lot of money on the top end, and get it, but I can also play on the entry level. Very, very few brands can do that," says Allen.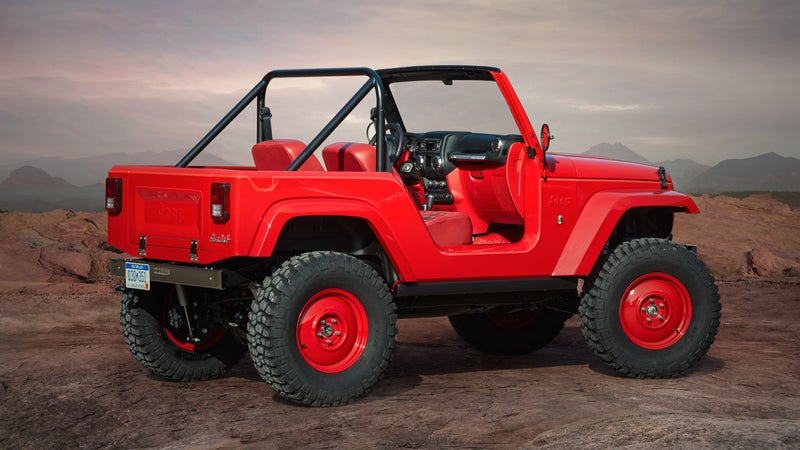 My favorite concept is the CJ-like Shortcut, built by cutting the overhangs off the current, two-door Wrangler. The appeal of classic proportions with modern mechanicals is clear, but, according to Allen, doesn't hint at the styling of the next generation Wrangler product. "I don't have a lot of interest in doing Retro," he says. "I doubt you'll see much of that from us. The neat thing with Wrangler is that it doesn't need to be retro, since it's never gone away." 
So what's the takeaway from all this? Well, the next-gen Wrangler won't be a retro design, will have a pickup version (likely including, or limited to, a crew cab configuration), and neither feature the stamped tailgate logo that's recently been so trendy. A new Wagoneer is coming, it'll likely overlap with the top-end Grand Cherokee (I'd hazard a guess of a starting price in the $45,000 range), and it won't use the retro slant nose design—despite the fact that it's such a distinctive feature of the original truck. In fact, retro styling seems to be out at Jeep. That's a good thing: with a Patriot replacement looming, we at least won't have to look at another awkward adaptation of the classic round headlight Willy's Jeep face pasted onto a crossover body. And we could see that vehicle as soon as next month, at the New York Auto Show. 
"We have a hell of a lot of fun with Jeep," says Allen. "I hope we continue to."
Lead Photo: Jim Frenak - FPI Studios