The Detroit Auto Show: Earth-friendly Rigs of the Future (and Present)
In the latest auto-palooza, trucks trim weight and boost efficiency, while cars of all types get greener than ever.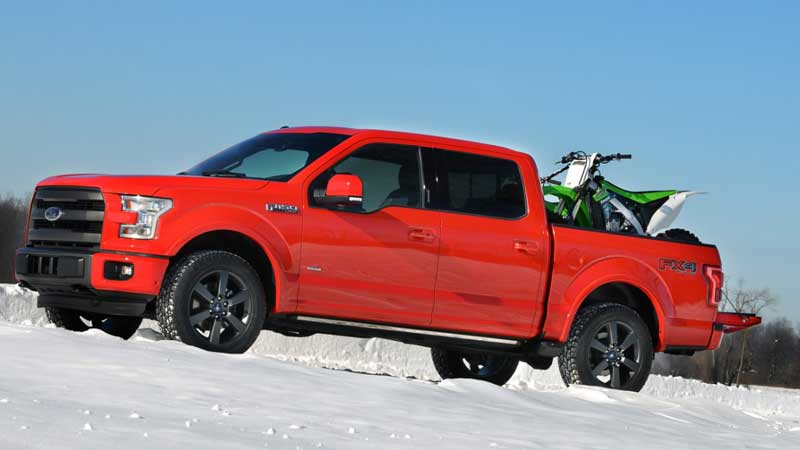 Courtesy of Ford(Photo)
Heading out the door? Read this article on the new Outside+ app available now on iOS devices for members! Download the app.
The U.S. auto market is roaring back, reaching a six-year high of 15.6 million units sold in 2013. (Brace yourself for this Sunday's auto-ad blitz during the Super Bowl, for which the car companies are shelling out about $4 million per 30-second spot). Even though automakers are facing increasing fuel-efficiency standards, the big sellers last year were not compact cars. Ford's workhorse F-series was the ruler, with more than 760,000 trucks sold. That dwarfs the 404,000 Toyota Camrys, which led car sales.
What gives? Consumer demand, according to industry pundits. Americans still want burly rides, for work and play. But the silver lining here is that automakers are being forced to stretch more miles per gallon out of big rigs. One perfect example of this is Ford's 2015 F-Series, arguably the top headline-grabber of last week's 2014 North American International Auto Show.
The 2015 F-Series trucks weigh up to 700 pounds less than 2014 F-Series, thanks to a largely aluminum body. How that diet is going to impact the engine's appetite for fuel is yet to be determined—the final word will come after Department of Energy tests, and will vary based on the drivetrain the consumer selects. With the 2.7-liter EcoBoost engine and start-stop technology, Ford says the truck could get "close to" 30 mpg. (Start-stop is a nifty new feature, which many automakers are starting to adopt, that automatically kills the engine while idling and restarts seamlessly when you press the accelerator.)
Ford ran the 2015 F-150 and its new aluminum body through its paces, disguising it as a 2014 model and racing in the 2013 Baja 1000.
If aluminum serves the F-150 well, we might soon start to see the light-but-strong bodies on other trucks and SUVs. But aside from Ford's news, there were not many show-stopping announcements in Detroit. Hopes that Tesla would debut its next offering, a crossover dubbed Model X, were dashed. Toyota announced its total sales of hybrids surpassed 6 million (U.S. drivers have purchased 2.3 million) hybrids, and efficient diesels have been creeping onto U.S. car lots. Green Car Reports recently drove the 2014 Jeep Grand Cherokee EcoDiesel. It's not much to look at, IMHO, but the testers saw 27 mpg in the 4WD version they drove. Not bad at all… if you've got $53,685 to spend.
Conceptually Speaking
What the Detroit auto show lacked in new production models it made up for in concept cars. Look at the Audi 02 Etron Allroad Shooting Brake concept car (below) and try not to drool. Designed with a unique hybrid drivetrain with an electric-only option (that gives a 30-mile range) and a combined 124 miles per gallon, it could act as a commuter and an off-roader. It's fun to read this snippet from the Audi press release aloud, with a German accent: "The sporty crossover is very talented in off-road driving thanks to its high ground clearance, compact wheelbase, short overhangs and electric quattro drive."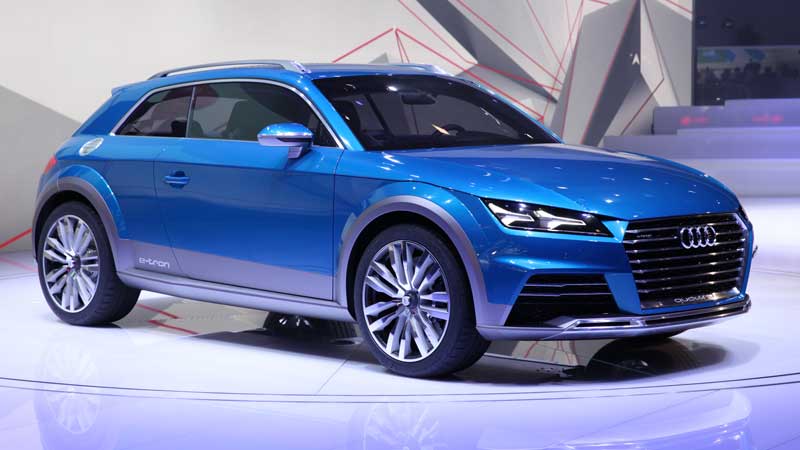 Volkswagon rolled out a Passat BlueMotion concept sedan that it says, thanks to a number of engine designs including auto start-stop and a dynamic cylinder control that can turn off two of its four cylinders when not needed, could reach 42 miles per gallon on the highway. That would nearly best the 43MPG highway that VW's diesel Passat TDI gets today, but when you factor in gasoline's lower price tag, it sounds even better.
As for whether VW will take Otmar Ebenhoech's lead and start tinkering with an electric Vanagon—we can only hope.
Lead Photo: Courtesy of Ford