Sponsor Content: VISIT FLORIDA
Explore the Waterways of Crystal River, Florida
In or on the water, get a closer look at Florida's marine ecosystem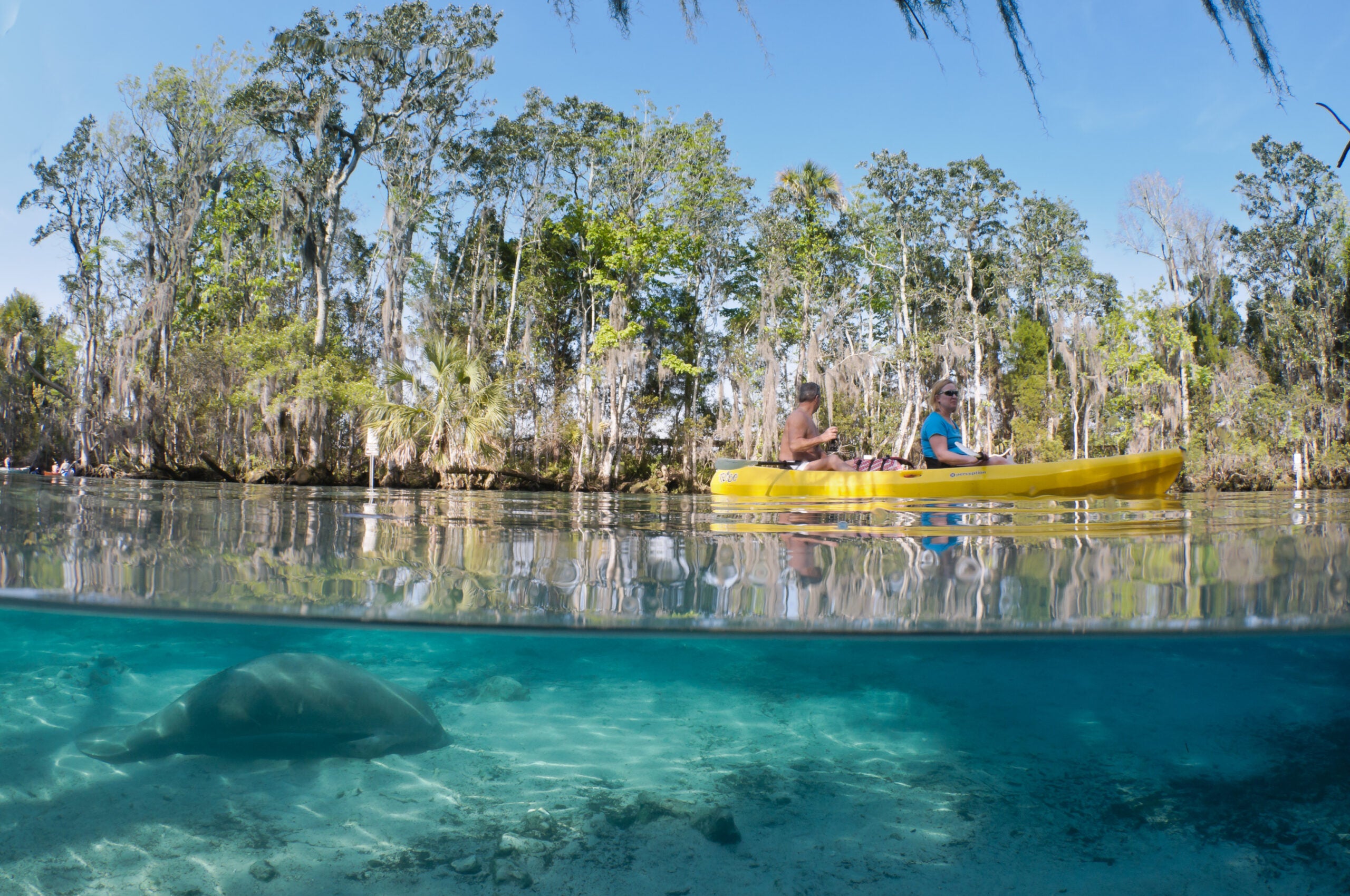 Carol Grant / Miles Saunders
In Florida, outdoor activities and watersports are a year-round affair. Water temperatures for natural springs in the northern and central parts of the state average 70 degrees—perfect for paddling and even swimming (sometimes with a wetsuit) any time of the year. The hospitable waters attract some of the region's most beloved residents: Florida manatees. Here's a look at the best ways to experience the waters around Crystal River and ethically observe the marine life that resides there.
Swim with Manatees
Florida's manatee season—when the animals migrate from cold ocean waters to warmer inland springs—typically spans mid-November to late March. But at the Crystal River National Wildlife Refuge—the only protected area dedicated to Florida manatee habitat preservation—manatees reside year-round. During winter, the area sustains a population of around 800 manatees, and up to 100 of the so-called sea cows remain through summer. Explorida offers daily manatee tours that allow visitors to get in the water and observe the animals up close in their natural habitat. The tours begin on land with instructions for passive observation techniques and the refuge's regulations for interacting with manatees. Tours typically last three hours and include education about Florida manatees and ethical wildlife tourism practices.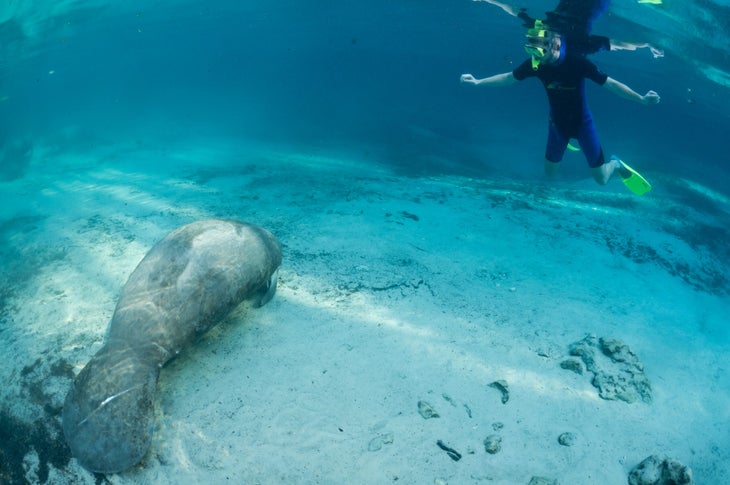 Plan your Florida trip: Learn more about other places around the state to spot manatees in the wild.
Paddle in a Clear Kayak
Manatees are typically gentle creatures, but if being in the water with them sounds daunting, opt for a guided tour of Crystal River in a clear kayak. Your guide will take you through Kings Bay to Crystal River and its connecting waterways, where manatees typically congregate. From your fully transparent kayak, you'll easily observe any manatees you come across, as well as dolphins, turtles, and a variety of fish. Above the surface, spot birds that nest in the mangrove canopy. This 2.5-hour tour is suitable for beginner and intermediate paddlers and can accommodate up to ten guests.
Plan your Florida trip: Paddle your way around Florida at these top spots for kayaking.
Take an Airboat Tour
Designed for travel through swamps and marshlands, airboats offer an efficient—and fun—way to explore Florida's waterways. Instead of using in-water propellers like motorboats, these flat-bottomed boats are powered with aircraft-style propellers, making them ideal for cruising over shallow water. Take a guided airboat tour of the Homosassa River to experience parts of the marshland few people see. Along the way, your captain will point out marine wildlife, which might include eagles, shorebirds, dolphins, manatees, turtles, and alligators.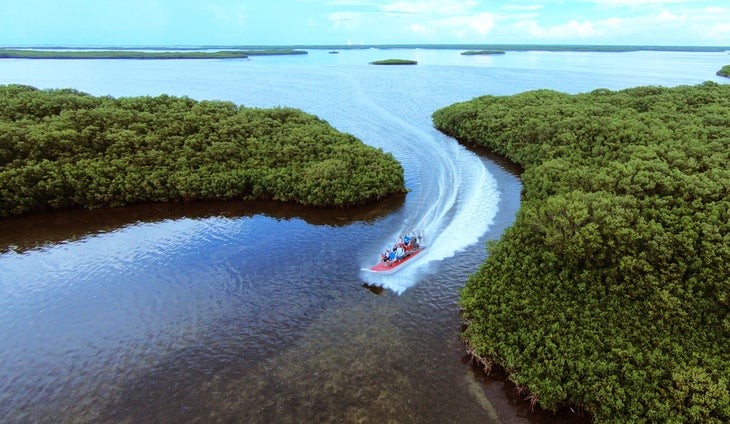 Plan your Florida trip: Check out other extraordinary places to explore by boat in Florida.
Visit Three Sisters Springs
Part of the Crystal River National Wildlife Refuge, Three Sisters Springs is a 57-acre protected wetland, with hiking and biking trails throughout. For an opportunity to spot manatees from dry land, head to the boardwalk overlooking the springs. There, you might also encounter native reptiles, amphibians, and more than 100 species of birds. Due to shoreline erosion, visitors cannot access the water from within the refuge. Instead, to experience Three Sisters Springs on or in the water, launch a human-powered watercraft from the public boat ramps at Kings Bay Park or Hunter Springs Park and paddle less than two miles to the springs. Rentals are available from a number of local vendors near Kings Bay. 
Plan your Florida trip: Get to know Florida's 700-plus natural springs. 
Watch the Sunset at Crystal River Archaeological State Park
Crystal River Archaeological State Park protects a Native American ceremonial site, including burial and temple mounds that date back prior to the arrival of Europeans on the continent. Thought to be one of the longest continually occupied Native American sites in Florida, the area was inhabited for about 1,600 years by the Weedon Island culture—a name used by archaeologists since there is no record of what these people called themselves. Archaeologists estimate as many as 7,500 Native Americans traveled to this site annually for trade and to bury their dead. It's easy to see why they valued this site along the Crystal River when you see the sunset from the boardwalk atop a temple mound.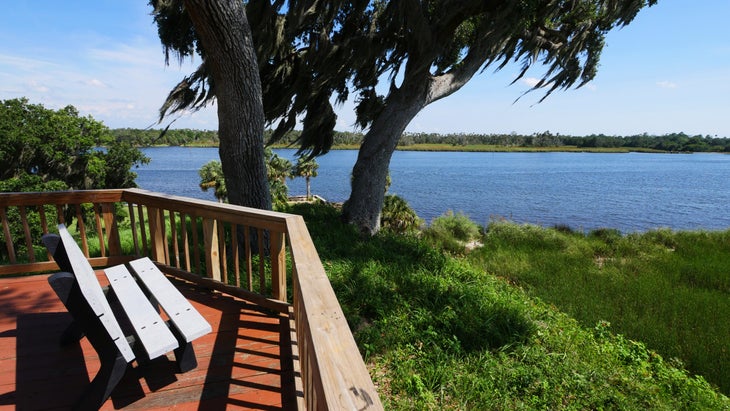 Plan your Florida trip: Experience more of Florida's history at these historic sites.
---
VISIT FLORIDA is the Sunshine State's official tourism marketing corporation and travel planning resource for visitors across the globe.
Lead Photo: Carol Grant / Miles Saunders
Trending on Outside Online