Indefinitely Wild
A Better Rooftop Tent That's a Camper, Too
These things from Go Fast Campers can actually go off-road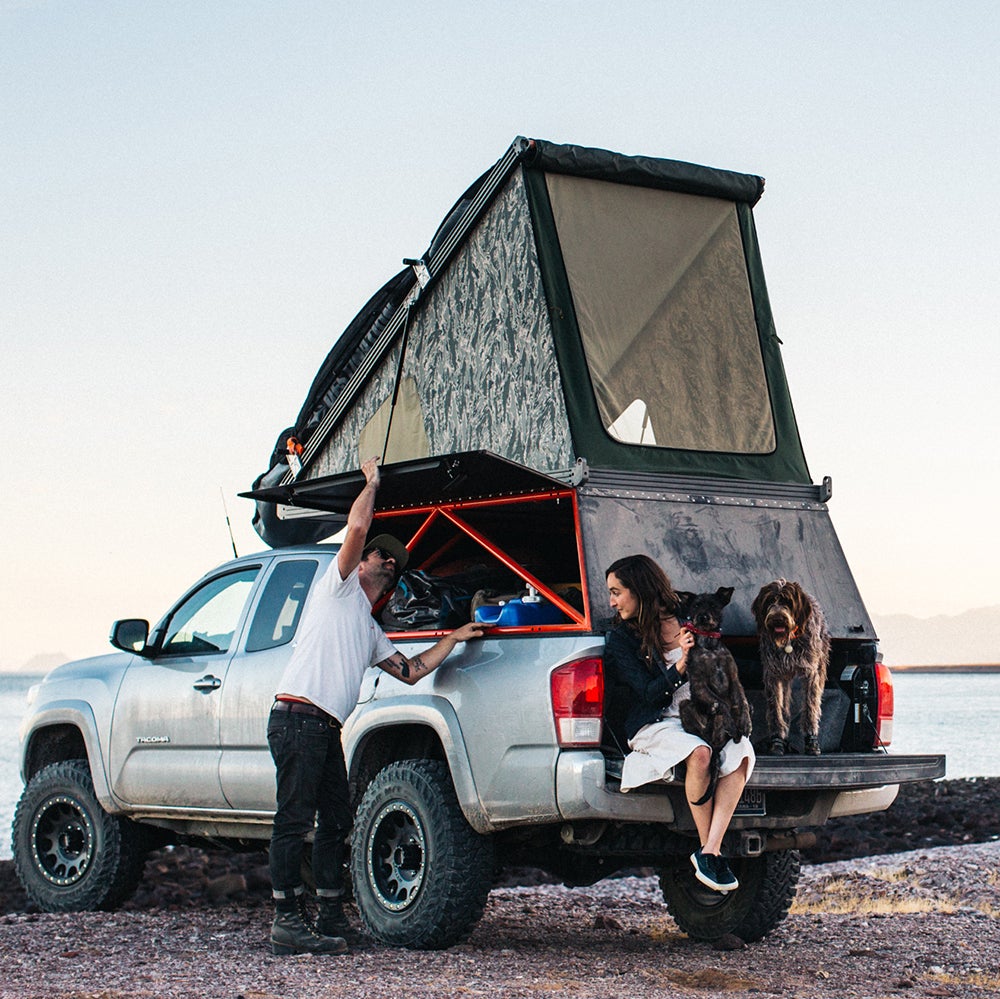 Heading out the door? Read this article on the new Outside+ app available now on iOS devices for members! Download the app.
Rooftop tents look really neat on Instagram, but prove disappointing in real-world use. Campers are extremely heavy, yet weak, limiting your capability off-road.
Now, a new company in Bozeman, Montana, is combining the best parts of both to make a rooftop-tent-cum-camper that doesn't suck. Meet Go Fast Campers.
"Rooftop tents are too tall when closed, take too long to setup or stow, and are a hassle to get into and out of," says Graeme MacPherson, who, along with Wiley Davis, founded GFC. MacPherson was the founder of AeroContinental, a custom off-road camper company, and Davis is an industrial designer who makes off-road accessories for motorcycles and trucks.
"Campers are too big and heavy, and will eventually fall apart off-road, even just driving over washboard," MacPherson says. "We designed the GFC platform for folks who want to get into remote areas, and who don't want to waste time setting up or breaking down camp."
The first thing you'll notice about the Go Fast Camper is that it's more than just a tent. Rather, it's a cohesive unit built into the back of a pickup that incorporates a pop-up shelter. This arrangement has several advantages, the biggest of which are strength and weight.
Most bed caps for pickups are not able to support much weight on their roofs. That's a big problem if you have a Tacoma you want to sleep on top of, particularly if you plan to go off-road. I have friends that have "solved" this issue by building support structures inside their capped beds from wood planks. Throw some bumps, some body flex, and some vibrations inside a weak fiberglass shell, and I'm sure you can see why this is problematic. Over time, a rooftop tent will slowly destroy your bed cap, and could create invisible damage that might lead to sudden catastrophic failure.
To solve that problem, MacPherson and Davis designed a tubular steel space frame that bolts inside the pickup bed, and creates the strongest-possible mounting solution not just for the tent but also for the bed cap built into it, and even stuff you may want to carry on the tent's roof. That's right, you can carry bikes, kayaks, or anything else up to about 500 pounds on the roof of your rooftop tent. (The tent roof's capacity does drop to 100 pounds when it's open—what the hydraulic struts that raise it up are spec'd to handle.) 
Incorporating the cap and tent allows the entire unit to fit more space into less height. Instead of fitting rails to your cap, then bolting a tent to the top and wasting a bunch of space in the process, the Go Fast Camper's tent forms the roof of the cap. That cap also includes flip-up windows that open the entire side of the cap and create a covered work area where you can cook, ready gear, or perform vehicle repairs out of the sun and rain. There's also T-track built into the perimeter of the platform, allowing you to easily mount accessories like awnings, water tanks, or a Hi-Lift jack and other off-roading tools. The lift-up panels are heavy duty aluminum, so you'll be ale to use those to mount MaxTrax, or other accessories, too.
Combining the tent and cap also eliminates the traditional barrier between your capped bed, and the tent mounted on top of it. And doing that also gets rid of the need for a ladder. Access to the tent is via a modular padded floor that's built on an ultralight honeycomb platform. Configure the panels to maximize tent floor space, or to open up a wide portal for easy entry. Ditching the ladder means you have one less heavy, large thing to carry with you everywhere, and creates a cohesive living space with the capped truck bed.
The tent's roof is made from a translucent honeycomb composite that allows daylight to illuminate the interior, and its fabric body is PVC-backed, for long-lasting, and total weather protection. Zip-open panels on the sides and rear of the tent allow ventilation, while mesh keeps the bugs out.
All-up weight for the steel space frame, its aluminum side panels, and the rooftop tent is just 250 pounds, far lighter than the combination of a bed cap (200 plus pounds alone), roof rails, and RTT, not to mention an in-bed camper. Priced at $5,000 before accessories, GFC is also competitive with the cap, rail, RTT combo, and far cheaper than a camper. 
GFC has just delivered its first production unit to a customer in California. Currently, the company has solutions for short-bed Toyota Tacomas and Tundras, the Chevy Colorado/GMC Canyon, and the Ford F-150 (including the Raptor). Units for long-bed trucks are in-development—MacPherson says they're exploring a solution that mounts the top of the closed tent flush with the truck's roof for improved fuel efficiency.
Perhaps the most impressive thing about Go Fast Campers is the tangible build quality. Where campers and rooftop tents all feel like they're on the verge of self destructing every time you use them, GFC's massive CNC-machined aluminum hinges, steel space frame construction, and use of high-end materials like that honeycomb composite roof are going to keep working flawlessly for years. As anyone who's ever been off-road knows, if something can break, it will break. So making an off-road tent/camper that won't just makes sense.