The 10 Best Adventure Vehicles
The best cars for every kind of journey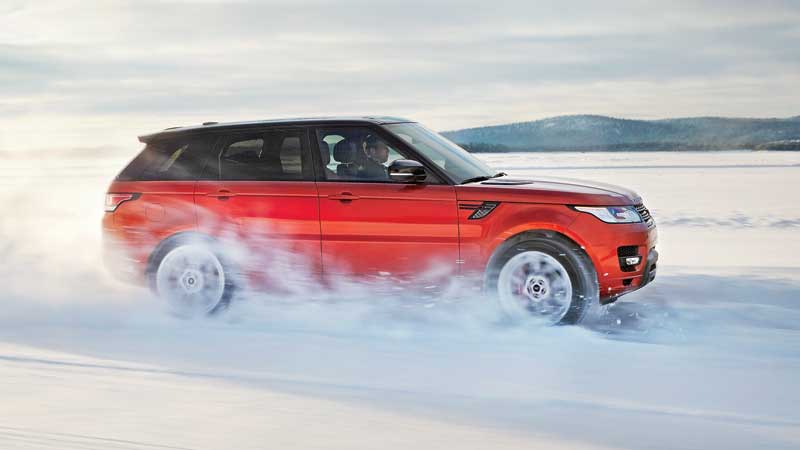 Jaguar Land Rover
Heading out the door? Read this article on the new Outside+ app available now on iOS devices for members! Download the app.
Hybrids that ford rivers, off-roading beasts with the fuel economy of sedans, SUVs that power up sand dunes, and a Mini big enough to swallow skis. These are the best new rides of 2014.
---
Range Rover Sport
The Sell: Go anywhere in high style.
The Test: Climbing up deep sand in Northern California's coastal redwoods, the Sport's terrain-response traction control, sophisticated eight-speed automatic transmission, and active rear-locking differential turned its street tires into the equivalent of Vibram-soled hiking boots. That's expected from Range Rover (as is the oak woodwork and heated steering wheel). What's not? An 800-pound weight reduction over the previous version and a new supercharged 340-horsepower V-6 that make this behemoth a better-handling SUV than nearly anything else its size.
The Verdict: The only luxury rig we know of with both 11.2 inches of ground clearance and a hand-assembled leather dashboard. $62,600; 17 mpg city/23 hwy.
---
Toyota 4Runner Trail Premium
The Sell: A rugged SUV for the masses.
The Test: On a high-alpine dirt track in Colorado, the 4Runner was surprisingly impressive. Unlike many of today's car-like sport utility vehicles, the Trail's stiff suspension and more than ample 9.6 inches of ground clearance, plus a manually tuned off-road suspension, made us feel like we could tackle any obstacle (sand, mud, rock, or snow) in our path. The trade-off for all that rough-riding capability is a gas-guzzling 270-horsepower V-6 mated to a five-speed manual transmission. That combination made for somewhat sluggish acceleration on the freeway.
The Verdict: A pure off-road performer that seats five, plus dogs. $38,645; 17 mpg city/
21 hwy.
---
Jeep Cherokee 4×4
The Sell: A people mover with legit rock-crawler cred.
The Test: The all-new Cherokee feels more like a sedan than a rough-and-tumble Jeep. The taut handling, capable 184-horsepower V-6, and exotic nine-speed automatic transmission are tuned for pavement and decent fuel economy. Fortunately, when the tarmac ended at a mountain pass in the Colorado Rockies, the Cherokee tackled the dirt with ease, thanks to 7.7 inches of ground clearance and adjustable traction control. If you plan to do lots of serious off-roading, spend the extra $4,500 and upgrade to the Trailhawk edition, with its low-range gearing and 3.2-liter V-6, to turn this Cherokee back into a Jeep.
The Verdict: Looks and handles like a slick city ute until you take it off-road. $24,995; 19 mpg city/27 hwy.
---
Mazda CX-5 Touring AWD
The Sell: A sporty crossover.
The Test: With its 184-horsepower, 2.5-liter four-cylinder engine, the CX-5 is downright peppy, even when loaded down with people and bikes. Its suspension and steering are crackerjack, especially at this price. It railed S turns on country roads, which is especially impressive considering its 8.5 inches of ground clearance—far more than almost every other crossover we tested. Another perk: the rear seats split 40-20-40, allowing skis and snowboards to bisect the second row while leaving room for four passengers. Too bad Mazda doesn't sell the turbo-diesel model in the States.
The Verdict: Drives like it should cost way more than it does.$24,815; 24 mpg city/30 hwy.
---
Acura MDX
The Sell: A luxury SUV best for blacktop.
The Test: The MDX delivered 24.7 miles per gallon through 150 miles of Bay Area traffic—not bad for a rig big enough to carry seven people and their gear. While Acura left off the skid plates and locking differentials found on off-road-focused SUVs like the Toyota 4Runner (opposite), the MDX's 7.3-inch clearance was more than enough for powder days. And with its 290-horsepower V-6, it packs plenty of muscle for surging up hills.
The Verdict: A family hauler that, because of its computer-controlled AWD system and variable suspension, handles like a much smaller vehicle. $54,505; 20 mpg city/28 hwy.
---
BMW 328D XDrive Sports Wagon
The Sell: A five-door Bimmer for the business set.
The Test: Great handling and luxe features, such as the 328d's panoramic sunroof and electric seats that pivot in eight directions, are par for the course in a BMW. A 15-gallon tank, smooth-shifting eight-speed transmission, and 43-mile-per-gallon, four-cylinder diesel engine? Not so much. This wagon went a jaw-dropping 525 miles, from Seattle to Whistler and back, on one tank. With its automatic AWD system, the front tires kicked in to claw over slippery surfaces. Plus, its 35 cubic feet of cargo space is ample for a midsize wagon and offers plenty of room for ski gear for four.
The Verdict: The most sophisticated AWD wagon we've ever driven. $43,875; 31 mpg city/43 hwy.
---
Cadillac ATS AWD 2.0T
The Sell: A Caddy that's fun in the mountains.
The Test: While carving high-speed turns at 10,000 feet in the Colorado Rockies, the ATS's 272-horsepower, turbocharged four-cylinder engine showed no signs of gasping for air. Near instant shifts of the six-speed transmission upped the five-seat sedan's performance, and with its AWD system and stout multilink suspension, we had to consciously ease off the gas on serpentine roads. Leather bucket seats and a dashboard navigation and entertainment system that replicates the swipe-and-sweep functionality of smartphones remind you that you're behind the wheel of Detroit luxury.
The Verdict: A badass American AWD sedan every bit as high-performance as its European counterparts. $43,895; 20 mpg city/30 hwy.
---
Mini Paceman S All4
The Sell: A high-style coupe that's rugged enough for the mountains.
The Test: Tight handling, stiff suspension, and a sporty engine make Minis as fun to drive as they appear to be. The all-weather Paceman is no different, just bigger. It's 25 percent larger than the classic Cooper, and because this AWD coupe has nearly 40 cubic feet of cargo space with the seats down, it's up for mountainous road trips. There's enough legroom in the back to squeeze in a pair of six-footers, though if you intend to use the backseats regularly, opt for Mini's roomier five-door Countryman ($27,400).
The Verdict: It's not quite as sporty as the classic Hardtop, but with a turbocharged four-cylinder and snappy six-speed manual transmission, it's still a blast for daily driving. $28,600; 25 mpg city/31 hwy.
---
Volkswagen Jetta
The Sell: The first truly sporty hybrid.
The Test: This Volkswagen looks, drives, and behaves entirely like the gas-only Jetta, which is to say the drivetrain is ultraprecise and uncommonly smooth. VW paired its hybrid turbocharged four-cylinder engine with a seven-speed dual-clutch transmission, which results in delightfully rapid acceleration. And while a lot of hybrid sedans store batteries between the trunk and the cab, VW preserved the flip-down rear seats, so we had no problem fitting skis and a 29er mountain bike (front wheel removed) into our test rig.
The Verdict: Fahrvergnügen goes eco with much success. $27,260; 42 mpg city/48 hwy.
---
Subaru XV Crosstrek
The Sell: An affordable, off-road-capable compact SUV.
The Test: You can't negotiate a rushing creek in a Prius. We had no problem doing so in the hybrid Crosstrek, which we submerged up to its headlights in a river in Iceland, then gunned up and over the icy bank on the other side. The Crosstrek is basically a beefier, sportier version of Subaru's entry-level Impreza, with nearly nine inches of ground clearance. Its 160-horsepower, two-liter engine is efficient but also a bit anemic, which is why Subaru wisely added 12 percent more torque to the hybrid than the gas-only model, boosting this five-passenger wagon's rock-crawling ability and giving it more pop and confidence on the highway.
The Verdict: When the road ahead gets gnarly, the XV Crosstrek turns into the tough Subaru you want. $25,995; 29 mpg city/33 hwy.