Indefinitely Wild
The Gear All Car Owners Need to Go Off-Road
Add capability, safety, and convenience with these simple, affordable upgrades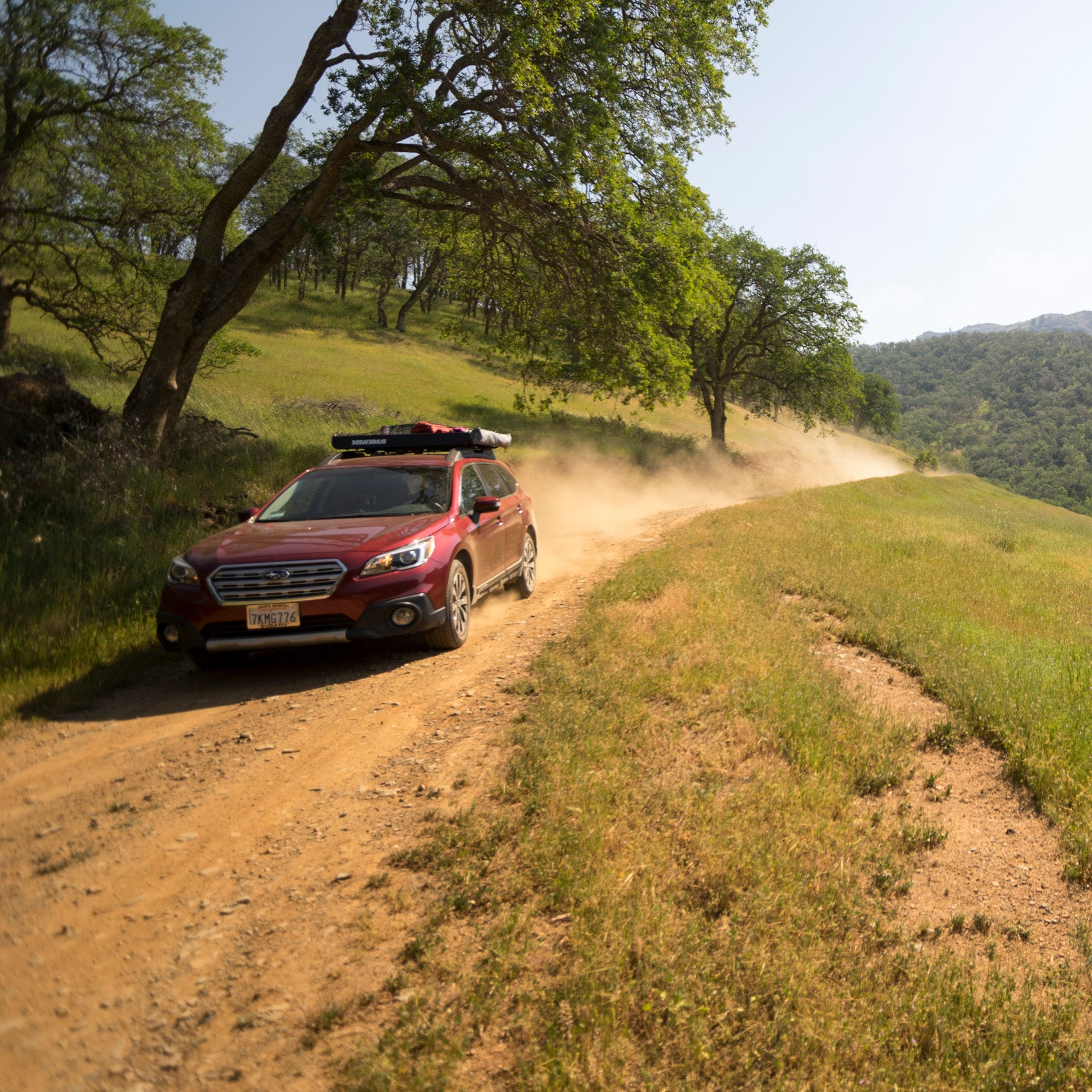 Heading out the door? Read this article on the new Outside+ app available now on iOS devices for members! Download the app.
Even a basic front-wheel drive economy car can you get you a long ways down a dirt road, way out into the middle of nowhere. Any Subaru, or similar all-wheel drive crossover, can take you even farther. But once you leave the paved road behind, you expose yourself and your car to a whole new range of potential dangers. Heck, even a simple flat tire could cause you major problems if you're not prepared to deal with it. Fortunately, preparing to deal with problems off-road is pretty straight forward.
Tires
No matter what you drive, tires will always be the first, and most frequently damaged component on your car. Which is great, because they're also the most important component. No other part of the car—not the engine, not the brakes, not the suspension—is able to function without the tires. 
Fix-a-Flat: This is the quickest, and easiest way to deal with a simple flat tire, period. Buy the right size can for your vehicle, and keep it in your trunk. Then, when you get a puncture, just screw the tube onto your tire valve, hold down the button to empty the whole thing in, then drive off. You need to drive off right away so that the centrifugal force of the tire spinning spreads the goop evenly, and so it's forced through the puncture, sealing it. It fixes small punctures, and inflates your tire all in one go, without jacking or wheel removal. And that's a huge advantage, no matter if you're stuck at a weird angle on the side of a mountain (it's essential to jack on a level surface) or simply on the shoulder of a busy highway. Absolutely everyone should carry a can of this in their car at all times. 
Puncture Repair Kit with Compressor: If Fix-a-Flat won't fix it, a tire plug (or several, jammed into the same hole) will. These kits are affordable, compact, and easy to use. We show you how above. Do yourself a favor and buy a compressor that connects directly to your battery with alligator clips. Going through your cigarette lighter risks blowing fuses. 
Decent Tires: Unless you drive an expensive, high-performance car, then the way in which a vehicle manufacturer chooses which tires they fit to a new car goes like this: 
Car Maker: "Hello, tire company?"
Tire Company: "Yes?"
Car Maker: "What are the cheapest, most terrible tires you can sell us at bulk discount?" 
Tire Company: "Funny you ask, we happen to have half-a-million round, black pieces of junk sitting out in the sun right now!"
There is no aspect of your vehicle's performance that cannot be improved by fitting something better. You see, tire companies know that car buyers are a bunch of suckers, and they mark up those round, black pieces of junk because they know most owners will just want to buy what came on the car. Please don't do that. 
No matter what you drive, you can gain puncture resistance and traction by fitting a decent set of all-terrain tires. If you drive a truck, your best option for a tire that's great both off-road and on is the BF Goodrich All-Terrain K02. Those do come in some crossover sizes now, but if your vehicle has AWD instead of 4WD, you're probably better served by something a little lighter. I had great success with the Maxxis Bravo 771 A/Ts, but those aren't as widely available as they should be. Other options from Cooper, Yokohama, Falken, et al may be a better fit. Research the weight of your stock tires, and try to stay as close to that as possible with any A/Ts you fit. 
But where do you buy a decent set of tires? Most dealers and tire fitters have really poor selections, dictated by that overriding consumer preference for the round, black pieces of junk that came with the car when it was new. You'll find better selection, and better prices, at TireRack. You can then throw those in the back of your car, and take them to most tire shops to have them fitted, or simply schedule a visit with a mobile tire installer, who will come to your house and do it. 
Tire Gauge: You'll want to air-down off-road, no matter what you're driving. Lowering your pressures on dirt increases traction, helps prevent punctures, and improves your ride. Twenty PSI is a good number typically. Go lower if you're in mud, or soft sand, without fear of hitting rocks. You should be monitoring your pressures weekly anyway, to maximize safety, tire life, and fuel economy, but a good quality gauge is essential for nailing the right pressure off-road. Never trust the gauges on the compressors at gas stations—they're abused beyond their ability to retain any semblance of accuracy.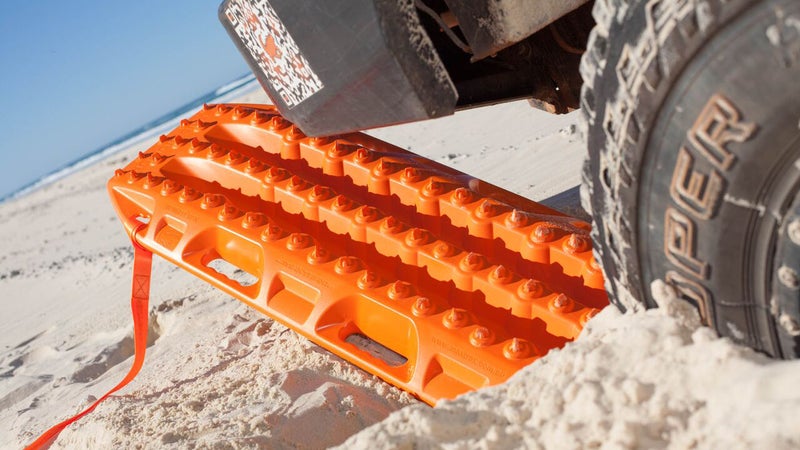 Recovery
Off-road, you risk becoming stuck on loose surfaces, or even on tricky terrain. Adding insult to injury, you'll rarely find cell service out in the boonies, so you have to be able to recover your vehicle yourself. 
MaxTrax: These nylon recovery boards (pictured above) are insanely clever in their simplicity. Stuck? Stick these under your drive wheels, then just drive out. They also double as pretty decent shovels. They work just as well in mud or soft sand as they do in the snow, on the road. So we consider them an essential for both any off-road endeavor and winter driving. This is the easiest way to get unstuck that there is. 
Shovel: Don't want to spring for MaxTrax? The penalty will be more time and effort if you get stuck. Using a shovel, excavate the driven wheels, and jam rocks, branches, your floor mats, or anything else that may add traction under them. Build yourself a little Maxtrax-shaped runway out of the obstacle, then just drive on out. It'll take you a few tries, and a fair bit of swearing, but it will work in the end. 
Tow Strap and Shackles: A good Samaritan will give you a helping hand if you get stuck, right? Well, a quick tow out of the muddy spot is an awful lot easier than hitching all the way back into town, so you can call a tow truck. And man, tow trucks get expensive if they need to go off-road to help you. Enable passers by to help by simply carrying the supplies necessary for a quick tow. You'll need a strap and two shackles that are rated for a weight several times that of your vehicle. That's for safety, but also because the substance you're stuck in may add much resistance. Attach the shackles to each end of the strap, then pass them through the recovery point on  your car. In a normal car or crossover, that may be an eyebolt you screw into a threaded receiver in your bumper, which hides behind a little plastic flap. Make sure that eyebolt is in your toolkit, and that the shackles you carry are sized to pass through it. 
Convenience
You'll want to keep some stuff in your car both for just-in-case circumstances, but also just because it's stuff that's nice to have when you're way out in the middle of nowhere. 
Flashlight: Duh. For walking around and working on stuff at night. Your phone is neither bright nor long-lasting enough. Buy a dedicated flashlight. 
Rugged Blanket: It gets cold at night. And if you need to work on your car, you'll want something clean and dry to sit or lay on, and to catch parts if they fall. 
Case of Water Bottles: Just in case. 
Work Gloves: A cheap pair of Mechanix Originals work great. These will protect your hands from cuts, abrasion, blisters, and grease, while adding traction. 
Adequate Clothing: You already know this, but take ample clothing for the worst conditions you're likely to face. 
Floor Mats: Much more than just a gimmick, a set of WeatherTech or similar rubber floor mats will keep all the mud and sand off all the other stuff in your interior. 
Trending on Outside Online